This post contains affiliate links. As an Amazon Associate, I earn from qualifying purchases.
When was the last time you slowed down and explored the city you live in?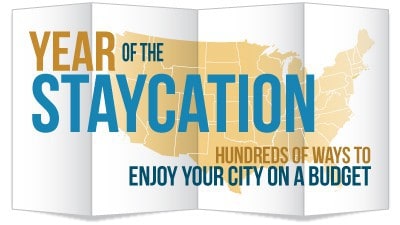 With gas prices and airline fees galloping ever higher, it's getting tough to justify the standard family vacation. The travel costs are just part of the final bill – every little temptation that pops up can kill your budget faster than Congress does. And anyone who has gone on vacation with kids knows that it's not all it's cracked up to be.
Bloggers from across the country have come together to help you discover your own town this summer. From Bakersfield to Baltimore, we're sharing our favorite places for a budget-friendly, home-based vacation.
One of the things I love about Austin is that there are so many things to do. Many people think of Austin as a place for music, but it also is a great place for families. There are many fun, budget-friendly activities to be found all over town.
Ruta Maya, Sundays
3601 South Congress Avenue
Live music for kids? Check! Coffee and beer for adults? Check! Every Sunday at 10:30 this South Austin coffee shop hosts live music the whole family can enjoy. Let the kids go crazy in a mini dance party while you sit back and sip on some of the in-house roasted coffee.
Zilker Park
2200 Barton Springs Road
It's hard to find something not to do at Zilker Park. While chilly Barton Springs might not be the choice for your littles, you can still easily spend the entire day here. Explore the Botanical Gardens, Nature and Science Center, or Prehistoric Gardens, or just go for a hike along the Lady Bird Lake Trail. Near Barton Springs Pool is a large playground, as well as the Zilker Zephyr, a small train that tools around the park.
Peter Pan Mini Golf
1207 Barton Springs Road
OK, so it isn't the newest, flashiest mini golf spot in town, but once you start putting it won't matter. This Austin mainstay still provides hours of fun for only a few bucks per person. You can do the easy East course, harder West course, or both. Aside from bottled water and snow cones the food is bring-your-own, so add a picnic basket and spend a morning or afternoon on the course.
5624 Burnet Road
In the summertime you can't go wrong with ice cream, and Amy's provides the best in town. With unique flavors, custom sundaes, and delicious crush'ins, Amy's is the perfect way to beat the heat. This location is adjacent to Phil's Ice House and has a shaded playscape ready for your family to while away the afternoon or evening.
Boggy Creek Farm
3414 Lyons Road
We're lucky enough to have several urban farms, and Boggy Creek is one of the most popular. Every Wednesday and Saturday morning the farm opens up its storefront to the public, and you can not only pick up your veggies but see right where they were grown. Kids enjoy visiting the hen house and seeing how a real farm works.
Book People
701 North Lamar
A multistory bookshop with plenty of comfy chairs and corners to relax and read a book in? I couldn't possibly leave this place off my list. Each department features employee recommendations, and knowledgeable staff can help with any question that might come up. Plus there are authors doing signings multiple times a week, a magazine section with selections from around the world, and a coffee shop.
Round Rock Express Baseball
3400 East Palm Valley, Round Rock
Summers aren't complete without a ballgame! True, games can start to add up once you figure in snacks, but there are often special discounts for family packs, sponsored game nights, and even free tickets available from many places. Sitting in the berm section will save bucks and give your kids plenty of room to roam around (face it, they aren't going to sit for the whole thing anyway). And if you're looking for a cool treat, skip the expensive single-serve Dippin' Dots and get a pint of Bluebell to share for the same price.
401 Deep Eddy Drive
The default pool for many people is Barton Springs, but I'm particular to the slightly-warmer Deep Eddy, also fed by a natural spring. The shallow end makes this pool a little more accessible to kids, and the waters never seem to get as crowded as in other places. There are plenty of large trees on the surrounding grass providing natural shade so you can feel a bit more comfortable with that big sun shining down.
Downtown Austin Farmers' Market
Republic Square Park, 4th and Guadalupe
There's no way I could leave off the farmers' market! Free entertainment plus a bevy of food options make this a great place to spend a morning whether you're coming by for the week's groceries or just a snack. How much you spend is up to you so there's no worry about it fitting the budget. Plus with lots of green space for the kids to run and even a booth with activities just for them, the entire family can enjoy some of the best things Austin has to offer.
Tomorrow I'll have another post linking to the rest of the Year of the Staycation!
What's your favorite place to "visit" at home?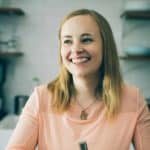 About Megan
I focus on fresh ingredients and easy methods, with spins that keep meals interesting. Dinnertime shouldn't be stressful or complicated, and I'm here to help you enjoy the time spent in the kitchen. Read more…