This post contains affiliate links. As an Amazon Associate, I earn from qualifying purchases.
For my 30th birthday, I wanted to go to some place new for dinner. Granted, it has been hard for us to get out since the boy was born, so at least half the restaurants in town are "new" to me. I decided to try Annie's on Congress, and not only because I had recently purchased a Groupon for it.
Beforehand I met with friends at Max's Wine Dive for their birthday celebration (how could I pass it up since it was on on the same day?!) where we had a few snacks along with multiple glasses of sparkling wines. Once it got too crowded, we headed to what is fast becoming my go-to spot for drinks, Peche, where the sweet bartenders hooked up Amanda with an amazing non-alcoholic blueberry basil milkshake. It was a short walk from there to Annie's, and we arrived just as it was starting to get dark.
We decided to sit outside on the streetside patio, and I still can't decide if this was a good choice. I love dining outside, but we were sat at one of the two tables that is literally next to the street. The other tables are close to the restaurant, while we were treated to the traffic whizzing by. Thankfully on a late Tuesday evening there isn't much traffic, but still… odd.
We didn't order any appetizers, which turned out to be a good thing because our dinner portions were enormous. I ordered another glass of Prosecco to have with the dinner, which at that point I drank s-l-o-w-l-y due to our pre-dinner events.
I had the Pan Roasted Rabbit, which comes with spaetzle, haricots vertes, and carrots, served with a whole grain mustard sauce. I thought this was fantastic. I was worried that the mustard sauce would be too powerful, but it was very mild and along with the rabbit juices served as an amazing accompaniment to the spaetzle. The vegetables were cooked, but still crispy, just the way they should be. I only made it about halfway through the plate, and the rest was a nice lunch the next day (reheated perfectly, by the way).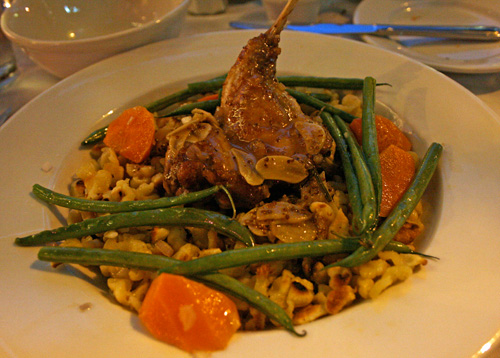 Amanda ordered the Moules Frites, a gigantic plate of mussels and another of fries. I can't comment on the taste as I'm leery of mussels, but Amanda was putting away as many as she could. This really seemed like a dish to share, especially because mussels don't reheat. So many mussels had to remain uneaten that night.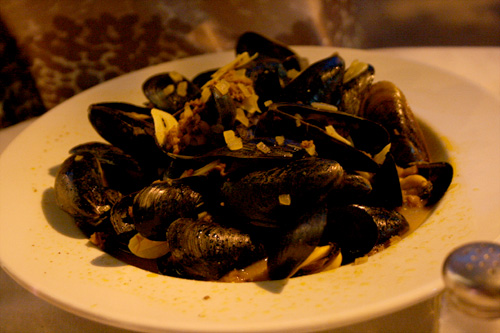 As it was my birthday, of course I had to order dessert! I decided on the espresso creme brulee. Now, creme brulee is pretty much my favorite dessert, although I don't order it all the time. The flavor of this was good, but I felt like the cream should have been a little thicker or set than it was. Also, it was quite large, which I suppose should have been expected after our dinner plates!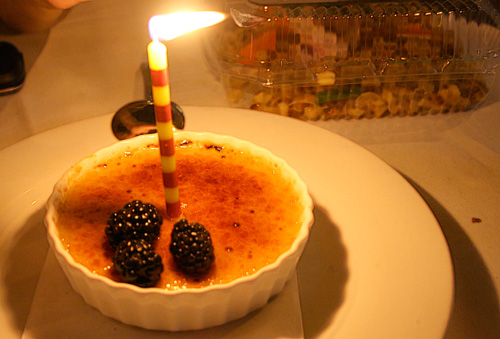 It was an enjoyable night and I do plan on returning to Annie's. I'm still sad I didn't get to try the tomato brie soup, so at least I'll have an excuse!