Have you heard about ATXswappers yet? Maybe BK Swappers, MPLS Swappers, or PDX Swappers?
These are all local groups of food enthusiasts who love to bake, preserve, garden, and create food in all kinds of ways. If you're afflicted with this "problem", typically you over-produce. I know I'm not the only canner who has a large horde of jam in the cabinet – and I haven't made jam since summer! The solution to this is the swap event created by Kate of Hip Girls' Guide to Homemaking and Meg of Brooklyn Homesteader. They created BK Swappers, and now swapping events have taken off all over the country.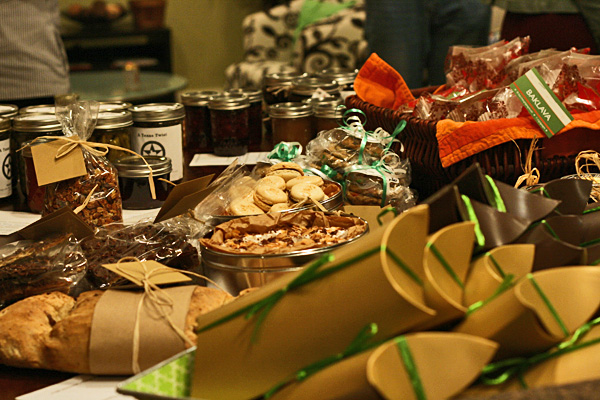 When Kate moved back to Austin this winter and asked me to help her organize ATXswappers, I jumped. I loved reading about the Brooklyn swaps and couldn't wait to get Austin in on the fun. We have a great community of food bloggers here and I knew the swap was going to be fun.
In December we kicked off the ATXswappers in a lovely modern model home on the east side of town. Even though my dream home includes a wraparound porch and lots of wood accents, my other favorite style is those ultra-modern homes popping up in some areas of Austin. It didn't hurt that this house had a spacious kitchen with farmhouse table. Perfect for swapping! Although it was actually a bit crowded on the table – everyone had brought such a wide sampling of items. Austin foodies really go all out for events and this was no disappointment. I felt rather silly offering up my completely unadorned jars of butterscotch sauce!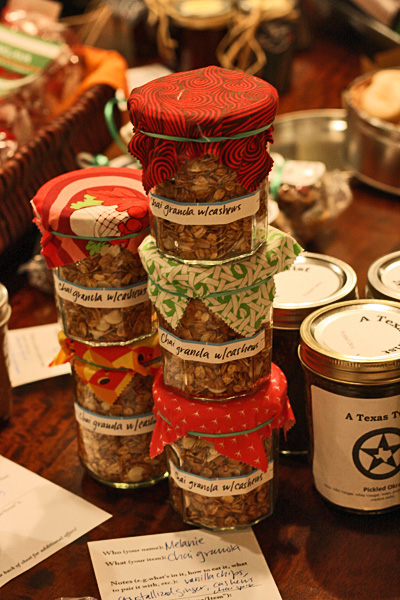 How does it work? Everyone brings something to swap, be it jam, bread, granola, sweets, or even homegrown fruit. Everything is packaged into swap-size bundles – usually that means one jar of jam, one loaf of bread, or a half-dozen large cookies, for example. We also bring something to nosh on. This could be a sampling of the items you brought to swap, or just something else to nibble. Everything gets laid out, labeled, and we browse and chat for a while.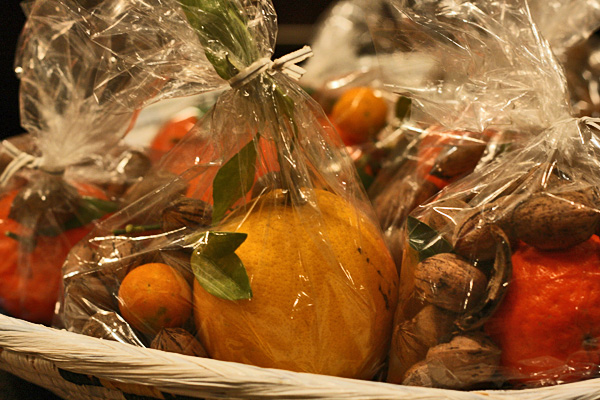 Then it's time to get the swapping going! Each item has an info sheet, and on that sheet you write down your name and what you have to offer. Then comes the bargaining – this is easier the more items you have to trade, because you don't need to try for the "best" offer. For December's swap Kate recommended 3-6 items each, but many people brought so much more that now I think about 10 items is a good number!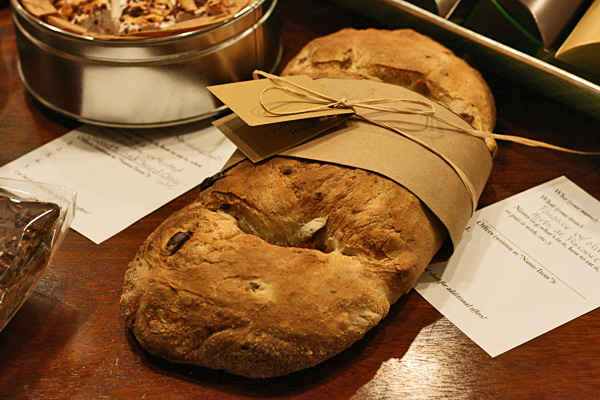 I think the event was a success. Between the food brought for snacking and the goodies we all went home with, it was quite a few days of decadent eating. I did manage to share some of my treats with friends, however, which made the night seem to last longer. Plus it was so wonderful to chat with people I don't get to see often, as well as meet quite a few I hadn't the pleasure of meeting before.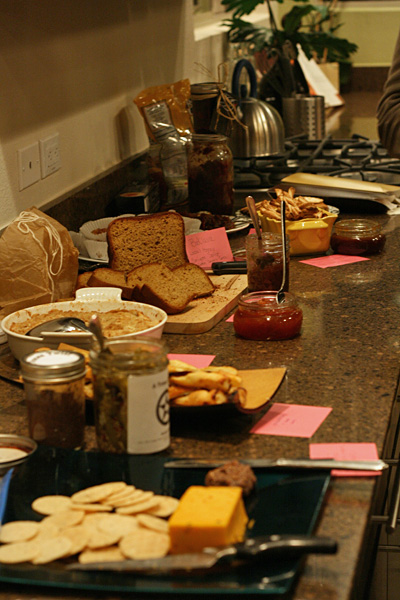 My only problem? Trying to decide what to make!
There are still a handful of (free!) tickets left for our January event. If you live in the Austin area and want to come, head over to our Facebook page.
Have you ever participated in a food swap before?