This post contains affiliate links. As an Amazon Associate, I earn from qualifying purchases.
This afternoon I was browsing food sites and thinking about how great it would be to have some cookies, or chips, or maybe a big ole bacon cheeseburger and prings from Shady Grove. It's not even that I was hungry, just that those foods looked good. Normally I would have just gotten whatever it was I wanted. But I'm trying to mimic the behavior of someone who doesn't have the extra dollars to spend on snack foods (not to mention I really need to cut down the snacking anyway).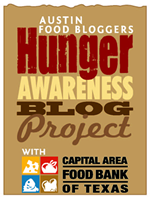 I decided, though, that tortilla chips and salsa would be OK to have on hand – both are fairly cheap and not too horrible for you. I also wanted to get garlic toast to go with our spaghetti dinner, as a sort of "splurge". I know garlic toast can be had for about $1.25, so I was pretty displeased when my husband came home with a box that cost $2.89. That's more than the entire cost of meals on Friday. True, we'll get more than one meal out of the box, but I'm disappointed and a bit worried the budget I had set for us was blown.
In college I remember going to the grocery store and taking quite a while to decide what to buy. I'd always linger over the potato chips, adding numbers in my head and wondering if it would really be worth it to buy the bag I'd probably eat in two sittings over nutritious peanut butter and celery. Sometimes the healthful food would win, and sometimes the junk food would. I was lucky in that I lived alone, and the only person who would suffer from my choices was me. It's hard enough to explain to my son that he's had enough strawberries for the day; I wouldn't want to have to explain to him that we didn't have any bread because we had ice cream the day before.
Today's food:
Breakfast – Scrambled eggs ($0.49) for us, milk ($0.30)
Lunch – Leftover Hamburger Helper (free)
Dinner – Spaghetti ($0.44) w/sauce ($0.47), garlic bread ($1.44), milk ($0.89)
Total: $4.03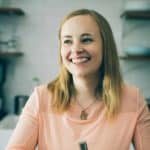 About Megan
I focus on fresh ingredients and easy methods, with spins that keep meals interesting. Dinnertime shouldn't be stressful or complicated, and I'm here to help you enjoy the time spent in the kitchen. Read more…