This post contains affiliate links. As an Amazon Associate, I earn from qualifying purchases.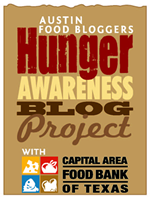 When you think of people who visit the food bank, who do you think of? What about those who utilize WIC, or pay for their groceries with a food stamp card? Do you think of the homeless, the unemployed, or the senior citizens? Do you think of college graduates or high school dropouts?
41% of the people who benefit from the Capital Area Food Bank here in Austin are children. Your nieces. Your nephews. Your cousins, brothers, sisters. Your own child. My child.
I'm speaking in metaphors, but when you learn that so many of our nation's hungry are children, it's hard not to look into the face of your offspring and think of those whose only meal today might have been the free lunch they had at school.
Nearly one in five Central Texans is food insecure.
For one week, 30 Austin-area food bloggers are taking part in a challenge: cook from a typical bag of food given out at one of the Capital Area Food Bank's local partner agencies.
Our list is based on an actual bag given out recently in Pflugerville. We purchased the food ourselves, in order to make sure we aren't taking away from those who truly need it. The items are meant to last for one month, and are per household, not per number of people in your household. Here's what we have to work with:
2 cans spaghetti sauce
4 cans veggies (choice of green beans and/or corn)
4 fruit cans (choice of sliced pears and/or mixed fruit)
1 meat selection: Anything and everything HEB has. Most of what was available was whole chickens, fryers and pork chops. But we really get everything from pig trotters to ham.
3 drink items: choice of large bottle of cranberry apple juice and/or powdered milk (shelf stable milk) boxes and/or apple juice boxes
1 bag spaghetti or bag of egg noodles
1 bag of pinto beans or white navy beans
1 bag of white rice
1 package of jalapeno slices
1 ready-made dinner (Hamburger Helper)
1 bag/container of rolled oats
1 bag of Cheerios
5 lb bag of potatoes
I opted not to get the fruit juice as we try not to drink juice around here, and for my meat choice I selected a whole chicken. I stuck to the list for the canned food choices of corn, green beans, pears, and mixed fruit. I could easily have gotten any of the other canned items available at my grocery store, but I wanted to be true to the list as much as possible. It was interesting to take a look at the prices of things and have that really dictate what I bought. For instance, I immediately went to the bagged cereal to get the store brand Cheerios, but as it turn out they only had honey nut flavor (HCF), and the 10 ounce bag was $1.50, while the store brand (HEB) plain Cheerios were $1.74 for an 18-ounce box. Name-brand Cheerios, by the way, were $2.98 for 18 ounces, although only the name brand appeared to qualify for WIC.
As my son would qualify for WIC if we were in need, I went ahead and purchased the peanut butter, cheese, and tortillas that would be covered with vouchers. I also grabbed some bananas, which would be covered under by the fresh produce stipend included with WIC. We already have milk and eggs at home, but those would be covered as well. I'll be posting more on WIC in the coming week.
Luckily we also have a garden that currently has parsley, lettuce, peas, and garlic. These items will not be included in the total cost of our food. Neither will items like salt, pepper, canola oil, flour, sugar, or basic spices like Italian seasoning and cinnamon.
Recently we bought a portion of a cow from Bastrop Cattle Company, and rather than buy more beef at the grocery store for this challenge, I'm just going to work in the average cost of a pound of ground beef into what would be my family's SNAP stipend. SNAP is the new name for the food stamp program, and as a family of three our maximum monthly stipend would be $526. The average stipend for all household sizes, according to the Texas Department of Health and Human Services, is $312 per month. That would give us about $73 per week, which actually feels like quite a lot to me. Instead of using SNAP, I'm going to attempt to keep our extra food costs to $17 or less – what amounts to $73 per month. I'll be talking more about the SNAP program in a future post, as well.
Our first meal was tonight: Four Cheese Hamburger Helper, salad, and canned green beans. The boys drank milk, and I had water. Hamburger Helper is something I'm very familiar with – I think I've mentioned here before that it constituted the bulk of my dinners growing up. It's not hard to see why – ground beef is pretty cheap, especially in bulk, and HH is easy to make, filling, and full of the fat and salt we all love. Plus if you have side dishes it can feed 5 people. The salad was from the garden, the dressing purchased, and the beans from our pantry "bag". I took care to purchase the "natural" beans with no added salt or sugar, and I'm sad to report they tasted terrible. I knew they wouldn't taste like fresh beans, but these were waterlogged and actually had a sort of metallic taste to them. But they're still vegetables, so we ate them.
Actual cost for tonight's meal:
Ground Beef: $2.99
Hamburger Helper: $1.50
Lettuce: Free
Dressing: $0.30 (divided out from bottle)
Green Beans: $0.68
Milk: $0.65 (divided out of gallon jug)
Total: $6.12 (with two servings of HH leftover for tomorrow's lunches)
With the food bank and WIC, the cost of this meal would have been $3.28, although if I was in need I would probably be eating a cheaper salad dressing.
Tomorrow will be the first full day of the challenge. My son eats free breakfast, lunch, and snack at his daycare. I'm fairly certain the food at the daycare is federally subsidized, much like breakfast and lunch programs in the public schools. A few months ago we had to fill out a form asking about our income, and I know one of the reasons I can't pack a lunch for my son is because of the funding they get. This also means that for the purpose of this challenge I don't need to change my son's habits, thankfully.
Please be sure to check out the other bloggers who are participating in this challenge. You can also find out more about the food bank and hunger in America by visiting Hunger is Unacceptable.
And hey, one more selfish thing – my birthday is coming up. I'll be turning 30. I'd love it if you could help me celebrate by donating $30 to either the Capital Area Food Bank or your local food bank. With just $5 CAFB can provide $25 worth of nutritious food to someone in need – $30 would provide $150 worth of food. You can donate right here. If you do so, please let me know, because I'll be doing something special for those who donate.
Thanks to Addie Broyles, Kristi Willis, and Lisa Goddard for helping to coordinate this project.