This post contains affiliate links. As an Amazon Associate, I earn from qualifying purchases.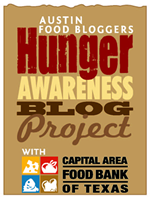 As I said, this morning's breakfast was a free bagel with cream cheese. As bagels are ginormous, I only ate half and saved the rest for lunch, which I added a clementine to. Yes, normally I would have a bigger lunch, but our friends' wedding shower was today and I was counting on the food people were bringing for that. I guess that means my breakfast + lunch cost was $0.16.
Dinner tonight was super simple burritos. I could have been fancier, but when you realize five minutes before leaving the house in the morning that you forgot to soak the beans overnight (not to mention negotiating with the toddler that yes, he does want to go to school), tossing dry beans in the CrockPot with a bunch of liquid and hoping for the best all one can do. And then when you come home at 5 and the toddler is demanding food and the husband is trying to sneak snacks, plain white rice and some reheated chicken it is.
Dinner's cost was around $0.65. Only the toddler had milk, and remember that I put the entire cost of the chicken in for Monday instead of trying to figure out how much we're using at each meal. So that puts me at … 81 cents for the day.
I just took a look at the numbers from my previous posts. The actual cost of the food I ate was $24.41. If I had gotten food from the food bank and through WIC, the cost would have been $7.03. That's $7.03 for 6 dinners, 5 breakfasts, 5 lunches, and a dessert. And don't forget that the dinners are feeding 2.5 people.
I could have been using my SNAP allowance and buying fresh vegetables, non-block cheeses, and more proteins. But I'll be honest here. The $526 monthly allowance for a family of 3 is far more than what we normally spend on food. $123 a week and we'd be eating like kings.
So I chose to be as frugal as possible, hoping to replicate a little bit of what those in need go through. While I do have some time to cook each day, I certainly don't have time to make the food I'd love to make every day. And if I were food insecure, I'd probably also be working multiple jobs, feeding my family between shifts and slapping together whatever it was I could find in the cupboards.
This is kind of how I ate as a kid. My dad was on shift work and my mom worked part-time jobs that could be at any time of day. Then as we got older toss in football practice and theater rehearsals, and our own jobs. Eating together as a family was almost a monumental event by the time I was 16. We ate a lot of Hamburger Helper, because frankly, it does have some things going for it. Cheap, easy, filling, and it actually does have nutrients. (Artificially added, but still.) We chose the cost of our bodies rather than the cost of time and money.
Nutrition programs for those in need are key. As are the ability to use WIC vouchers and SNAP cards at farmers' markets. As is knowledge. Not just for "them". In reality, there is no "them". When people are hungry and malnourished it affects everyone in society, from how our businesses are run to school standards to the success of the local economy. Hunger costs everyone.
What are your "invisible" costs? What barriers do you experience feeding your family?