Creminelli Meats – Review & Giveaway
This post contains affiliate links. As an Amazon Associate, I earn from qualifying purchases.
For me, a big part of the holidays is the nibbles we had leading up to the big meal of the day. Growing up in Wisconsin, that meant sliced cheddar, Owl's Nest or Swiss Colony cheese spreads, Ritz crackers, and plenty of summer sausage.
Over the past two years I have expanded my cured meat horizons thanks to local artisans Dai Due, Kocurek Family Charcuterie, and Salt & Time. I've also tasted fantastic salamis from Creminelli, the glory that is njuda from Boccalone, and porchetta di testa at Contigo. As far as I know my cholesterol has not suffered from the onslaught. (Please no health police here – I don't eat cured meat every day!)
When I found out Creminelli had a couple of new items for the holidays, I jumped at the chance to try them out. Wild boar mortadella and cotechino soon arrived at my doorstep. I've had mortadella before, in the form of hot dogs, but this version came in a large round, ready to be sliced for sandwiches or a charcuterie plate. Unfortunately, I wasn't able to find a local place willing to slice a hunk of not-from-their-store meat for me, so I had to be creative. As it turns out, a cheese plane worked fairly well for creating thin, if not perfectly uniform, slices!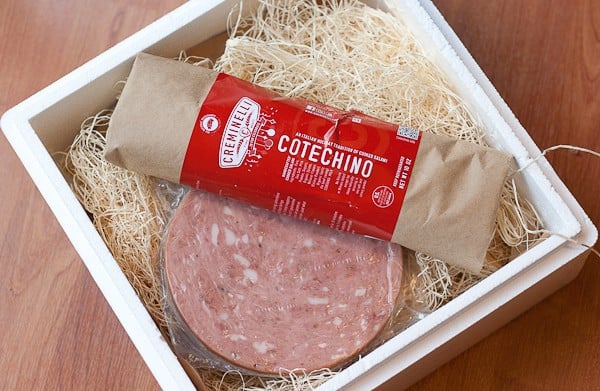 The mortadella is mild and creamy, and a great meat to put on a sandwich. I enjoyed it on crackers with a little goat cheese. I also tried the mortadella chopped and scattered across a salad, and it went really well with the slightly sweet dressing we use. I liked that it didn't make the salad feel heavy, like other meats sometimes do when you add them to greens. I still have some left, and I plan on serving it at our holiday open house.
Cotechino is a pork sausage that is traditionally served for the holidays in Italy with lentils. I had a bit of user error when it came to my lentils, and we ended up serving the cotechino with green beans. The incredible softness of the sausage made the flavor very interesting – it is quite luscious and a little goes a long way. I did find it was a little saltier than I like, but I am extremely sensitive to salt. I think pairing the cotechino with roasted winter squash could make for a really lovely winter meal.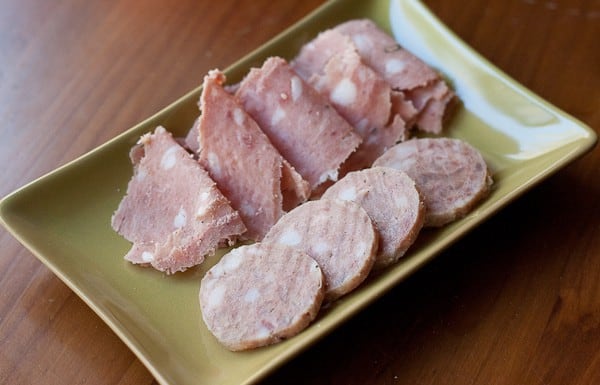 The fine folks at Creminelli are offering up a salami gift set for one of my lucky readers. This set includes their Barolo, Tartufo, and Wild Boar salamis, all of which are delicious and the perfect accompaniment to your holiday party cheese plate.
Giveaway Rules:
Open to US residents only
Entries must be received by 11:59 pm CST on Saturday, December 10. Winner will be drawn on Sunday, December 11, and notified by e-mail. Winner must respond within 24 hours; after that a new winner will be drawn.
To enter, leave a comment on this post.
Winner will be drawn via Random.org.
Giveaway is now CLOSED. Congratulations to Darius M. for the win! Thank you to all who entered.
Disclaimer: I was contacted by Creminelli and provided samples. All opinions are my own. I like meat.