I don't get to eat out as often as I'd like. Part of this is because as a family we try to have as many meals together as possible. Being a food blogger makes this a little hard, because there are often lots of events going on around town and turning down invitations is, honestly, kind of a bummer. If you've been reading this blog for a while, you'll also know that we've been working on paying down debt, and that means one of the first things to get cut in a budget is going out. It also means that my eyes are always peeled for a great deal on good food. I think I've found that sweet spot at Hugo's.
A few months ago I had the opportunity to dine at Hugo's for a media event, and I loved every dish that came out of the kitchen that night. However, having read Ruth Reichl's account of restaurant reviewing, I wanted to make sure to return on my own dime before writing about the restaurant. I was finally able to do so for brunch one Sunday, taking advantage of a gorgeously sunny day to enjoy the bright space inside Hugo's.
At the media event, we were served a swath of dishes and cocktails, providing for a nice picture of the menu. The standouts for me were the Mexican corn wraps (grilled corn, cojita cheese, and spices, tucked into a leaf of Bibb lettuce), the shrimp and grits (possibly the best in town), and the decadant Quattro Leches cake. The other dishes were also enjoyable and the level of flavor pairings took us by surprise. The menu overall is on the new-fusion fringes of what is being served in Mexican restaurants in Austin these days – though there are the ubiquitous free chips and salsa and enchiladas on the menu, here is a place to branch out from the standard "dinner combo".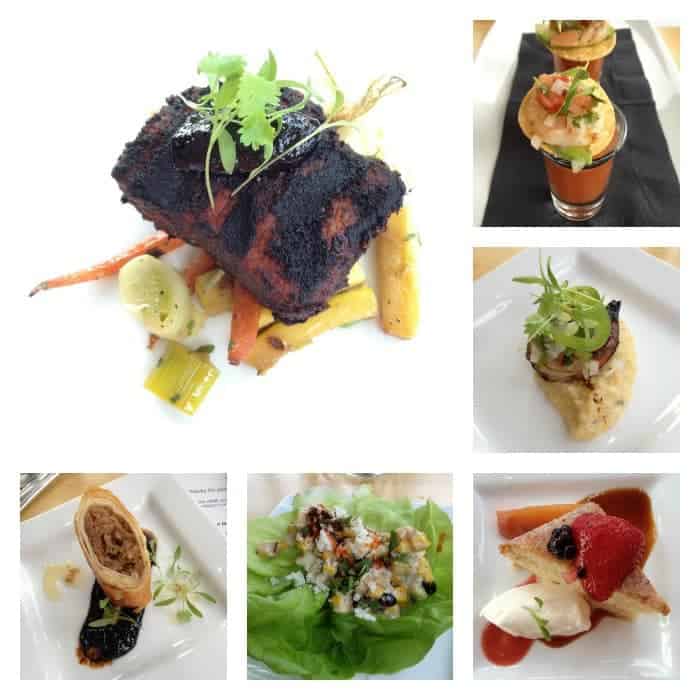 When my friend and I returned for brunch, we found a hit with the extremely reasonably priced biscuits and chorizo gravy – two huge drop biscuits slathered in spicy gravy was only $6, a bargain when it comes to dining out. Our starters, the ceviche and crab cakes, were fine, but not extraordinary. My friend deemed the crab cakes a bit too bready, and while the presentation of the ceviche was nice, it resulted in trying to cobble together composed bites and ending up with unbalanced flavors.
Drinks are a big part of Hugo's (they can't not be, considering they put Tequila Bar right on the sign), and the house infusions are a pride of the bar. The infusions we tried were potent, and the chocolate in particular was a good option for a nightcap. At brunch we hit upon what seems to be the main flaw of the restaurant – spotty bar service. Our cocktails (hibiscus bellinis) took quite a while to get, showing up after our starters, even though the restaurant was only half full and the patio was completely empty. They were tasty and the sweetness worked well with our biscuits and gravy, but we normally would have ordered multiple cocktails, and were put off by the wait time.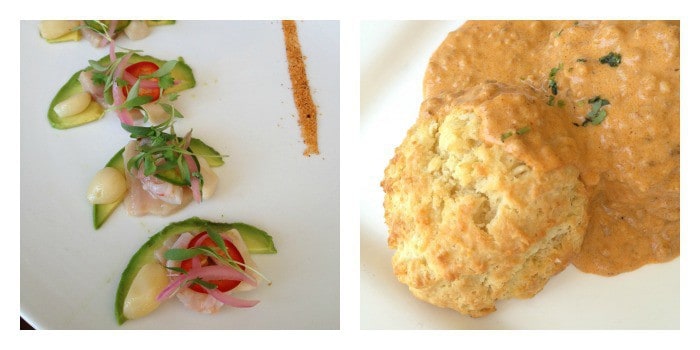 From various reviews, it seems Hugo's is still trying to work out its footing. Its slightly hidden location under a condo on Lamar probably doesn't help it gain a new stream of interested diners, but overall, Hugo's is a place I'd like to return, and one that wouldn't put a huge dent in my wallet.
Hugo's Restaurant y Tequila Bar
www.hugosaustin.com
300 S. Lamar, Austin