This post contains affiliate links. As an Amazon Associate, I earn from qualifying purchases.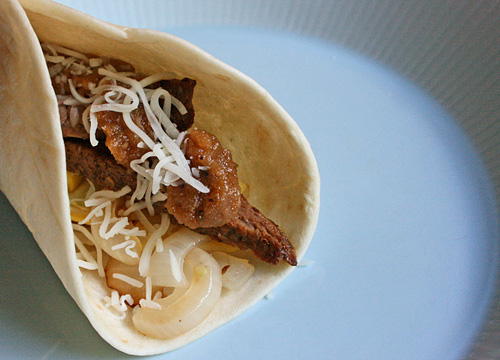 I daydream about food. Sometimes what I dream about works, sometimes it doesn't. I'm not quite sure about this one yet. It was tasty, but it didn't turn out how I had envisioned. Don't you just hate that?
The July 2010 Daring Cooks' Challenge was hosted by Margie of More Please and Natashya of Living in the Kitchen with Puppies. They chose to challenge Daring Cooks to make their own nut butter from scratch, and use the nut butter in a recipe. Their sources include Better with Nut Butter by Cooking Light Magazine, Asian Noodles by Nina Simonds, and Food Network online.
I chose to make a cashew butter into a spicy sauce and drizzle it on steak tacos. But, my butter wouldn't grind down as thin as I would like, and the motor on my food processor was starting to smell a little like exploding, so I had to make do with thick cashew paste. In a saucepan I sauteed some chopped jalapeno, then added about 1/2 cup of the paste and some oil to thin it out. Then I mixed in a splash of soy sauce, and a dollop of Greek yogurt to even out the flavors.
Once it was all mixed I set it aside and sauteed up some onions and summer squash, then pan-grilled a grass-fed sirloin steak from our freezer stash. Have I mentioned we got part of a cow months ago? Well, we did. I wish it had come with more sirloin and fewer T-bones, because the sirloin is so versatile.
We piled the sliced steak, vegetables, cheese, and sauce into tortillas and stuffed our faces. This one might not be going into the recipe book, but sometimes, experimentation pays off.