This post contains affiliate links. As an Amazon Associate, I earn from qualifying purchases.
I absolutely love throwing dinner parties at my house. Especially since we got the double oven and put in the patio in the backyard, entertaining has been incredibly easy. So when I saw that for the next challenge of Project Food Blog I was to create a dinner party, I was thrilled.
Except I wouldn't be at my home, with my double oven and my patio. Or, as it turned out, with even half the kitchen tools I am used to.
Remember these two girls with me?

I mentioned them in my 30th birthday post. This weekend, I was lucky to be able to travel to Madison to spend some time with them and do wedding-planning activities, because Asha is getting married in May. These are my oldest, dearest friends – Kim and I became friends the second day of kindergarten and Asha became our friend the next year. They're the perfect people to share in my dinner party.
Along with a few others, on Saturday night we sat down to a meal prepared almost entirely from what I had found at the farmers' market that morning. It was fantastic to be able to explore a market in another city, and I was really surprised and pleased with the variety they had there.
Tip: If you're planning a party based on the farmers' market, check to see what is in season. You can loosely plan your menu based on the season, and then tweak it according to what you find.
For me, planning the menu was easy. I knew I wanted to try the Maple Souffles from Sugarlaws. With farm eggs and pure Wisconsin maple syrup, I was sure it would be a winner. From there it was easy – apples are in season, so dessert became an apple tart. I had just had a fantastic corn bisque from Urban, and I wanted to re-create that if I could manage to find some fresh corn. If not, no big deal: the bisque would be deftly changed to winter squash-based. I lucked out, as there was more than one vendor with fresh corn.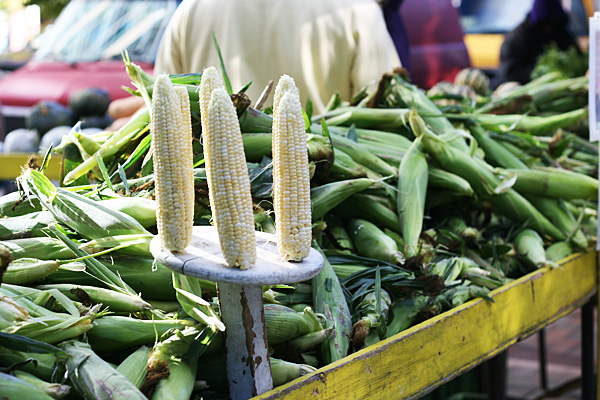 I had no idea what I wanted to do for the meat course, but was confident the market would have something to share. I was tempted by the offer of rainbow trout, but by the time I got some cash and continued on my way around the market (it circles the state capital) I had my eye caught by a bison vendor and was toting a package of medallions, and completely forgot about the trout.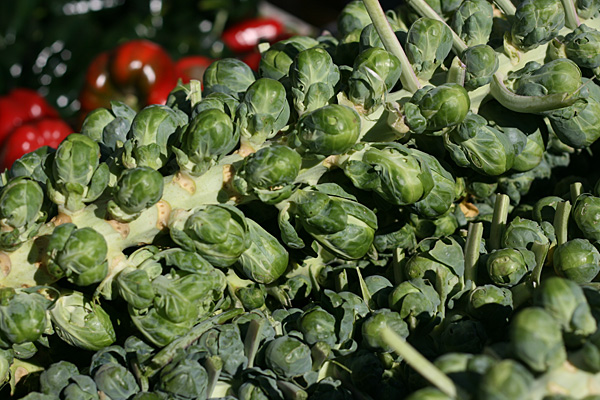 Not hard to do when you're lugging a giant stalk of Brussels sprouts! There was no way I was turning down this beauty. Into the bag it went, along with a winter squash and small potatoes.
I picked up Honeycrisps to make the tart, and a beautiful sheep's milk cheese to go with a fresh baguette. Fully laden down, I hurried back to the rental car with plans flying furiously around my head.
It's almost funny how different this dinner party was from a typical one I have, if only because I didn't spend the entire day prep cooking. Normally I would be in a crazed mood trying to get everything done all day long. For this I didn't even get started on the cooking until after 5. And why?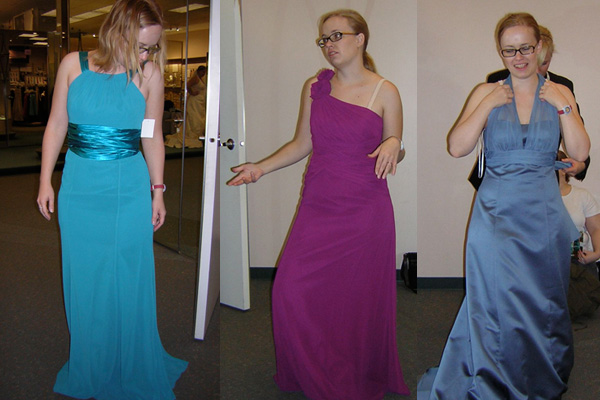 Yep. Trying on bridesmaid dresses.
After we finished that, had lunch, ogled over Asha's wedding dress, went to Pier1, Target, the grocery store, and the liquor store, finally I was ready to start!
It might sound odd, but you really can have a lovely dinner party without cooking all day long. While I do love fancy food, I didn't want to get caught up in tiny fussy things, and because I had gotten the ingredients at the market, I really wanted to make sure everything shined. I wanted to highlight the season's offerings, not try to explain to my guests (who are decidedly not cooks) what everything was.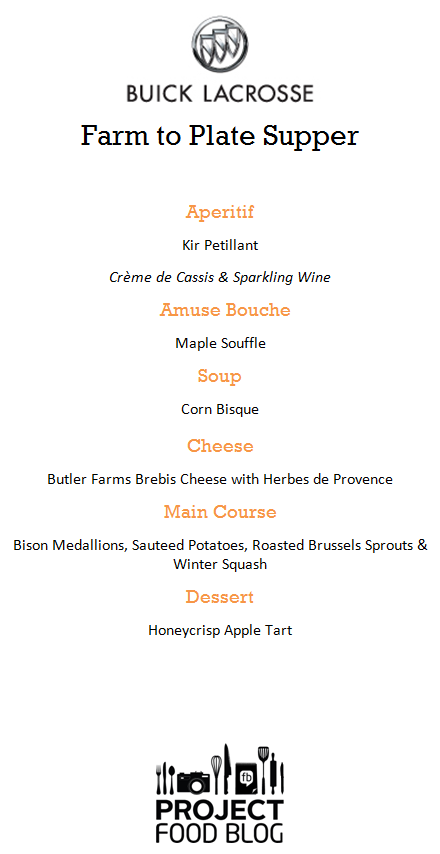 Tip: Keep things simple. If you want to show off, you can do so in the presentation.
Whoever designs products for Pier1 is obviously paying attention to the food blog trend. I picked up a few items from their Tasting Party line – tiny little bowls and glasses that are perfect for bloggers.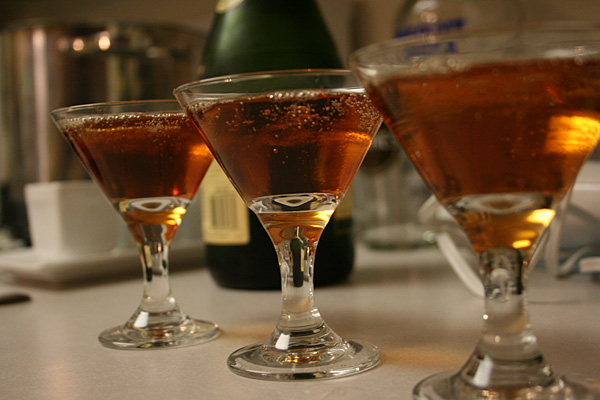 Aperitif – blackberry liqueur with sparkling wine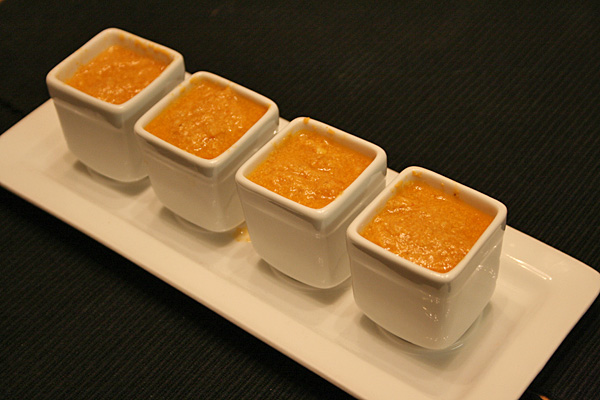 Corn bisque
Tip: Don't sweat the mistakes. Chances are, no one will know it was a mistake, especially if it tastes good.
Because my friend's kitchen has pretty much nothing in terms of tools (I had to buy cutting boards!) it meant I had to beat egg whites to peaks by hand for the souffles. Needless to say it didn't quite get to the point it should have, and the souffles suffered as a result. Luckily, the combination of maple syrup and beaten, baked eggs turns out to be wonderful, no matter the texture.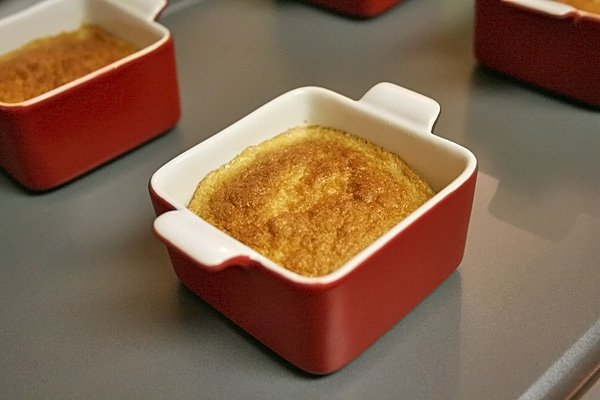 I would have loved to make sauces for my dishes, but time and lack of equipment ensured that was not to be. However, no one noticed. I am always grateful for our farmers' markets in Austin, and it's great to know that I can travel across the country and keep my local-food-loving ideals still going. I cooked the food simply, bringing out the flavors – and as it turns out, served Brussels sprouts for the first time for my friends. And they all said they wanted to make them for themselves. In my opinion, there's no better dinner party than being able to combine the eating portion with a little bit of learning.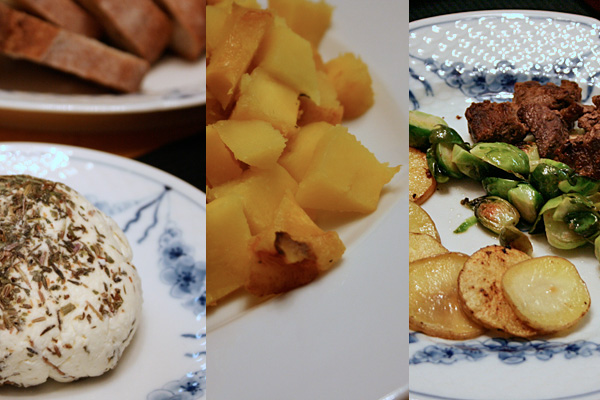 Tip: Take shortcuts.
I have made puff pastry from scratch before, and it was sinful, but no way in hell was I going to do that again for this challenge. Sorry, guests! You'll have to have tart thanks to Pepperidge Farm and their wonderful invention of pre-made puff pasty.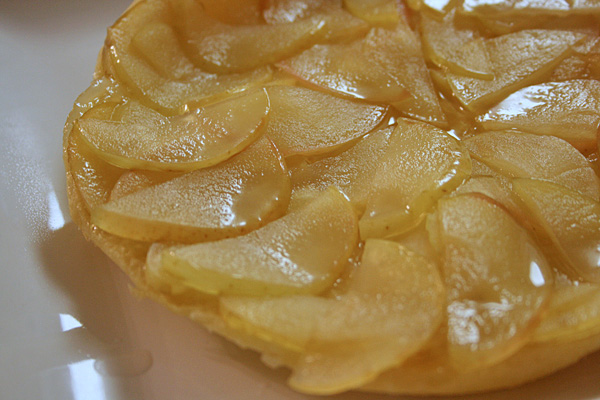 Apple tart
Thanks everyone for joining me in a memorable night full of laughs and memories. It's hard to beat the company of your oldest friends, especially when combined with delicious foods.
This post is for Challenge #3 of Project Food Blog. Please consider voting for my post from October 4 to October 7. Thank you!