This post contains affiliate links. As an Amazon Associate, I earn from qualifying purchases.
I've noticed that one of the complaints about Food Revolution is that the issue of budget isn't considered when discussing processed verses whole foods. Note the lowercase there – whole foods doesn't equal Whole Foods, or as many people like to call it, Whole Paycheck.
Every month the USDA compiles a table of food costs (based on the Food Pyramid) in the country, at four income levels. For a family of two adults and two children under 6, the monthly cost of food in February 2010 ranged from $507.80 (thrifty) to $987.40 (liberal). You can view the tables, which go back to 1994, here.
Now, I'm probably opening a can of worms here, but I'd love it if everyone would share their approximate monthly food cost. Feel free to share more information, such as how much of that budget goes to eating out, liquor/wine, convenience foods, and if you shop at farmers' markets and the like. Please share even if you don't live in the United States, but let me know where you are so I can convert the dollar amount.
I'm opening this up to allow anonymous comments. As money is a sensitive topic, I want to make sure everyone is comfortable sharing, therefore you don't need to leave your name.
On Monday I'll compile the comments and discuss what we've found.
So… what's your food budget?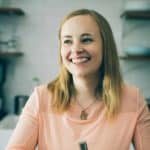 About Megan
I focus on fresh ingredients and easy methods, with spins that keep meals interesting. Dinnertime shouldn't be stressful or complicated, and I'm here to help you enjoy the time spent in the kitchen. Read more…