If you live in Texas, you've probably seen the GO TEXAN logo in grocery stores, at restaurants, or in commercials. As an advocate for local food, I love the GO TEXAN program, which strives to support farmers, ranchers, and producers throughout Texas.
I know I am rather lucky to live in Texas, where there is so much available to us. When I was doing my local food challenge I knew there was a bounty out there, but I really was surprised that I could eat all my meals without once looking to another state or country.
The GO TEXAN Restaurant Round-Up is celebrating that. All next week, restaurants around the state are joining in and offering meals featuring some of the fantastic food Texas has to offer. And even better, many of the restaurants are donating part of their proceeds from the Round-Up to local food banks. Because of my participation in the Blogging for Hunger project earlier this year, I know how much of an issue hunger is in Texas, and I'm very happy to see the Austin restaurants supporting the Capital Area Food Bank.
On Thursday I had the privilege of attending the event kickoff lunch at Austin Land & Cattle Company (ALC Steaks) and heard Texas Agriculture Commissioner Todd Staples, Stan Ray of Farm Credit Bank of Texas, and ALC Steaks owner and head chef Christian Mertens talk about the Round-Up. "People today want to have a closer and better connection with the farmers and ranchers that produce the safest, the most affordable, the most reliable food supply in the world," Staples said.
We were then treated to an amazing all-local meal. I know it sounds odd, but I ordered the grouper instead of the T-bone steak. The steaks were from Bastrop Cattle Company, the very same place we bought our share of beef from, so I know I love it. There was also wine from Brennan Vineyards and Flat Creek Estate, and beer from Independence Brewing Company.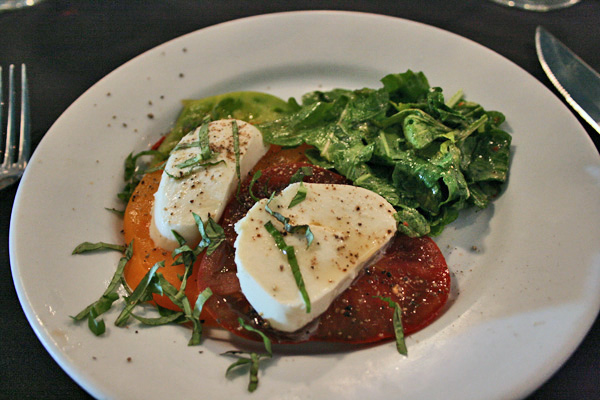 Heirloom tomato, arugula, and mozzarella salad featuring Frank Davis Farms, Dallas Cheese Company, and McFall Creek Farms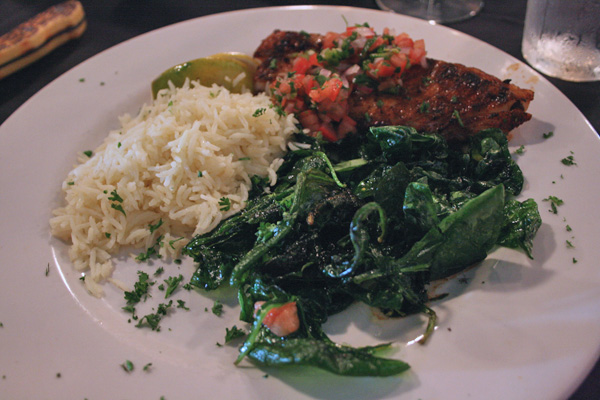 Chile rubbed grilled Gulf grouper, pico de gallo, crispy spinach, and Texmati rice, featuring Frank Davis Farms and Rice Select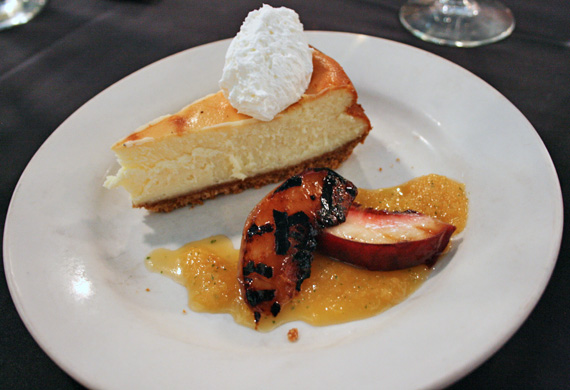 Cheesecake with grilled peaches, featuring Organic Valley Farms and Pedernales Valley Farms
The Restaurant Round-Up runs from September 27 through October 1. Find a participating restaurant in your town by visiting the listings on the GO TEXAN Restaurant Round-Up site.
Also, if you are on Twitter, there is a contest going on! The person who has the most tweets from participating restaurants will have their tweets featured on the GO TEXAN site and will receive a gift basket filled with GO TEXAN products. Be sure to use the #GOTEXAN hashtag to make sure you are counted. For more info visit this page.
Disclaimer: I was provided with a free lunch at this event. Thanks to the Texas Department of Agriculture for inviting me.