Gourdough's Public House: More than Doughnuts
This post contains affiliate links. As an Amazon Associate, I earn from qualifying purchases.
I have yet to meet someone who doesn't like doughnuts (or donuts for that matter). I'm sure they exist somewhere, but even if they do, they don't sound like the kind of people I want to hang out with. Though I guess I would get to eat all the doughnuts if we went to Gourdough's Public House together, so maybe this is something I should be looking into after all.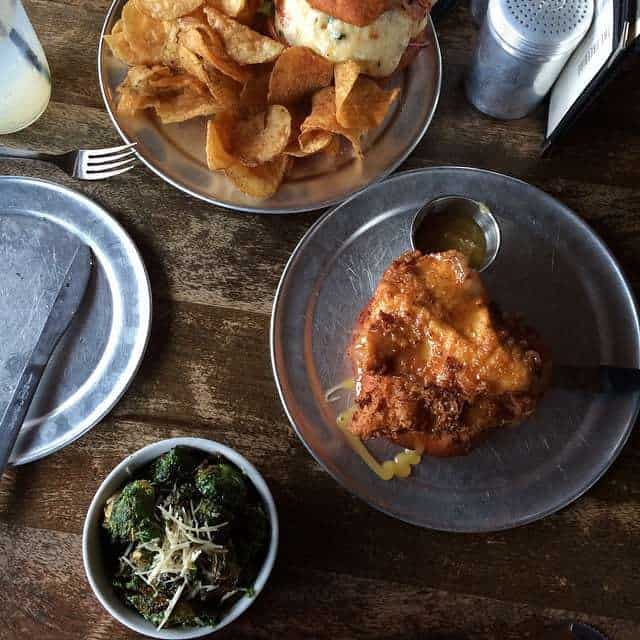 Gourdough's Public House is more than just a doughnut haven, though that's not quite apparent from a quick glance at the menu. Yes, you can get a doughnut burger. Yes, the salads come with a doughnut on the side. (All salads should.) But I think the star players here aren't the doughnuts at all, but the rest of the ingredients.
The space is wonderful too — the former space for the South Austin Kerbey Lane has been transformed into a more cozy, more communal area with a beautiful bar, large patio area, and seats-a-crowd booths. There's plenty of room to come by for any meal of the day with your friends, or you can grab a seat at the bar or a tall table if you don't want to be conspicuous in your loner doughnut eating.
I recently hooked up with Tastemade to do a series of videos on the Austin food scene. My friend Lindsay (and her adorable, tiny, slept-through-all-of-lunch baby boy) had a great time stuffing ourselves with a few dishes from the menu.
Seriously, though, that fried chicken? Pretty amazing. The "Big Cheez", their version of mozzarella sticks, were light and perfectly melty, without the threat of molten cheese. Brussels sprouts, which are still having their moment, are also a good choice here if you want some green for balance. I went into this meal expecting to feel dining regret, but I was completely impressed. Gourdough's Public House lives up to the hype.
Gourdough's Public House
2700 S Lamar Blvd Austin, TX 78704