This post contains affiliate links. As an Amazon Associate, I earn from qualifying purchases.
His favorite foods include broccoli and green beans. More often than not he turns up his nose at french fries, sweet and regular potato alike. He relishes eating raspberries off his fingertips, plucking strawberries from the vine, and letting watermelon juice escape his overeager mouth.
He adores chocolate, and would eat chicken nuggets every day if he could. Sometimes his dinner consists of bowl after bowl of cereal. During a recent trip to the grocery store, he snatched up a Lunchable with glee, despite the yellow packages having never entered our house. (It did not end up in the cart.)

Raising a child to be an intelligent, curious, and healthy eater is a challenge, even without outside influence from advertising and peer influence. My son is not yet four, and he is already aware of many foods we don't keep at home, simply because other children come to school toting Ziplocs with technicolor cereals or a teacher decides to share their own food with the class. Luckily, his favorite cereals are of the undyed variety – not that he wouldn't jump at the opportunity for his friends' selections.
We've had success feeding our son a mostly unprocessed diet in part because we started with the real stuff right out of the gate. Never bothering with the jarred stuff (have you smelled the pureed banana?), R's first foods were fork-mashed banana and avocado. From there we moved on to steamed and pureed beans, broccoli, sweet potato, peas, carrots, and more. According to the baby-led weaning method we could have skipped the puree step, but as new parents with hardly any experience with babies, and a baby who liked to gag, we played it safe. It might be coincidence, but I attribute those homemade baby foods with why steamed green vegetables are still a hit at the dinner table.
R is also a frequent visitor to the farmers' market with me, to the point where I'll get asked about him if he isn't hopping ahead of me that Saturday. He adores choosing vegetables, grabbing at peaches, and declaring that we must buy fish, chicken, or bread. He exclaims over new developments in the garden and insists on watering and harvesting with us.
Still, dinnertime is often a struggle. When kids are hungry they often want to eat what they want to eat, not what you put in front of them, and if it doesn't fall under the "snack" category my son often turns up his nose. We try not to do a "my way or the highway" approach. After all, growing up I was required to eat all my peas or mushrooms whenever they were served, which was often. The result was a 20-year hatred of both foods.
Tasting everything is key (yes, even for adults). New foods get a taste and then we talk about it before moving on. It's pretty easy to read a "gross" face on a kid. Foods I know he has eaten before have an age-bite policy. That is, he has to take a bite for each year of his age. Once we get past three he can be done, but I've found if we don't prompt counting the three bites, we can get him to eat much more.
Our other method for success is selective variety. That might sound like an oxymoron, but it means we try to keep our pantry filled with healthful foods. By not having sugary cereals, potato chips, or candy on hand, a step is removed from the decision-making process. Instead, my son clamors for yogurt, carrots, cheese, and apples.
I'm not naive enough to think this will last forever. After all, years of school and the specter of hot lunch lies before us. But the seeds have been planted, and with tenderhearted nurturing, we hope for growth.
If you've got a new eater at home (or even a slightly older picky one) I recommend picking up Tyler Florence's new cookbook Start Fresh. It might seem silly to recommend a book that has a first chapter dedicated to purees, but there are also recipes the entire family can enjoy. Simple ingredients and fast preparations are what every family with young kids is looking for, and there are tons of great tips for getting your family on the path to healthful eating.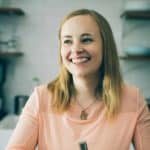 About Megan
I focus on fresh ingredients and easy methods, with spins that keep meals interesting. Dinnertime shouldn't be stressful or complicated, and I'm here to help you enjoy the time spent in the kitchen. Read more…