It's late October. There's a bit of crispness to the air, but it's almost unnoticeable as you're bathed in warm sunlight. You can still gallivant around town without a coat, and the blue of the sky might be the most perfect blue you've ever seen. Until tomorrow. But then sooner or later it will get colder, and the months will become gray, and you need to find a way to bottle this amazing autumn, perhaps the best you've experienced in Austin, and hold onto it as long as you can.
How about one more picnic?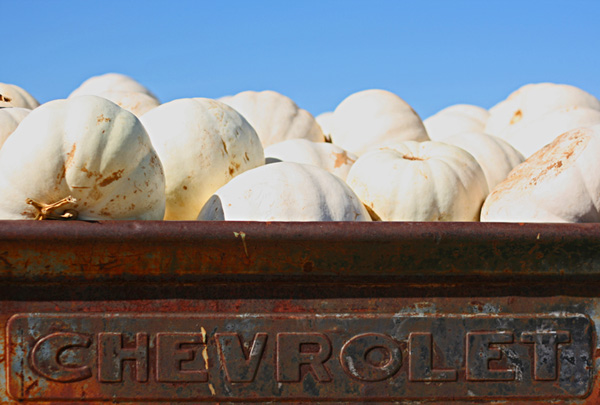 We adore eating outside. Even the simplest meals seem more fun when you add the outdoors. For Father's Day I packed up a simple breakfast picnic of brioche, croissants, and coffee, and we headed to an open field next to the walking trail, where we taught our son to fly a kite. Sure, my feet got bitten up by marauding fire ants, but it was an exciting morning.
While I like a good barbecue, I also like to plan picnics keeping in mind that we might not have any access to heat. I also don't like to worry about trash, or, let's face it, plates. When you have a rambunctious 3-year-old boy, you can't really be holding on to a plate as you chase him across the park. I like to prepare little nibbles so people can graze as they please before coming back together for a no-frills dessert, and hand out biodegradable utensils for those who require them.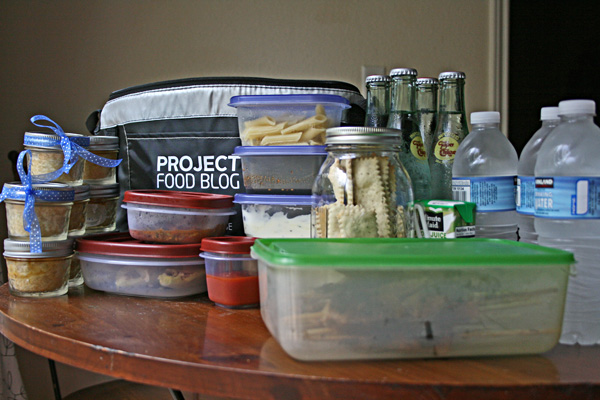 For Project Food Blog Challenge 6, Foodbuzz sent us each an insulated cooler and challenged us to create a meal that traveled well. As you can see, I took full advantage of this little bag. Everything on this table (plus a few items I forgot to put in this picture) except the bottles of still water fit!
We called up our friends and met at a nearby park for a relaxing Sunday lunch. First things first: offer snacks to your guests.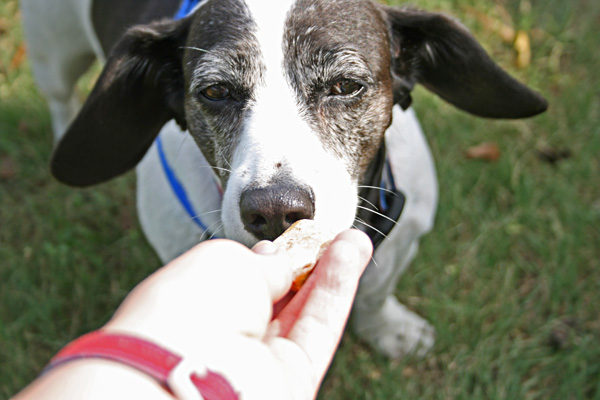 I made pumpkin peanut butter treats for our friends' new dog Blue. She was happy to be included in our little meal and didn't even beg as we enjoyed our goodies. The perfect guest!
Drinks were do-it-yourself Italian sodas. I picked up some small bottles and filled them with various juices and instructed everyone to alter their bottles of Topo Chico how they so chose. The bottle opener attached to our Project Food Blog coolers came in quite handy.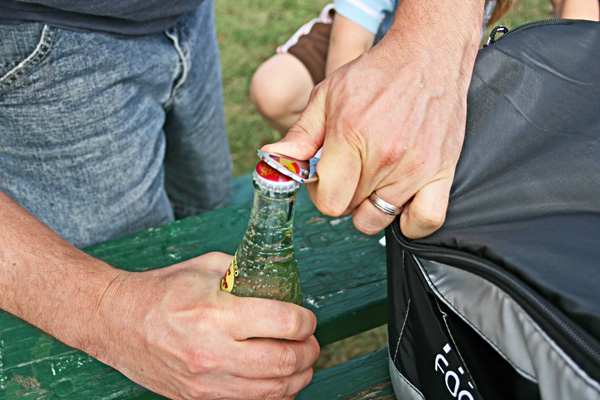 The juices were pomegranate, lemon, and lime. Most of us chose to do a mix of pomegranate and lime, and it was very refreshing and went well with the food.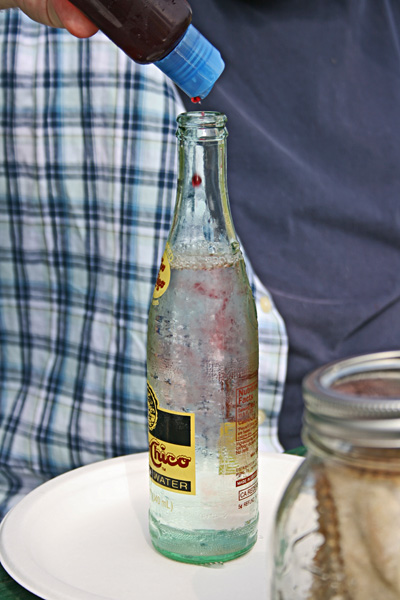 Our first bites were roasted bruschetta, accompanied by homemade herb crackers. I love slow-roasted tomatoes, so much so that I have no problem eating them right out of the oven and not even bothering with putting them into my recipe. Or, ahem, on a fork.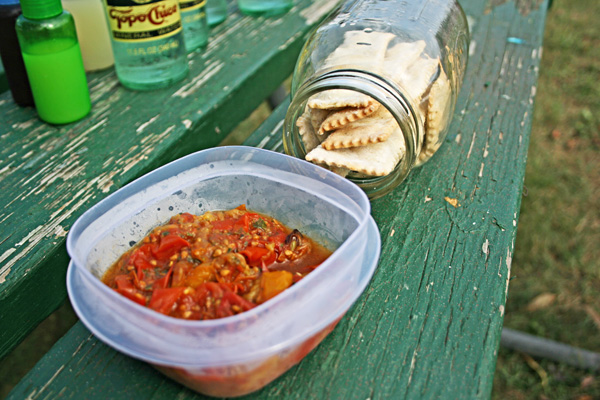 Next up was goat cheese endive boats. I've always loved the utility of endive leaves. You can stick almost anything in them for a beautiful presentation. For a picnic they are the perfect way to serve up nibbles. Today I stuffed them with chipotle chevre, walnuts, and slivers of pear. Pears are in season now, and their sweetly mellow and refreshing taste are a great accompaniment for the spiced cheese and meaty nuts. Plus it's always good to pair creaminess with crunchy so your guests don't get texture boredom.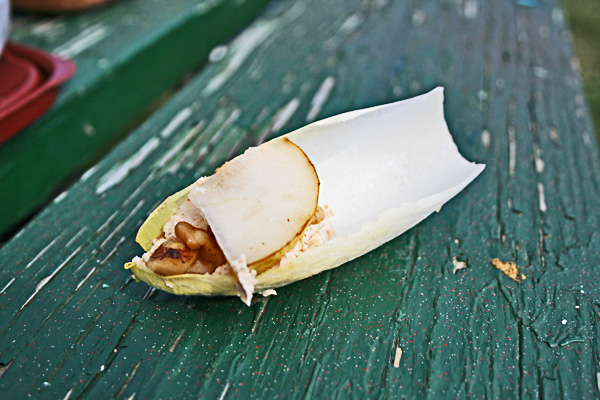 Served with the endive was grilled chicken and a trio of dipping sauces. I love cooking things on skewers, and marinading the chicken ensures it is still flavorful and juicy the next day. The sauces are offered in a variety of flavors to make everyone happy: spicy peanut, sweet teriyaki, and tangy lemon-basil aioli.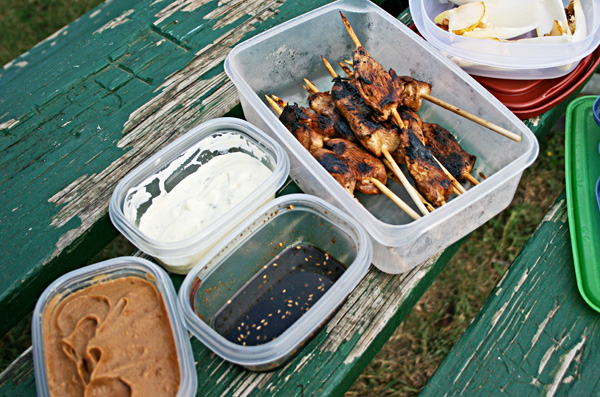 I made sure not to forget about the little guy, either. With kids, you never know if they're going to gobble your carefully prepared meals or turn their noses up at dishes they've had countless times before. Just in case, I prepared my son a small pack of cold pasta and tomato sauce for dipping, with his own special drink. Yes, juice boxes are treats at our house!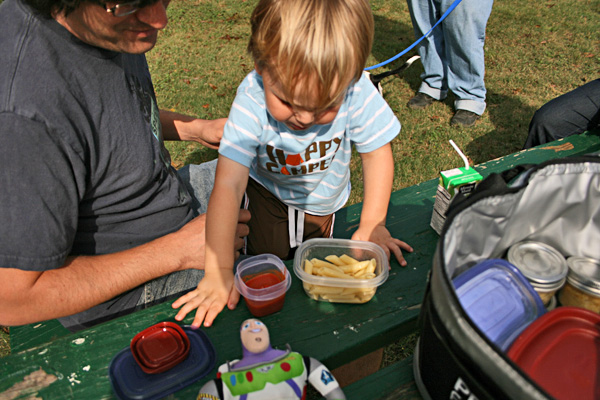 To end our picnic I offered up these small jars. Jam for dessert?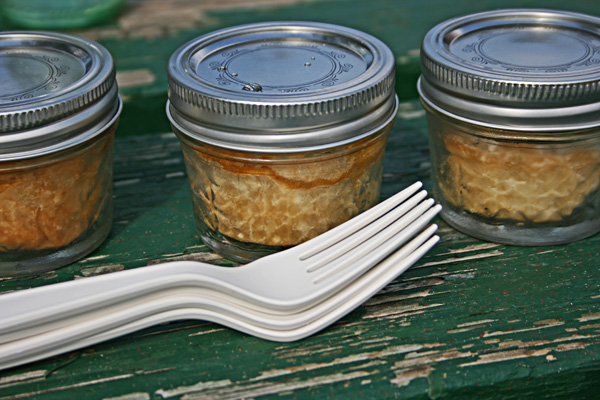 No, it's petite pies! Baking pies in jam jars makes for a super-cute presentation, plus there's no doubt about their ability to travel well. The small size is perfect for when you fill up on the main meal but still want something sweet to finish it off.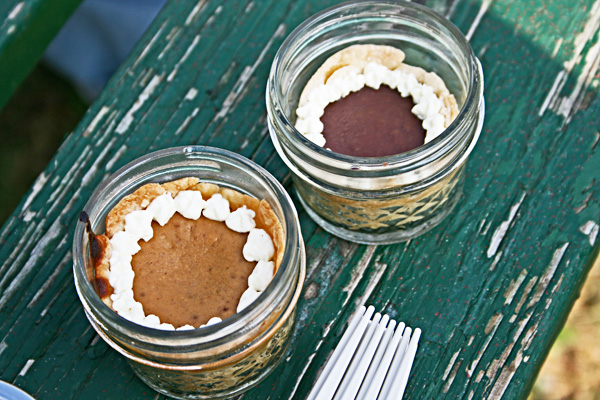 We had both chocolate pudding pie, and seasonal pumpkin. I love pumpkin pie all year long, and these tiny pies are great to freeze unbaked and then pop a few into the oven when you only need a serving or two. And you can never go wrong with chocolate, in my opinion. I've posted instructions and a recipe for the pumpkin pies here.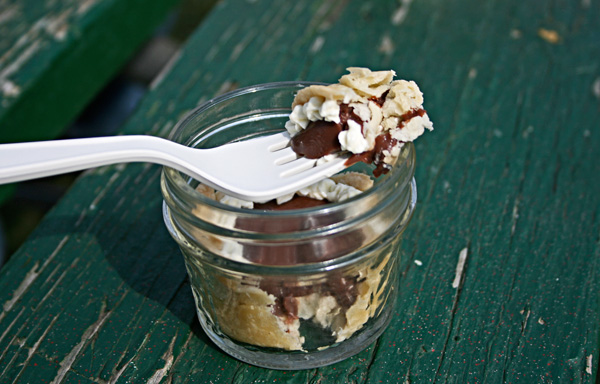 Everyone had a great time at the picnic and I was sure to send our guests home with a few extra snacks. And don't forget the most important part of having a picnic – leaving your location just as you found it!
This post is for Challenge 6 of Project Food Blog. I am so humbled to have had your support in making it this far! If you'd like to see me move on to Challenge 7 and make a video, please vote for me October 25 to October 28. Thank you!