I am blown away by all the great tips everyone left in the giveaway post! Many of you declared that you weren't hip and then went ahead and shared fantastic tips – so you never know where your inner hipness is!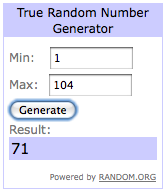 I went through the comments in the order I received them and burst out laughing when I saw who is the winner. Here is their comment:
I'm not hip nor a girl, but I enjoy books that help me take better care of my house.
I can be a bit clumsy while cooking, so I burn myself whenever I bake. Instead of using any FDA approved ointment, I put a little bit of mustard on the affected area. A few minutes later, it feels fine!
Congratulations Hector! Please contact me and we'll get your book on the way!