Hunger Awareness Project, Day 2
This post contains affiliate links. As an Amazon Associate, I earn from qualifying purchases.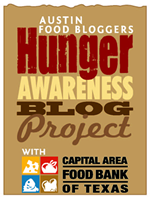 Technically today is the first full day, as I didn't start the project until dinner yesterday. I felt a little more prepared, as we had leftovers from dinner for lunch and I knew what to make for breakfast and tonight's dinner.
Breakfast:
Banana and peanut butter quesadilla
Coffee with creamer
All three ingredients in the quesadilla would be covered by WIC, and the coffee and creamer are free at work. The actual cost of the meal was $0.32. (My husband typically does not eat breakfast.)
Lunch was leftover Hamburger Helper from last night, which was free as I factored the cost of dinner based on the total preparation. My husband also ate leftovers.
I got pretty excited about my idea for dinner. I haven't cooked potatoes in a while, as I'm trying to keep our produce limited to the farmers' markets, so when I saw we got 5 pounds of potatoes in our bags I knew I wanted to do more than just mash them. I decided to make Italian Potato Pancakes.
Actual Cost:
4 potatoes $0.33 (5 lbs cost $1)
2 eggs – $0.33
Mozzarella cheese – $0.49
Spaghetti sauce – $0.47
Milk – $0.89
Peas – free from garden
Total: $2.51
Most of this meal would have been covered by the food bank or WIC, and there was a lot left over. (Except the peas, of which there was only enough for my son and husband. I meant to make myself a salad in order to have some fresh vegetable, but I was busy with the frying pan and by the time I got done with that I didn't bother. I feel like this is something that might happen a lot in families who are struggling.)
Today's food total: $2.83.
My mom asked if I felt like I was cheating because I am using produce from my garden and most people who use food bank services aren't able to do so. I don't feel that I am. It's definitely a huge blessing to be able to go outside and pick lettuce and peas, but in the end I'm only saving about $0.35 or so, if I'm comparing my fresh peas to canned.
The Capital Area Food Bank actually has a garden out back – not really for distributing food out of, but as a learning tool, to show how easy it is to grow your own food. This is something I believe is very important. It's not just about having food in your backyard – it's about taking control of your situation. There's a point of pride that comes with having a garden, even if you need to get food at the local food bank.
Tomorrow is a day off the challenge, as I will be headed to Sweet Berry Farm for strawberry picking and later on making a special Foodbuzz-sponsored meal.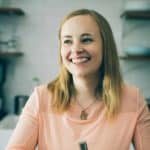 About Megan
I focus on fresh ingredients and easy methods, with spins that keep meals interesting. Dinnertime shouldn't be stressful or complicated, and I'm here to help you enjoy the time spent in the kitchen. Read more…