In Search of a Well-Fed Life
This post contains affiliate links. As an Amazon Associate, I earn from qualifying purchases.
I am a work in progress.
We all are, of course, but for some reason a lot of us don't want to admit it. For me, I have to think about this every day when I'm planning what to eat.
I was born in 1980, which means I was plopped right into the junk-food heaven that was quickly taking over the country. Plus the meat-and-potatoes mentality of the upper Midwest didn't lend itself to much healthful eating. The three main foods in Wisconsin are bratwurst, deep-fried cheese curds, and beer. This explains a lot.
Food and cooking have always been important to me, but only after I gave birth to my son did it hit me: I need to make better choices. Giving birth is beautiful, but from the day that child is born, in the back of your mind are thoughts about the fact that that child will someday be gone. And the day you'll be gone. And since you'll do anything to protect this tiny new being, well, time to put away the Mountain Dew and FunYuns.
But like I said, work in progress. I am awed and inspired by the beauty of the foods I find at the farmers' markets and grow in my garden. The scent of homemade bread in the oven is unbeatable. Introducing my son to cooking is one of my greatest joys. I read labels and try to seek out the most local, healthful options for my family. And sometimes I eat at Taco Bell. Or eat half a bag of Doritos in one sitting. Or buy a giant bag of KitKats because I'm going crazy.
Because you can't be everything, all the time. We can try. But there is always more work to be done. For me that work is crafting delicious things to eat.
That's why I'm editing toward a well-fed life. It takes work and a lot of patience, especially because I have two other people in the house to be worried about. It makes it a little easier when I am able to do things like visit farms, take the family to U-Pick places, or grow our own food.
Knowing where your food comes from is the most important step when moving to more healthful diet. This spring we planted a dozen different things, and my son adored helping me pluck peas off the vine and eat them raw. It does not make me the least bit upset that his favorite foods are peas, broccoli, carrots, and any fruit except figs. We've taken him to pick strawberries, blackberries, and apples, and he has met the cows who provide us with milk. His milk addiction might not have anything to do with staring into a cow's eyes, but I value the connections he is making, and I know he will too.
Because of my searching, in just the past year I have learned an amazing amount about food.

A local breakfast will taste better than anything you can get at a drive through.
Duck bacon, farm eggs, white radishes

Experiment, because otherwise you'll never know.
Tomatoes stuffed with ricotta and prunes

Death is a part of life. If you eat meat, learn how it is raised and how it is killed.
Chicken facility, Yonder Way Farms

Broccoli is beautiful if you let it flower.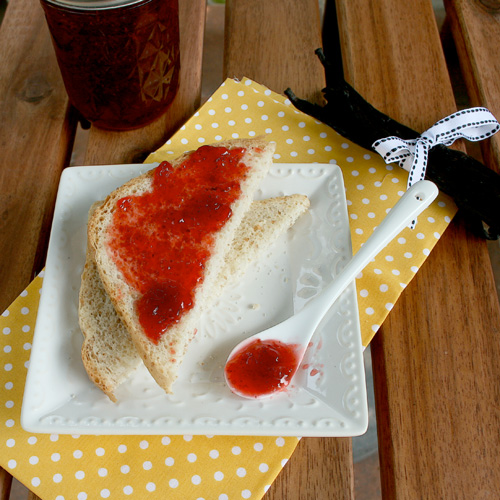 If you preserve something, anything, you won't regret it.
Strawberry Vanilla Jam

Give whole, raw milk a chance.
Raw whole milk on the left, conventional 1% on the right
I know it seems daunting to get started on changing your diet. Getting started on anything is always that way, isn't it? What we know is pretty darn comfortable. After all, that's why every single town in America has the same six restaurants. It's why I keep returning to foods I know are bad for me. Still, our family is trying. Yours can try. One little step can help you get on the path. Got a farmers' market in the area? Visit it. Search for an apple orchard and pick 5 pies' worth. At the very least, read the labels and start the learning process. Sure, my journey has been hard, and I still have so much further to go.
But I wouldn't trade on any of it.
This is the first entry in (hopefully) a series of entries for the Foodbuzz Project Food Blog contest. If you are a member of Foodbuzz, please consider voting for me starting September 20. Thank you!