This post contains affiliate links. As an Amazon Associate, I earn from qualifying purchases.
The first meal I ate in Israel consisted of hummus, tahini, and pita bread. Such a simple meal, but made remarkable by the fact that we were sitting on the coast of Caesarea, waves crashing on the rocks, enjoying the night air and the wedding fireworks that were being shot off nearby. There were many other meals I ate during the three weeks I was there, toiling under the hot sun as we dug up pile after pile of pottery pieces, but that's the one that sticks with me 10 years later.
That's why I was so pleased to see this month's Daring Cooks' challenge. Completely customizable, as long as we created the magic components I mentioned above, hummus and pita bread.
The 2010 February Daring Cooks challenge was hosted by Michele of Veggie Num Nums. Michele chose to challenge everyone to make mezze based on various recipes from Claudia Roden, Jeffrey Alford and Naomi Dugid.
Mezze is kind of like tapas, in that you serve a bunch of small dishes all at once. Everything should be able to be eaten with the hands, either directly or by scooping up with some pita or lavash.
I've made pita before using the Artisan Bread in 5 Minutes a Day method and it does turn out very well, but I was willing to give this recipe a shot. I had actually never created a sponge for my bread before, but everything came together easily. I did have problems rolling the dough thin enough with the second half of the dough, but more than half the batch turned out perfectly. The time and temperature called for wasn't long/high enough in my opinion, and I had to cook my pita for about 8 minutes for it to puff and crisp properly.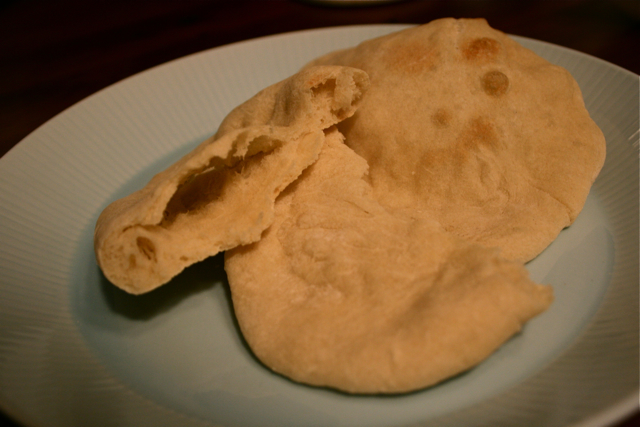 The hummus couldn't have been easier. I already had a can of chickpeas in the cupboard so I just rinsed them, dumped 'em into my food processor, and whizzed them with the tahini, garlic, lemon juice, and salt. We like our hummus thick so I didn't add extra water while mixing, but swirled on some olive oil for finishing, along with a generous sprinkle of paprika.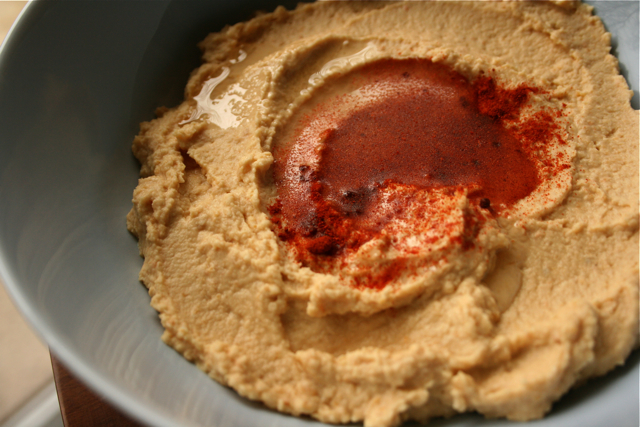 Because it was only going to be my husband and I enjoying our mezze, I kept things simple and only created two sides. I wanted a salad to keep the meal a little lighter and fresher, so I used a tomato I had gotten at the farmer's market to help create a couscous salad. The lamb meatballs are adapted from a Martha Stewart recipe I've made before.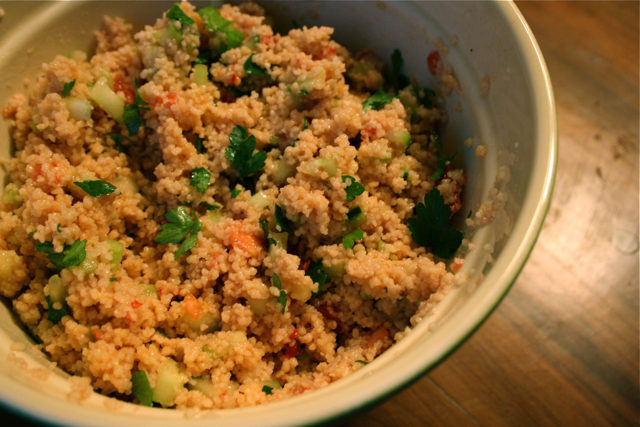 Mediterranean Couscous
1 cup couscous
1 ½ cups water or vegetable broth
1 tomato, diced
1 cucumber, peeled, seeded, and diced
2 tbsp lemon juice
1 tbsp tahini
1 tsp ground cumin
1 tsp ground coriander
Fresh chopped parsley
Bring water to a boil, then add couscous, stir, and let stand covered 5 minutes. In a large bowl, mix together lemon juice through coriander. Fluff couscous with a fork, dump into bowl, add the rest of ingredients and mix well. Refrigerate until ready to serve.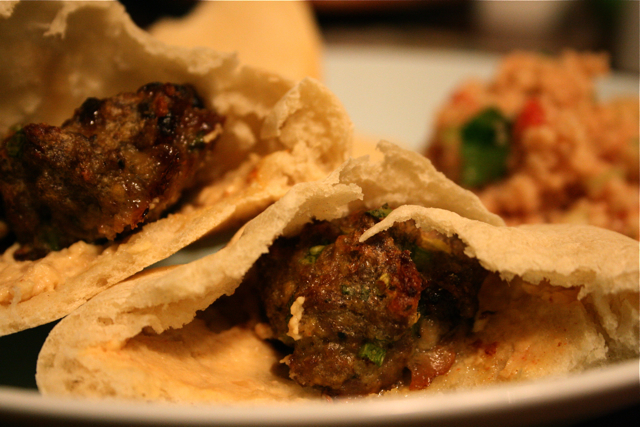 Lamb Meatballs
1 lb ground lamb
½ cup dried plums, diced
3 green onions, diced
1 egg
¼ cup breadcrumbs
Salt and pepper to taste
Set oven to broil and line a cookie sheet with foil.
Mix everything together and form into golfball-sized balls, then place on cookie sheet.
Broil about 10 minutes, turning over once.