This post contains affiliate links. As an Amazon Associate, I earn from qualifying purchases.
We returned to Texas on Monday, after two very long drives and a little over a week in the Twin Cities. I had promised myself that I wouldn't do any work while on this vacation, and it was a little strange to have time to just read and hang out with the family. I didn't even cook much, only making a dessert for Christmas dinner and chili a few days later. It was good to be away, but by New Year's Eve both my son and I were itchy to be home again with our old routine.
On Tuesday I went to work reassessing our food stores. Throwing food away always makes me feel like a bit of a failure in the cooking department, but it's hard to salvage two-week-old organic produce. As I surveyed my practically bare refrigerator, I realized that in a way I was being given a gift.
While I try to plan out our meals and use everything we buy, our family is still guilty of quite a bit of food waste. Because the bulk of our food comes from the farmers' markets, including charcuterie purveyors, seasonal selections call out as you walk past. Hydroponic strawberries don't care if you have a big bag of tangelos in the fridge already, and Brussels sprouts have been waiting so long to be adored that they'll kick anything else out of the crisper drawer.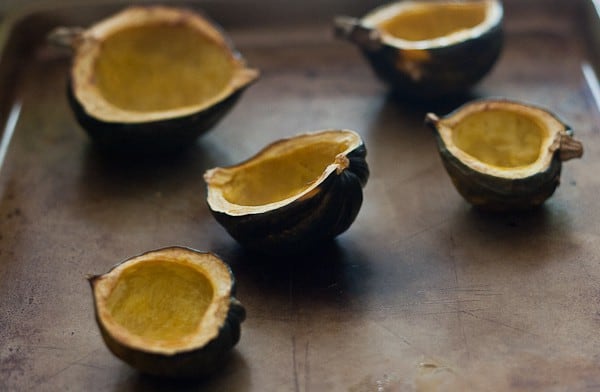 One of my food goals for this year is to not be tempted to buy foods without a plan. To think hard every time I pick up an emerald head of broccoli or find my nose leading me to a second breakfast at the charcuterie stand. We often don't have a need for the extra food we buy, whether it comes from a local farm or the grocery store. While our intentions might be noble when grabbing another bunch of greens, it's time to be honest with ourselves about our food intake.
Mindful shopping isn't a change that can happen overnight. Fortunately, even if you slip up you can return to mindful habits. If you meal plan, many of these tips will be familiar.
Take stock of your pantry and freezer. Chances are you'll have enough food already to create at least a few dinners. While dry pasta and beans might not sound exciting, they can easily be dressed up with fresh vegetables.
Remove any expired foods, including dry goods. Unopened packages last longer than opened ones, but if you can't remember when you bought it, it might be a good idea to toss it.
Without going to the grocery store or market, make a meal plan for a week. Consider your family's preferences, weekly obligations, and budget. Once you have a plan laid out, you will easily see the holes that need to be filled – most likely it will be fresh fruit and vegetables.
Here is my meal plan for the coming week:
Saturday: Roast chicken
Sunday: Chicken soup
Monday: Pumpkin gnocchi
Tuesday: Soba noodle stir fry
Wednesday: Tamales
Thursday: Veggie burgers
Friday: Bratwurst
This plan is based entirely on what we have on hand right now. On Fridays we receive our Local Box filled with a variety of fresh produce. Luckily for us, a list of what will be in the box is posted on Tuesdays, making it even easier to plan ahead. Once I've worked those vegetables in our plan, on most weeks the only things we need are dairy and sandwich bread.
When creating my shopping list, I also try to take into account things like snacking and cravings. While I can't always know what we'll want to eat at the drop of a hat, I can stock my kitchen with a few things that will do when I need to nosh. For example, this week I bought avocados. They don't figure into my meal plan, but are great for a snack with the tortilla or pita chips we already have on hand. Having a few snacks planned out in advance can help curb your desire to grab at items seemingly randomly.
Once you are at your shopping location of choice, buy only what is on your list. No extra pint of ice cream, no extra pound of green beans. It's important to have everything you need on your list, as every trip to the store invites more impulse purchases. However, don't fret if you forget something.
During the week, stick to your plan as much as possible. It's OK to change things up a bit, as long as you're using the items you purchased. If you have leftovers from meals, be sure to either repurpose them, freeze them, or eat them for another meal. (This works great if someone in your household packs a lunch each day.) Remember, the goal is to not let food go to waste, but not necessarily to stick to the meal plan.
You might have noticed that I didn't mention coupons. I almost never use coupons. Granted, the bulk of my food comes either direct from farms or via my Local Box, so coupons don't factor in there. Every once in a while I use a coupon at Whole Foods, but in general I believe coupons cause people to buy things they don't need. As with the rest of your shopping, carefully think about a purchase before snagging it just because a coupon makes it a "good deal". It's not a good deal if you don't eat it.
Shopping with blinders on can take some getting used to (I know I'm still peeking from time to time), but when considering the alternative of wasted food, it's something we all need to work on.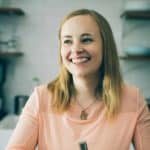 About Megan
I focus on fresh ingredients and easy methods, with spins that keep meals interesting. Dinnertime shouldn't be stressful or complicated, and I'm here to help you enjoy the time spent in the kitchen. Read more…