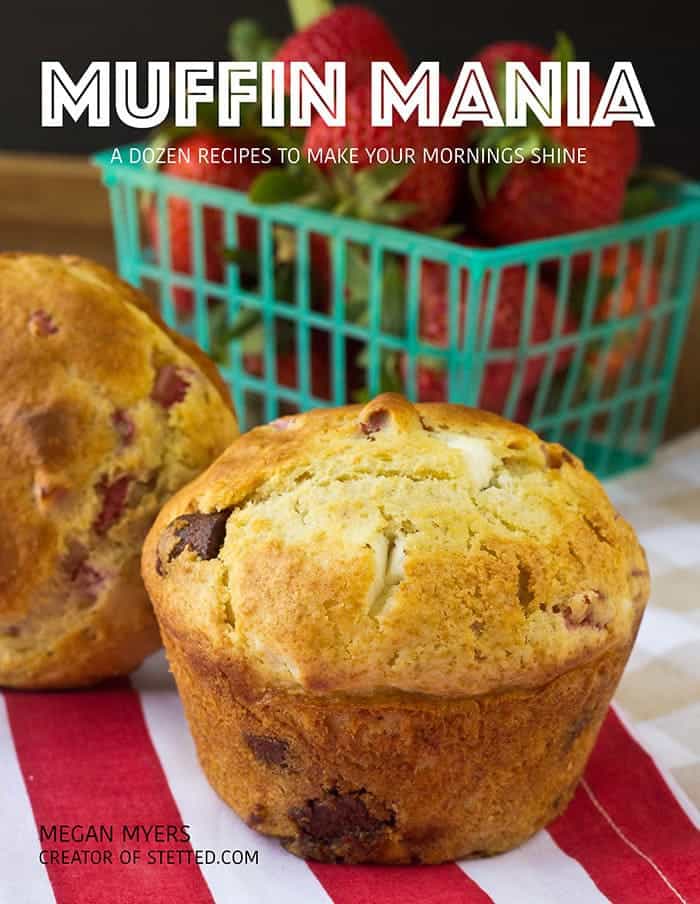 Muffins are one of the first things I learned how to make as a child. Thirty years later I'm still whipping up batches of my favorite breakfast every week.
Just in time for the rush back to school, the Muffin Mania e-book is now available! Filled with 1 dozen delicious muffin recipes, you'll have plenty of quick solutions on hand to get your freezer stocked or enjoy a leisurely Sunday brunch.
From classic blueberry to decadent honey and fig with goat cheese, you'll find a wide variety of muffins to suit any taste. These recipes have been fully tested and updated. Plus, two brand new recipes are included: Blueberry Oatmeal Streusel and Strawberry Chocolate Cream Cheese.
You can buy the Muffin Mania ebook today for only 99 cents!
What's an ebook, you ask? Ebooks are in downloadable PDF format, which means it's super easy to read the book on your computer, phone, or tablet. Plus if you want to print it out you can do that too!
I hope you will enjoy these family favorites from my kitchen! Here are some tips for making the best muffins possible.
How to Freeze Muffins
Let muffins cool completely. (Really, completely!)
Place in a freezer-safe bag. I like to use smaller bags that hold about 4 muffins. This makes it easier if you're feeding multiple people.
Place a straw inside the bag with one end sticking out, and close the bag around the straw.
Suck as much air as you can out of the bag, then seal it tightly. This method will help reduce freezer burn.
To eat, simply remove as many muffins as you want from the bag and microwave for 20-30 seconds.
Choosing the Best Tools for Muffins
While you only need a muffin tin, a bowl, and a spoon to make muffins, there are some great tools to make the process easier (and more fun).
Batter scoop – ensure you have equal-size muffins with this handy tool.
24-cup muffin pan – this makes doubling recipes for batch cooking so easy!
King Arthur Flour ingredients – OK, maybe not quite a tool, but these flours are the most consistent on the market.
What are you waiting for? Get the Muffin Mania ebook today!