This post contains affiliate links. As an Amazon Associate, I earn from qualifying purchases.
Just after my husband and I started dating, my friend Dawn and I took a trip up to Canada to visit some other friends. We took the Greyhound, thinking it would be cheap and not so bad, and maybe kind of fun to see half of Canada flying by.
We got stuck at the border to Manitoba.
For some reason, border patrol thought two blond girls from Wisconsin were a big threat to Canada's security, and we were questioned for quite a long time about where we were going and why. They were pretty peeved we didn't have our friend's address on hand, and even more annoyed when the phone number we gave them went unanswered for a while. Eventually we were able to go, along with another guy who had the gall to have a Canadian girlfriend, and the trip was fun and we hung out with friends all week.
But while we were there, I never got a chance to eat nanaimo bars, despite my friends waxing poetic about them before we arrived. Thankfully, all these years later, I got my hands on one. I made my own.
The January 2010 Daring Bakers' challenge was hosted by Lauren of Celiac Teen. Lauren chose Gluten-Free Graham Wafers and Nanaimo Bars as the challenge for the month. The sources she based her recipe on are 101 Cookbooks and www.nanaimo.ca.
We had the option of making regular graham crackers or gluten-free ones, and I jumped at the chance to try out some gluten-free baking. I wasn't able to find the different flours Lauren said to use in her recipe, so I swapped out for some Bob's Red Mill gluten-free baking mix, which worked well. The dough was definitely sticky, but part of that was my own fault – in swapping the flours I didn't add properly and my dough was lacking about 1/4 cup of mix. Oops. It worked out in the end, though.
Once the graham crackers were made, everything else was super easy! I managed to find Bird's custard powder in the import section of my local grocery store, and the custard layer came together well. I debated using less powdered sugar but figured I should follow the recipe as close as possible first and mess with it later. And of course melting the chocolate topping was a cinch.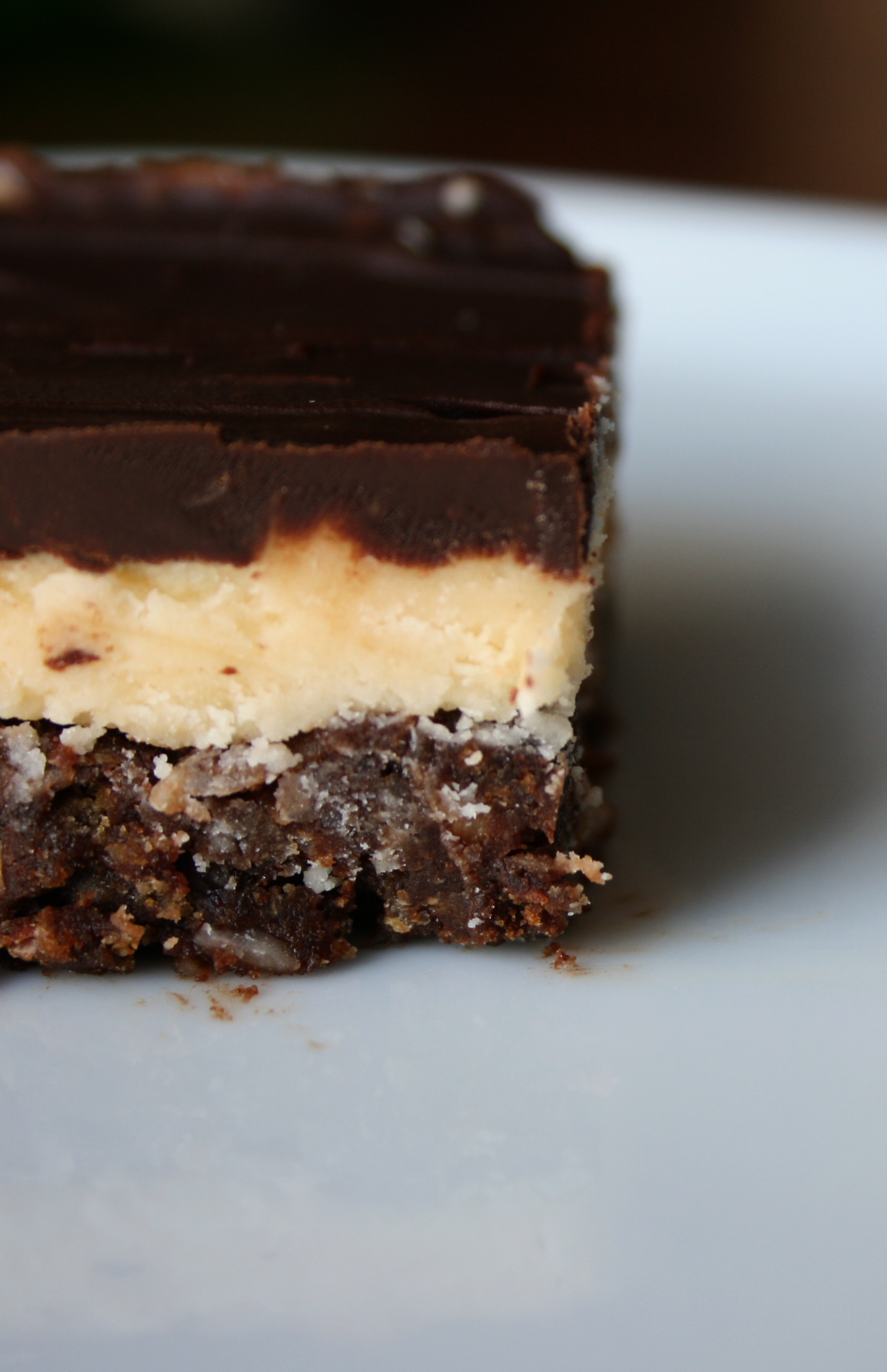 These were really great. They are definitely sweet and rich, so a small square will do you (unless you're my husband, who pouted about me taking the pan minus two pieces to work). Next time I make them I'll probably use less coconut and more graham cracker, as I'm not a huge coconut fan, but as an occasional treat I can deal.
I'm happy I tried gluten-free baking, especially as my brother's wife can't have gluten. I'm also pleased I was able to use the coconut and powdered sugar I had bought for last month's gingerbread house!
And I'm pretty glad I don't have to risk going to Canada for them.