I love ice cream all year long (hot chocolate, too. I'm a weirdo.) but of course it's best in the summer. And now that I have an ice cream maker, I'm not daunted by the process of making it.
The August 2010 Daring Bakers' challenge was hosted by Elissa of 17 and Baking. For the first time, The Daring Bakers partnered with Sugar High Fridays for a co-event and Elissa was the gracious hostess of both. Using the theme of beurre noisette, or browned butter, Elissa chose to challenge Daring Bakers to make a pound cake to be used in either a Baked Alaska or in Ice Cream Petit Fours. The sources for Elissa's challenge were Gourmet magazine and David Lebovitz's "The Perfect Scoop".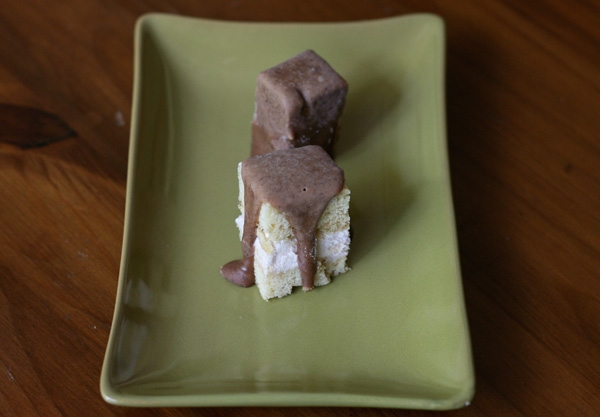 I had never made brown butter before, and I'm glad my first attempt with it was for this pound cake. I really, really liked the poundcake, and I actually thought it was a bit of a shame to have to use it for the petit fours. Because you had to freeze the cake with the ice cream, the texture got lost and dried out a bit. It improved if you let it sit out, but then of course the ice cream starts melting… Can't win either way!
I also had trouble with the glaze. I followed the recipe provided, but used white chocolate. Granted, white chocolate is more temperamental than dark chocolate, but this glaze would not thicken at all. I didn't have any more white chocolate, so I had to add in some dark chocolate to thicken it. That sort of worked, but it never got nice and crackly, and instead was soft and your fingers would leave marks in it, even right out of the freezer. Oh well.
The petit fours also seemed too tall – I baked the pound cake in a sheet pan instead of a square cake pan in the hopes that I wouldn't have to worry about halving the cake. But the finished product was still too tall for a single bite. After I had covered about half the petit fours with the glaze, I said "screw it" and just dumped the rest of the glaze on a big slab of cake. So, yeah. Oxymoronic Petit Fours, because these things are giant.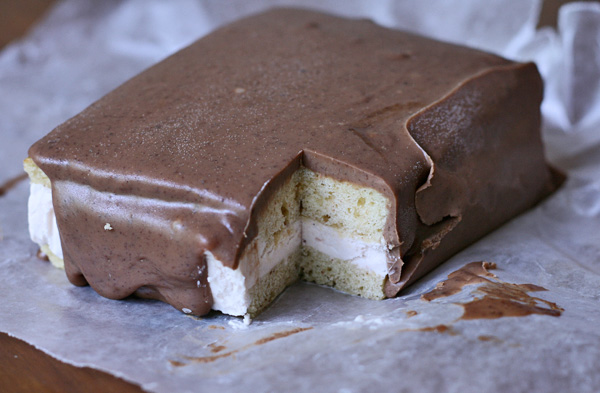 It did turn out tasty overall. I was pleased with my ice cream choice, Strawberry Balsamic, and how well it worked with the pound cake. Next time, however, I'll probably just do this "deconstructed" and make a sundae of it.
I don't have a recipe for the ice cream as I haven't posted a recipe for the strawberry balsamic jam I used to create it. But if you happen to already have some of that jam, just add about half a cup to your favorite vanilla ice cream recipe.
Brown Butter Pound cake
19 tablespoons (9.5 oz) (275g) unsalted (sweet) butter
2 cups (200g) sifted cake flour (not self-rising; sift before measuring) (See "Note" section for cake flour substitution)
1 teaspoon (5g) baking powder
1/2 teaspoon (3g) salt
1/2 cup (110g) packed light brown sugar
1/3 (75g) cup granulated sugar
4 large eggs
1/2 teaspoon pure vanilla extract
1. Preheat the oven to 325°F/160°C and put a rack in the center. Butter and flour a 9"x9" (23cmx23cm) square pan.
2. Place the butter in a 10" (25cm) skillet over medium heat. Brown the butter until the milk solids are a dark chocolate brown and the butter smells nutty. (Don't take your eyes off the butter in case it burns.) Pour into a shallow bowl and chill in the freezer until just congealed, 15-30 minutes.
3. Whisk together cake flour, baking powder, and salt.
4. Beat the brown butter, light brown sugar, and granulated sugar in an electric mixer until light and fluffy, about 2 minutes. Beat in the eggs one at a time, mixing well, and then the vanilla extract.
5. Stir in the flour mixture at low speed until just combined.
6. Scrape the batter into the greased and floured 9"x9" (23cmx23cm) square pan. Smooth the top with a rubber spatula and rap the pan on the counter. Bake until golden brown on top and when a toothpick inserted into the center comes out clean, about 25 minutes.
7. Cool in the pan 10 minutes. Run a knife along the edge and invert right-side-up onto a cooling rack to cool completely.
Chocolate Glaze
9 ounces (250g) dark chocolate, finely chopped
1 cup (250 ml) heavy (approx 35% butterfat) cream
1 1/2 tablespoons (32g) light corn syrup, Golden syrup, or agave nectar
2 teaspoons (10ml) vanilla extract
Stir the heavy cream and light corn syrup in a small saucepan over medium heat until it comes to a boil. Remove from heat and add the dark chocolate. Let sit 30 seconds, then stir to completely melt the chocolate. Stir in the vanilla and let cool until tepid before glazing the petit fours.