Review: The Complete Quick Cook
This post contains affiliate links. As an Amazon Associate, I earn from qualifying purchases.
I'm not one of those who learned how to cook at their grandmother's knee – the only thing I remember my grandmother cooking was the mashed rutabaga that everyone refused to eat, every single Thanksgiving. My interest did begin early on, with clipping recipes from the coupon circular and flipping through our stained Betty Crocker binder, but I didn't really learn how to cook until I was an adult, and almost married.
I didn't know where to begin, so I turned to Cooking Light. To me, Cooking Light has always been the most accessible of the cooking magazines, and the sheer volume of recipes in each issue was enough to create tremendous value.
I was really pleased to see that value duplicated in the new book put out by Cooking Light, The Complete Quick Cook by Mark Scarbrough and Bruce Weinstein. The recipes included are easy to follow with standard ingredients, and beautiful photos accompany more than half of the recipes. But it's not just the recipes that make the book worthwhile – there are pages and pages of useful tips, from stocking your pantry, to creating recipe variations, to how to properly sauté. This is a wonderful cookbook for the beginning cook or busy family.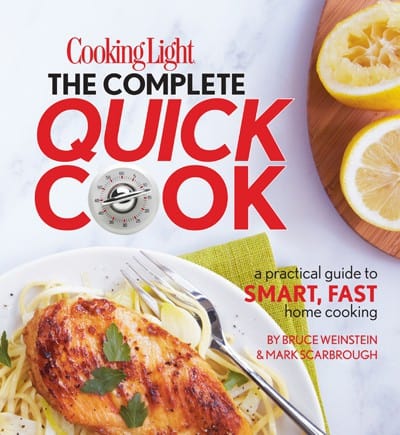 I made two recipes from the book for dinner the other day: Shallot & Grapefruit Dressing and Sauteed Carrots with Sage. Both of these recipes are great ways to showcase the flavors of the season, as here in Texas our juicy grapefruit and sweet carrots are coming into season. Carrots often get pushed aside in favor of more showy side dishes, but with the addition of sage they can really hold their own against that glazed pork tenderloin or sous vide steak.
Salad dressing is one of those things I often take for granted – I confess I buy it more often than make it, simple because I really like the certain flavor I get. However, every time I mix up a homemade batch it's like I've newly discovered the possibilities.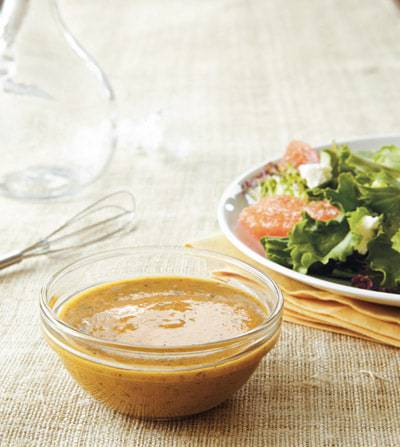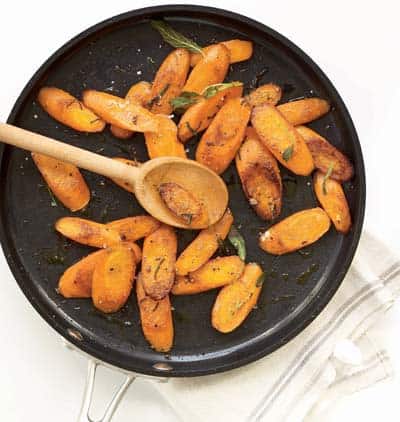 Sautéed Carrots with Sage
Reprinted with permission
1 teaspoon butter
1 teaspoon olive oil
11/2 cups diagonally cut carrot
2 tablespoons water
1/8 teaspoon salt
1/8 teaspoon freshly ground black pepper
2 teaspoons small fresh sage leaves
1. Melt butter in a large nonstick skillet over medium heat. Add oil to pan; swirl to coat. Add carrots and 2 tablespoons water. Partially cover pan, and cook 10 minutes or until carrots are almost tender. Add salt and pepper to pan; increase heat to medium-high. Cook 4 minutes or until carrots are tender and lightly browned, stirring frequently. Sprinkle with sage. YIELD: 2 servings (serving size: 1/2 cup).
CALORIES 75; FAT 4.4g (sat 1.5g, mono 2.2g, poly 0.4g); PROTEIN 0.9g; CARB 9g; FIBER 2.6g; CHOL 5mg; IRON 0.3mg; SODIUM 224mg; CALC 35mg
Photos courtesy of Oxmoor House/The Complete Quick Cook
Disclaimer: I received a copy of this book for the purposes of review. I was not otherwise compensated for my review, and as always, all opinions are my own.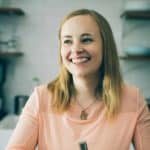 About Megan
I focus on fresh ingredients and easy methods, with spins that keep meals interesting. Dinnertime shouldn't be stressful or complicated, and I'm here to help you enjoy the time spent in the kitchen. Read more…