This post contains affiliate links. As an Amazon Associate, I earn from qualifying purchases.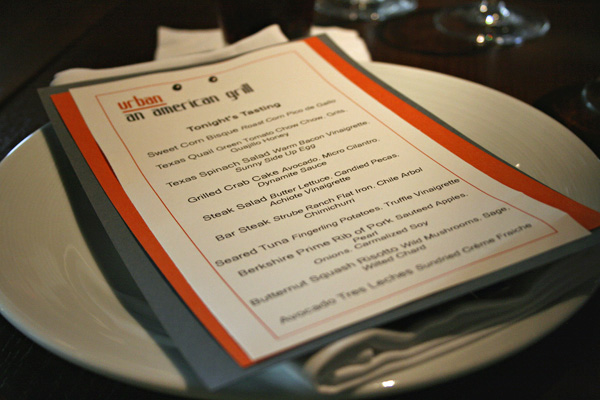 On Wednesday I had the pleasure of attending a special tasting event with my friend Laurel at urban. We were there to try selections from the new menu that will be debuted on October 1, created by chef Mizael Saucedo. We chatted with Chef Saucedo for a little bit and he told us that he is trying to get as much local as possible in the kitchen and loves how much more is available these days. He said his produce is 90% locally sourced, and the eggs and some of the meat is local. Overall he estimates the entire menu to be at 60% local, but he is hoping to improve that.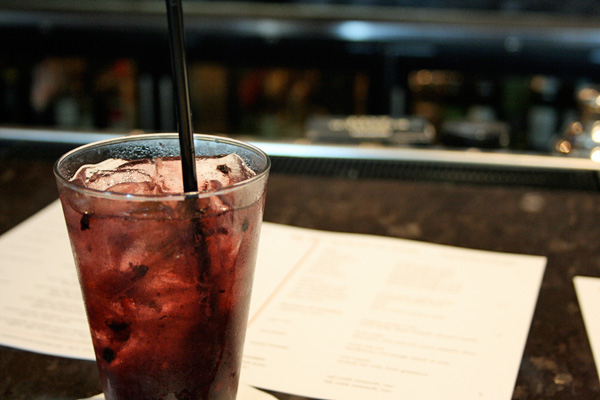 We arrived slightly early and enjoyed a couple of cocktails in the bar. Urban has a "My 512" happy hour that features beer and cocktails made with local ingredients. This was the Rum Ramble, featuring Treaty Oak rum, blackberries, and orange.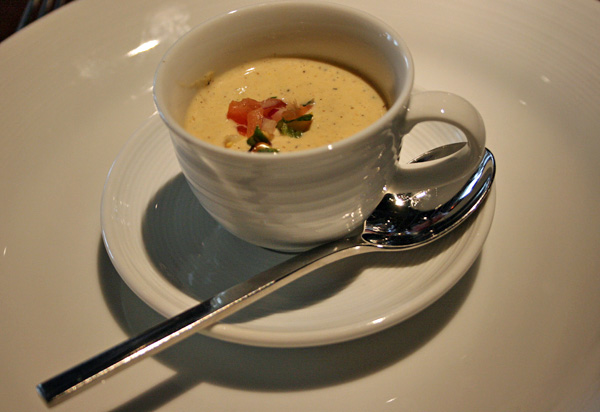 Our first course might have been my favorite. Sweet corn bisque with pico de gallo. Creamy and not too spicy, this was a great way to wake up the tongue in preparation for the meal to come.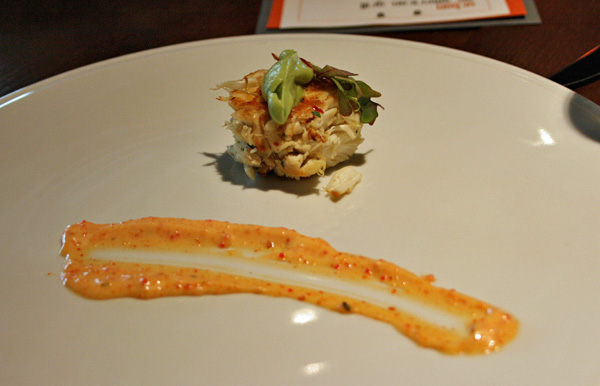 Grilled crab cake with avocado, micro cilantro, and dynamite sauce. This was full of tender chunks of crab, and not lots of filler like breadcrumbs, as it is in many other restaurants.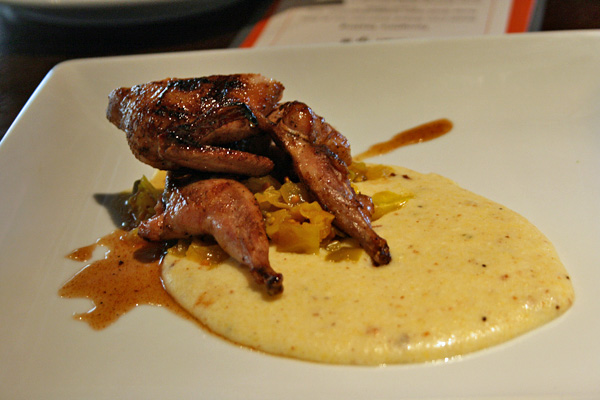 Texas quail with green tomato chow chow, grits, and Guajillo honey. Can you believe I've never really had grits or chow chow before? The idea of both kind of scared me away, but if they were always prepared like this I could eat it all the time. Overall this dish was a little on the sweet side, but not overly so. Because the chow chow was fresh, it added a nice crunch to the dish to play off the quail and grits.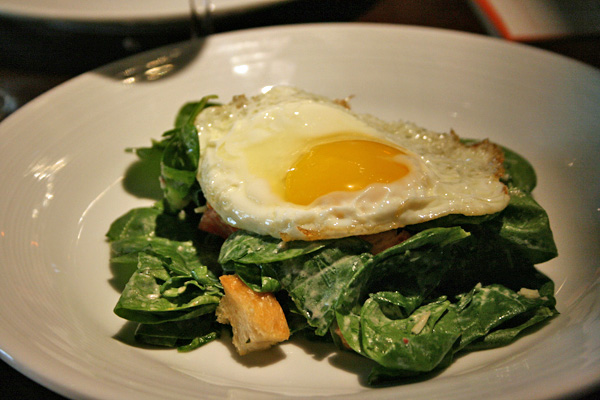 Texas spinach salad with warm bacon vinaigrette and sunny-side-up egg. This was just OK for me. It's hard for me to get excited about salad at a restaurant. I didn't think there was much bacon flavor in the dressing, but people who were eating from other dishes of it said the bacon was strong, so maybe we just got the less-bacony portion.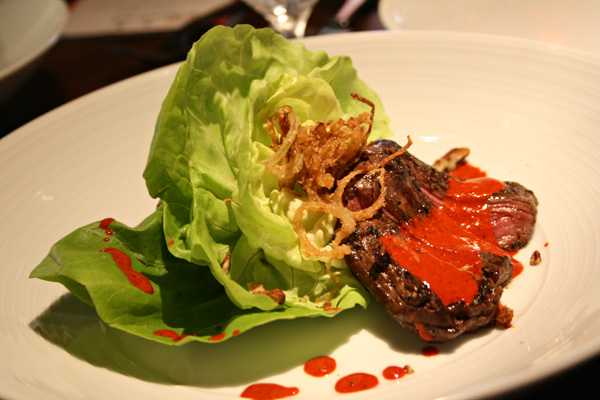 Steak with butter lettuce, candied pecans, and achiote vinaigrette. I really liked this – the achiote vinaigrette was interesting and I thought it paired really well with the steak.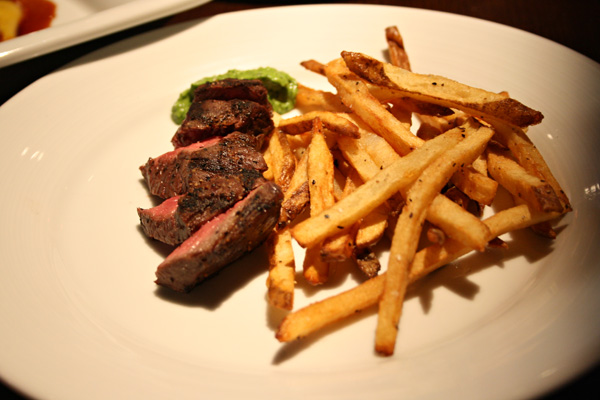 Strube Ranch flat iron steak, fries, and chile arbol chimichurri. Delicious, although if I was choosing between the two steak dishes I'd pick the previous.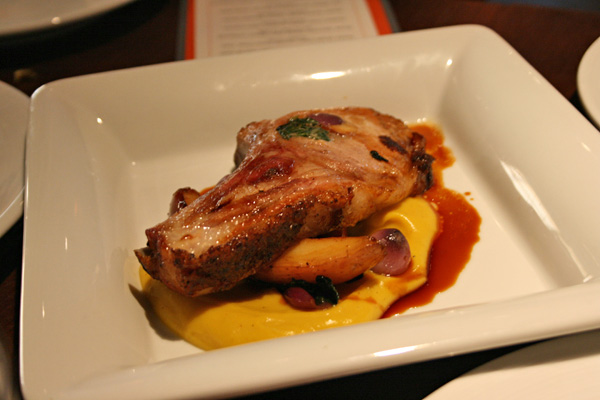 Berkshire prime rib of pork with sauteed apples, pearl onions, and squash puree. I was hesitant about this because I'm not really a fan of beef prime rib, but this was extremely tender and flavorful. The apples, onions, and squash puree made this a perfect dish for fall. If it wasn't 90 degrees outside.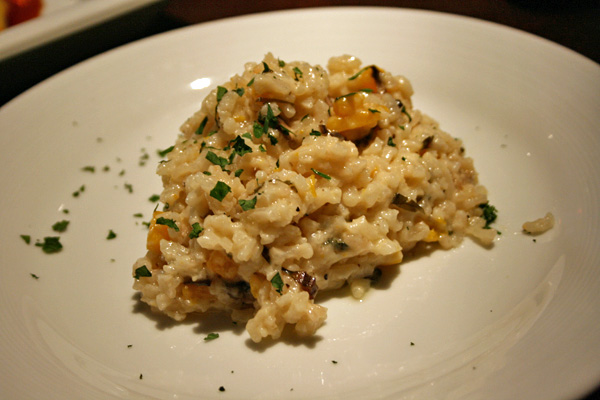 Butternut squash risotto with wild mushrooms, sage, and wilted chard. Yum. Yum yum yum. Actually, what I said when I was live-tweeting the event was, "Hello, lover." Butternut squash might be my favorite produce item, and risotto is my favorite thing to make. Creamy and tender but not mushy, flavorful throughout.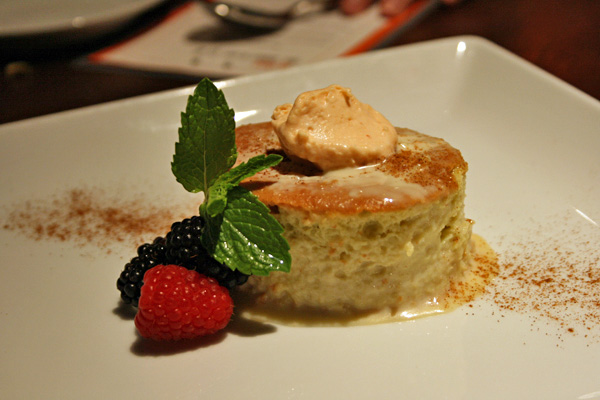 We finished out the night with avocado tres leches served with sundried tomato creme fraiche. I'm a fan of tres leches in any form, and this was lovely. I really liked the creme fraiche too, even though others didn't. I would have liked to see more avocado flavor, however, as it wasn't very evident.
Thank you to urban for the great night! It was really fun to experience the new menu with old and new friends.
urban: an american grill
11301 Domain Drive, in the Westin at the Domain
Serving breakfast, lunch, and dinner, and brunch on Sundays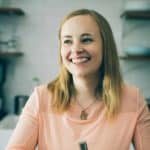 About Megan
I focus on fresh ingredients and easy methods, with spins that keep meals interesting. Dinnertime shouldn't be stressful or complicated, and I'm here to help you enjoy the time spent in the kitchen. Read more…