Saving Time with Instacart
This post contains affiliate links. As an Amazon Associate, I earn from qualifying purchases.
Is it October yet? I've had so many things going on lately that I'm surprised I remembering to sleep and eat. It feels like I am doing nonstop from the moment I wake up, whether it's cooking or writing or going for a run or helping with homework. It's gotten to the point that I almost feel guilty taking a real lunch break, and I've been trying to time all my errands to the most-efficient zone, which means after rush hour but before lunch hour — a very slim window in Austin.
Friday morning came and I was groaning, knowing that I needed to get to the grocery store and finish some recipe testing before heading off to the pre-race event for the Fit Foodie. Instacart to the rescue! Rachel over at Whole Foods Market Austin had asked me if I wanted to try out the service, and I was so excited to be able to have someone else take care of my shopping (note: I do freelance with the Global offices at Whole Foods Market, but I participated in this trial because of my blog).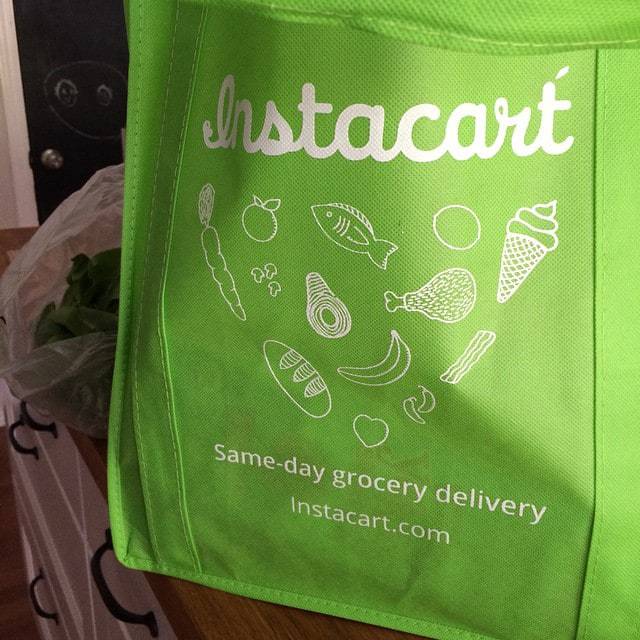 The Instacart interface is pretty simple: you put in your zip, it gives you a list of grocery stores to choose from, and then you search for whatever products you want. I only had two issues with the whole process — first, I wanted Bibb lettuce, but the search function got hung up and wouldn't return results. Second, not all of the products have images, so when I went to select a 2-pound bag of carrots, I thought I was selecting whole carrots, but I ended up with baby carrots in my order. Not a huge deal, but a little bit annoying.
One of the best things about it is that your shopper calls from the store to verify certain items for you. I had added kiwi and butternut squash to my cart because both were on sale, but when she arrived at the store, only non-sale organic was available. I'm thankful she called, because I definitely didn't want to be paying organic per-pound prices on huge winter squashes!
They also send you a text when your order is on its way to your house, and then again later to rate the service. I have to admit I'm smitten. For food bloggers who are constantly running to the store or parents who are just too busy, Instacart is amazing.
Right now through October 11, Whole Foods Market and Instacart are doing a giveaway of free groceries for a year. Read more about it here.
Instacart is available in Atlanta, Austin, Boston, Chicago, Denver, Los Angeles, New York City, Philadelphia, San Francisco, Seattle, and Washington, D.C. Sign up here and get $10 off your first order (referral link).
Since I already had my grocery shopping taken care of, it was really easy to do our meal plan. Here's what we're eating this week!
Monday: Aloo Chole (basically, chana masala with potatoes)
Tuesday: Club sandwich wraps
Wednesday: Slow cooker meatloaf
Thursday: Vegetable stir-fry
Friday: Homemade fish sticks
Saturday: Butternut squash and black bean tacos
Sunday: Tuna pasta salad
Snacks & Such: English muffins, chicken stock, chocolate chip cookies
What are you making this week?
Disclaimer: Whole Foods Market and Instacart provided me with groceries and delivery for the purpose of review for this post. As always, all opinions are my own.