All Shook Up: Shake Shack Hits Austin
This post contains affiliate links. As an Amazon Associate, I earn from qualifying purchases.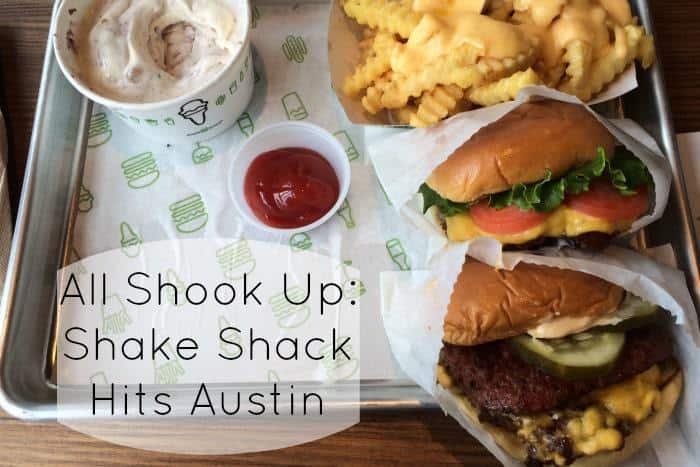 For the past few years, those of us with friends in New York City have had to face the outpouring of Facebook posts, Tweets, and Instagram shots from Shake Shack. None of us, not even those who merely follow bon appetite or SAVEUR, were safe from shots of burgers, concretes, and cheese fries. As if in retaliation for all the Texas barbecue photos (sorry not sorry), we were only able to experience Shake Shack if we left the state. Until now.
After months of delay, the first Shake Shack location opened yesterday in the new Lamar Union complex (home of the rebuilt Alamo Drafthouse and The Highball). Driving south down Lamar, the sign appears like a beacon as you turn the corner, all the hopes and promises of hipster friends contained in that neon green burger.
My husband and I headed there for lunch yesterday. I was eager to get my hands on a burger after deciding to skip on my whirlwind eating tour of Manhattan in January; my husband just wanted lunch. After a 20-minute wait in line, we settled at a table made from recycled bowling lanes and took in the rest of the space. Designed by the impeccable-as-always architect Michael Hsu, the restaurant is bright and modern, with lots of patio seating for the endless summer.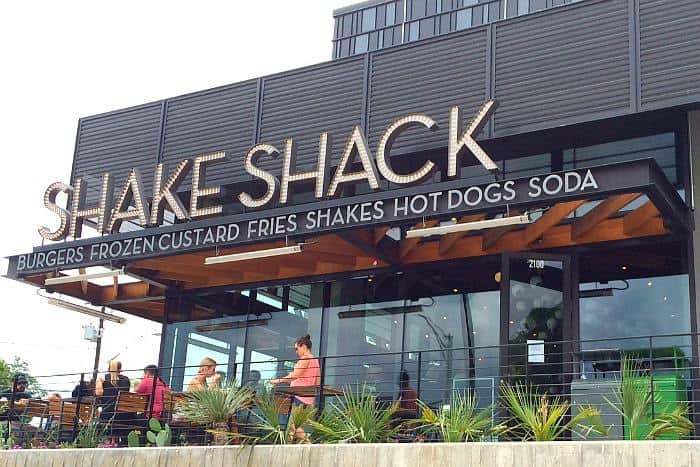 My husband ordered the Lockhart Link Burger while I opted for the classic Shack Burger. The bun can make or break a burger, oftentimes being too thick and bready or falling apart under the layers of toppings. Shake Shack uses potato rolls, which are tender and lend their own flavor to the burgers, and do not threaten to let loose your burger toppings.
The Lockhart Link Burger, part of their location-specific menu, is a burger patty featuring Kreuz Market jalapeño cheese sausage, pickles, and ShackSauce. My husband appreciated the thick-cut pickles, which put the floppy pickles of other burger chains to shame. My Shack Burger was built perfectly, with just the right amount of sauce playing off the burger, sliced tomatoes, and leaf (not iceberg) lettuce. Both of us came away declaring them winners over In-N-Out.
The Shack Fries are some of the best I've had from the local burger chains, eschewing the popular shoestring style in favor of stubby crinkle-cuts. If you're like me, you haven't had crinkle-cut fries since your parents were shaking bags of Ore-Ida out onto baking sheets. The fries here are served up hot and crispy, even when doused in molten cheese, and hit all the perfect notes of salt and fat.
We had to finish with custard, and narrowing down the flavor was the hardest decision of the day. The Uchi-koncrete, featuring miso-hazelnut blondie pieces and huckleberry jam in vanilla custard, is sure to be a fan favorite thanks to name alone, though ours was heavy on the blondie and light on huckleberry flavor. (A portion from each sale of Uchi-koncrete goes toward local favorite charity Austin Pets Alive, which makes the dessert even sweeter.)
Will we be back? Of course. While Shake Shack is pricier than local chains P. Terry's and Mighty Fine (it cost us $27 for lunch), it's less expensive than nearby competitor hopdoddy and offers a variety of hot dogs in addition to the burgers and custard.
Shake Shack might not be the life-changing experience social media promised, but you can bet they'll be a success in Austin for a long time.
Shake Shack
1100 South Lamar Boulevard
Austin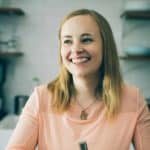 About Megan
I focus on fresh ingredients and easy methods, with spins that keep meals interesting. Dinnertime shouldn't be stressful or complicated, and I'm here to help you enjoy the time spent in the kitchen. Read more…