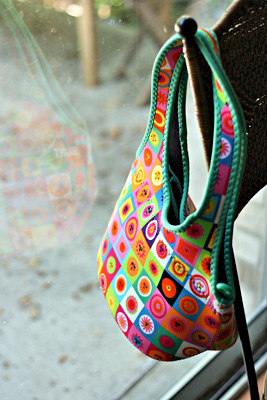 I work in a large office building near many tempting places to eat. I'm only a short drive away from burritos, pho, curry, bahn mi, and plenty of other to-go items. Of course, my waistline and my wallet don't really appreciate this, and I try to bring my own food in as often as I can.
I'm always looking at reusable lunch containers. Apparently they fall into the same category as office supplies for me – completely irresistible. That's why I have a Laptop Lunch, a Mr. Bento, and a lunch tote. In fact, I already had a lunch tote I liked pretty well when I won goodLifeEats' Eco-Mom giveaway, which included a Built lunch bag in a cool Alexander Girard print.
Trust me, not all reusable lunch bags are the same. I've found that this bag actually keeps food cold until lunchtime even if I don't stick it in the refrigerator (which I often forget to do…). The Neoprene fabric is a bit stretchy, so on the days when I'm really hungry I can cram a lot of food in there!
Over in my OpenSky shop you can buy the Built Gourmet Getaway lunch tote in always-stylish black. These lunch bags are built (ha) to last, and can be tossed right in the washing machine. And hey, the kids got to go back to school with new lunch boxes, so it's a good excuse to upgrade your own, right?