This post contains affiliate links. As an Amazon Associate, I earn from qualifying purchases.
Confession time: the first time I ever ate a tamale, I didn't know you were supposed to unwrap it first. As I chewed, I wondered why the heck this food was so popular in certain parts of the world. Thankfully, somehow I was clued in and I've been enjoying tamales ever since.
Two years ago I learned how to make tamales thanks to my friend and her sister, and while it was fun, my uninspired fillings made me loathe to deplete the freezer stash we had created. In the end they were all eaten, and I made the decision to not make tamales again in 2010. A poor decision, as it turns out, as I spent the first part of 2011 wishing I had a bag of tamales in the freezer to go to on many nights.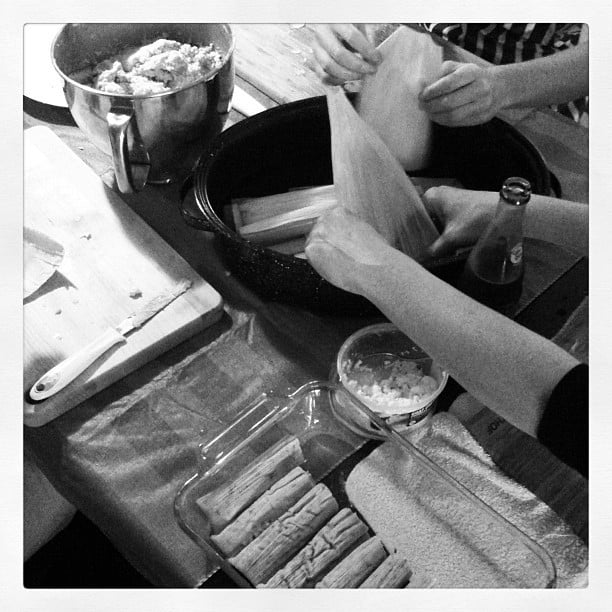 Tamales are a huge deal in Texas for Christmastime. I know many families who either make their huge batches in advance in preparation for Christmas Eve feasting, or spend Christmas Eve itself spreading, filling, and rolling not only for that day's meal, but to ensure homemade goodness for the year to come. Much like decorating gingerbread men, bringing family and friends together over the table reinforces the communal spirit of the season, but even the sweetest tooth out there has to admit tamales are the more practical of the two.
You can make tamales alone, but I don't recommend it. For one thing, if you want to make a lot of tamales (and you might as well, since it's often hard to make small batches of filling), you'll be working at it all day. Many hands are great for this type of assembly-line work – throw in some snacks and some tunes, and the time and masa will fly by quickly.
I hosted a tamale party (tamalada) on Black Friday, kicking consumerism aside in favor of a DIY day. In about five hours, we knocked out 480 tamales with six different flavors: brisket, red chile pork, black bean, venison, chipotle chicken, and chard with goat cheese.
If you'd like to host your tamalada, head over to Hip Girl's Guide to Homemaking, where I'm sharing a few tips!