Foodbuzz 24, 24, 24: Tamale Traditions
This post contains affiliate links. As an Amazon Associate, I earn from qualifying purchases.
Tamales are a holiday tradition in Texas, and in November and December it is hard to not come across someone selling the savory treats at a farmer's market, a portable cart, or just out the back of a truck. In Mexican families tamales are often made only once a year, as the process is time consuming. And what better time than at Christmas, when your entire family is around you! My plan for the December Foodbuzz 24, 24, 24 was to create a complete Mexican feast, just in time for the holidays.
Having a toddler, my day started early – but what better way to get the preparations going! There were going to be two kinds of tamales, pork and bean, so I rubbed some salt and cumin on a 4-pound pork roast and set it to cook in the CrockPot. A lot of recipes I came across called for more seasoning on the pork, but as I was making multiple sauces I didn't want to mess with the base flavor much.
I also got the corn husks soaking. They need to be soft and pliable when making the tamales, otherwise they will crack and your masa will leak out during the cooking process. Just put the husks in the sink (or a washtub, or large bucket) and fill it with warm water. You'll want to put a heavy plate or pan on top to keep the husks submerged.
Next were the sauces. I made ranchera salsa, salsa verde, and mole.
While I did a lot of research to prepare me for tamale making, I'm very glad I had the experience of two friends, Juliana and Stephanie, to fall back on! They arrived in the early afternoon and got right to work on the tamale assembly while I asked lots of questions.
There are a few different methods for assembling tamales, but here is how we did it:

Step 1: Spread out a soaked corn husk so it lays mostly flat, with the thinner part at the top.

Step 2: Grab some masa with your spreader and spread it on the corn husk in a downward motion, starting at about the halfway point. Basically, if you've applied spackle, you can do this.

Step 3: Spread some filling along one edge of the masa-covered husk. Not too much, otherwise it will leak out when you cook!

Step 4: Roll up the tamale and fold the edge over.

Ta-da!
And a video of the steps in action:

Making the tamales was a lot of fun and we were able to making quite a few in just 3 hours. We talked and listened to Christmas music, and the assembly-line method was even sort of relaxing!
Once we had some tamales cooking, I got the black beans and capirotada cooking, and mixed up the guacamole. I also meant to make arroz rojo but I completely forgot! Blame it on the lack of a clean cooking pot. Some more friends were starting to show up, so I also mixed up our special drink, chimayo.
Time to eat!
Making tamales seemed so daunting but now that I've done it, I think it will be a new holiday tradition! Maybe next year I'll be even able to get my son to help make what he now calls "talallies".
I also wanted to include a picture of what might be my very favorite part of being able to do this for Foodbuzz …
With the money I had leftover from purchasing ingredients, I was able to buy a trunkful of food (138 pounds!) to take to the Capital Area Food Bank. I feel very lucky to be able to do this, especially as I found out on Saturday that the food bank is reporting a 60% increase in need. I doubt this is limited to Austin, so please take the time to donate to your local food bank.
The Recipes
Masa Dough
2 cups instant corn masa mix
1 teaspoon baking powder
1/2 teaspoon salt
1/2 teaspoon chile powder
2 cups lukewarm water
2/3 vegetable shortening
1. Combine masa, baking powder, salt, and chile powder.
2. Add water and mix to make a moist dough.
3. In a large bowl, beat the vegetable shortening until light and fluffy.
4. Add the masa mixture to the shortening and beat until shortening is fully incorporated and dough has a spongy texture.
It should look like this:

Pork for Tamales
4-pound pork roast
Salt
Cumin
1. Rub pork all over with seasoning and set it in a CrockPot, fat side up.
2. Add water to cover pork about halfway.
3. Cook on high for 4 hours, or on low for 8 hours.
4. Remove pork and shred, discarding large fatty bits.
Makes enough for approximately 5 dozen tamales
Pinto Beans for Tamales
6 tablespoons vegetable shortening
1/2 onion, chopped
3 cloves garlic, chopped
2 teaspoons salt
2 28-ounce cans pinto beans, drained and rinsed
1. In a large saucepan, heat shortening over medium heat until melted.
2. Add onion, garlic, and salt and cook until soft and onions are translucent.
3. Add beans and cook until heated through.
4. Using a potato masher or back of spoon, mash the beans until they are the desired consistency. I left about 1/3 unmashed.
Makes enough for approximately 8 dozen tamales
To Cook Tamales
1. Place standing in a steamer basket of a large pot, open end up. If you are only cooking a few tamales, place a bowl in the middle of the basket and arrange tamales around.
2. Steam for 1 hour.
3. Let cool 10 minutes before unrolling.
Black Beans
1/2 pound dry black beans
3 cups hot water
1 cloves garlic, diced
1 serrano chile, seeded and diced
1/2 onion, diced
1/2 teaspoon cumin
Salt
1. Rinse beans and discard any debris. Place beans in the bottom of the pot and cover with the hot water.
2. Bring beans to a boil, then reduce to a slow simmer and cover. Simmer for about 2 hours.
3. Add in additional ingredients and simmer for another hour, until beans are soft.
Ranchero Salsa
2 tablespoons oil
1/2 chopped onion
2 cloves garlic, chopped
1 serrano chile, seeded and diced
3 cups diced tomatoes.
1 teaspoon oregano
1/2 teaspoon chile powder
Salt
1. In a medium saucepan, heat the oil and saute the onion, garlic, and serrano over medium heat until onion is translucent.
2. Add the tomatoes and simmer about 5 minutes.
3. Add seasonings, mix well, and simmer another 5-10 minutes.
4. Chill before serving. Optionally, you can blend the salsa (once chilled, otherwise you will end up with a weird jell).
Salsa Verde
1 pound tomatillos, papery skins removed
3 serrano chiles, stems removed and coarsely chopped
2 medium garlic cloves, coarsely chopped
1/2 cup chopped cilantro
1 teaspoon salt
1. Place tomatillos in a medium saucepan, cover with water, and bring to a simmer over medium heat. Cook until tomatillos just give way when pierced with a knife but aren't falling apart, about 10 minutes. Drain well.
2. Place tomatillos and remaining ingredients in a blender and blend until almost smooth.
3. Chill at least 1 hour before serving.
Choffy Mole
Choffy is ground cacao that can be brewed like coffee. For this recipe, I ground it to a fine consistency.
Recipe adapted from Martha Stewart
2 tablespoons oil
2 cloves garlic
1 corn tortilla
1/3 cup almonds
1/2 onion, diced
1/2 cup tomato, diced
1/4 cup raisins
2 ounces Hatch pepper, diced
2 tablespoons fine ground Choffy
1/4 teaspoon cinnamon
Water
1. In a saucepan, heat oil over medium. Tear tortilla into pieces and add to pan, as well as garlic and almonds. Cook until toasted, and remove to food processor with a slotted spoon.
2. Add tomato and onion to the pan and cook 8-10 minutes. Add raisins and stir, then remove all to food processor.
3. Add peppers, Choffy, and cinnamon to food processor, and puree until a paste forms.
4. Slowly add water through the chute, 1/4 cup at a time, until sauce is the consistency you prefer.
Capirotada de Navidad
Capirotada is traditionally served during Lent, but some families serve it at Christmas, as the warm, sweet bread pudding is perfect for chilly winter nights!
8 bolillos (Mexican rolls – for substitute use stale French bread)
4 brown sugar cones
4 cups water
3 cinnamon sticks
1 cup unsalted peanuts
1 cup golden raisins
1 cup cojita cheese, crumbled
2 tablespoons butter
1. Preheat oven to 400 degrees.
2. In a large saucepan, heat the brown sugar, water, and cinnamon to boiling, until it is reduced to a syrup.
3. Rip bolillos into small pieces and place 1/4 of them on the bottom of a Dutch oven. Sprinkle on 1/3 cup peanuts, 1/3 cup golden raisins, and 1/3 cup cojita cheese. Pour some of the syrup over the top.
4. Repeat for two more layers, ending with another layer of bread.
5. Pour syrup over top layer of bread. Cut the butter into small pieces and scatter over the top.
6. Bake, with lid on, for approximately 45 minutes.
Serves 12
Chimayo
1 cup white tequila
2 tablespoons Creme de Cassis
1 cup apple cider
4 tablespoons lemon juice
Mix all ingredients together in a shaker. Pour into four glasses, over ice.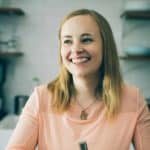 About Megan
I focus on fresh ingredients and easy methods, with spins that keep meals interesting. Dinnertime shouldn't be stressful or complicated, and I'm here to help you enjoy the time spent in the kitchen. Read more…