This post is brought to you by the Orange Wall Collective.
Living just on the outskirts of Austin, I get a lot of flack for being "so far" away from everything. I don't actually mind driving places, and for the most part, everyone else in Austin is driving too, so what's a few minutes more?
There are lots of great places to eat popping up in the northern parts of town, and I'm glad for it. Many of these restaurants are in The Domain, an open-air mall only about 15 minutes from my house. I already frequent The Domain because of Sur La Table, Anthropologie, and Whole Foods Market, so it's nice to be able to get something to eat that doesn't come on a plastic tray and a side of tinned air.
To celebrate these restaurants, The Domain is hosting its annual Taste of North Austin event. Held on Saturday, June 21 from 11 a.m. to 4 p.m., this event is always a blast, and a great way to nibble on a variety of foods. For $20 you can enjoy 10 tastes from participating restaurants, or go for the VIP ticket at only $10 more and get complementary drinks, a goody bag, and access to the VIP lounge.
Since this is Austin, there will be live music for everyone to enjoy, plus face painting and balloons for the kids, all of which is free! Plus, when you use your "taste tabs", you'll be voting for the restaurant and its partner charity. At the end of the event, the top three restaurants will receive a donation to their chosen charity. Eating and doing good? I love that.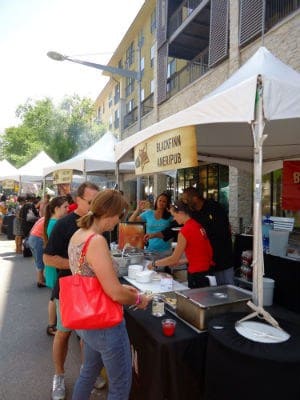 Here's a list of participating restaurants to help get your taste buds ready:
Abel's North Grill and Taphouse
BJ's Restaurant
Blackfinn Ameripub
Blue Baker
Cru a Food & Wine Bar
Daily Grill
How Do You Roll?
Kona Grill
The League Kitchen & Tavern
Maggiano's Little Italy
McCormick & Schmick's
NoRTH Italia
Nothing Bundt Cakes
Punch Bowl Social
Sushi Zushi
Tiff's Treats Cookie Delivery
Tony C's
Top Golf Austin
Urban – an American Grill
Whole Foods Market
Zed's Restaurant
Head over to the Facebook event page or The Domain website for more information. See you there!