After a conference, especially one where a ton of information is being thrown at your head in the hope that it will stick, it's always a bit hard to deflate and really think about what has just happened. TECHmunch is no exception – last year the event was a single day and I still wrote three posts about the panels. I'm hoping to be a bit more concise this year. Not because we didn't learn a lot, but in an effort to cut through a lot of the extraneous stuff and give you key information about what went on.
The venue this year was the flagship Whole Foods in downtown Austin. The corporate offices are upstairs from the grocery store and culinary center, so we camped out in a conference room just off the patio, bought delicious lunches down in the cafe section each day, and generally were treated fantastically by the Whole Foods staff.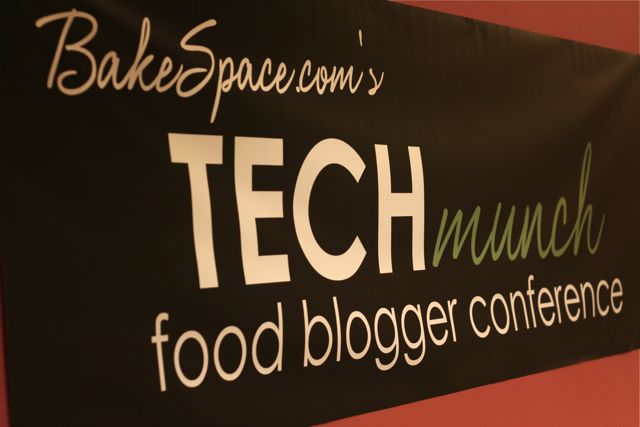 Our first panel talked about socializing content, and while these guys are definitely at the top of their game (one of the panelists was Ben Huh from ICanHazCheezburger.com) it seemed like much of what they were saying wasn't applicable to the small-time bloggers we were. However, a few key points hit home:
If you're publishing content, you have to think of many screens, not just the standard computer screen. People are using mobile phones and tablets more and more, and content looks different on those screens.
Still, it's too early to tell how tablets are affecting how people are consuming content.
Monetization for the small publisher is still very difficult, but there are some startups trying to help out publishers and sell advertising easily. Look to this area as a place that will see lots of innovation in the next few years.

The second panel on getting noticed and building your public relations plan was incredibly informative, from my point of view. It was great to hear from PR pros giving relatable advice, not just pushing the importance of the ever-worsening Technorati. Here's the main points I came away with:
Editors, journalists, and PR people are responsive to trends, not you. The most important thing you can do is listen – to other bloggers, to news trends, to social networks.
Editorial calendars can make life so much easier, both on your end and the end of the company you plan to pitch a story or partnership to. If you know what is coming up you can tailor a pitch that much better. For example, pitching a Thanksgiving story in June might sound crazy, but you have to consider the time that goes into creating holiday features.
Getting visibility and credibility from a third party – even other bloggers – is PR. Don't play the numbers game on Twitter or Facebook, but truly build those relationships. "Think of social media like bringing milk and cookies," Eric Schwartzmann said.
Make sure you have your contact information easy to find (consider each page) and don't use forms! You can't get pitches and opportunities if people can't find your address.
There are over 30,000 food blogs. Consider finding your niche to stand out from the crowd, especially if you're interested in monetization. Advertisers pay more for specialized audiences.

The next panel was on social media optimization and to be honest, was a bit overwhelming in terms of how much information was being thrown at us in a short amount of time. A few of us were also starting to get twitchy from overdoing it on the cold-brew coffee, and it was almost lunch time. Bad combination! Thankfully, presenter Lee Odden has his presentation available to us right over here. Some key things I took away from the presentation:
By nature SEO (search engine optimization) is a copy of your content. Good SEO is transparent and improves user experience
Networking both online and offline can help SEO.
Think about your audience: who are they and what are they searching for?
Make the Google panda happy by having high quality content that is well structured and cited, well written, and contains links to content and social sharing. (We did not talk much about the new Recipe algorithm but Lee thinks that we should do what Google wants in order to be recognized by searches. I'm not sure I agree.)
Spend a fixed, consistent amount of time growing your networks, and consider spending 20 percent of your blogging time commenting and connecting with other bloggers.

We had lunch, and then came back to a panel on traditional media, led by Austin's own Addie Broyles. The panel speakers were Kat Kinsman from CNN's Eatocracy, the Tampa Tribune's Jeff Houck, and Rene Lynch of the LA Times.
Traditional media is still experiencing lots of changes, and they often don't have the money to hire bloggers as full-time writers, but are open to using bloggers in other ways, such as resources for niche topics.
Ethics are a huge part of journalism, but are not a consideration for many bloggers. If you're a blogger, having a published set of ethics (such as disclosure policies) can help you get a second glance above another blogger who doesn't.
If you want to write for a traditional media outlet, make sure you take the time to read their content and find out where you could be most useful. Don't pitch a story just because you want to write about it; research whether it would be a good fit.

Our final panel of the day was about creating kickass content, and truly had some kickass people as a panel. Penny De Los Santos, Nadia G, and Jane Goldman (from Chow.com). They're all doing well in their respective areas, and it was inspiring to hear their advice.
Think about your pictures as much as your words. Photos draw you in and put you right in the place.
Talking on Twitter, Facebook, and beyond about things that are more that food not only helps create community but can help build content. As Nadia says, "People are very interested in talking about themselves."
In photos, think about the less obvious shot. Work the edges of a situation. Think about your instincts and what you're reacting to.
For videos, consider scripting. Cut down to the bare bones, but consider adding branding like bumper music, title boxes, etc, but don't think you have to make your video like everyone else's. Most importantly, pay attention to the audio!
Write (or speak) like you're talking to your best friend.

Stay tuned for part two of the recap, to cover Sunday and some closing thoughts!