Temptation and Stretching Protein
This post contains affiliate links. As an Amazon Associate, I earn from qualifying purchases.
I wonder if this is a problem for people who utilize the food bank: I work in an office with lots of people, and naturally many of them get takeout for their lunch. Today my friends went to Freebirds. I had to eat my peanut butter and banana quesadilla.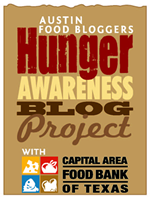 Not that I didn't like what I was eating, but I really love Freebirds. However, I knew that if I had gotten my lunch there, it would have blown my "budget" and would have only fed myself once. It's interesting to look at food in this way, especially when there are so many places to eat that I love. Cooking is one of my hobbies, of course, but sometimes when it comes down to it you just want to get takeout sometimes. That's not really an option for some people, unless you count the dollar menu – which sadly, is often what people resort to for a meal every single day.
Yesterday we roasted a chicken in the CrockPot. Initially chicken seems expensive, but we make it last for at least three meals. Same with pork shoulder. I can make pork shoulder last an forever, going from pulled pork sandwiches to tacos to fried rice to potstickers to pizza. Now that I think about it, I should have gotten a pork shoulder for my meat option! The canned corn we had with it was a thousand times better than the canned beans. My husband is convinced the only vegetables that can be canned and still taste good are peas and corn. I'm not sure on the peas, but the corn is definitely true.
I also had to do my Daring Bakers' challenge, so I used the canned pears to make an English sponge pudding, which is steamed. We don't normally have dessert but this made for a really nice treat. Aside from the pears, I had the rest of the ingredients on hand, so I estimated the rest of the cost. In my opinion it seemed like a fairly cheap but fancy dessert for 6. (I took the leftovers in to work so we wouldn't have cake laying around.)
Tonight I used a small amount of the chicken to make fried rice with some leftover onion and fresh peas from the garden. It's quick, easy, and super tasty. In fact, my son and husband ended up eating double portions so we didn't have any leftovers! Tomorrow the chicken will be paired with pinto beans and more rice for burritos, as well as contribute to my lunch as either a salad or wrap sandwich.
Monday's costs:
Breakfast: Peanut butter on tortilla – $0.12
Lunch: Leftover spaghetti & garlic bread – free
Dinner: Roasted chicken ($5.38), canned corn ($0.72), milk ($0.65) – $6.78
Dessert: Pear Chocolate Pudding (approx $2.00)
Total: $8.90
Today's costs:
Breakfast: Oatmeal with blueberries – $0.20
Lunch: Peanut butter and banana quesadilla ($0.32), clementine ($0.16) – $0.48
Dinner: Fried rice with leftover chicken and garden peas (approx $0.25), milk ($0.65) – $0.90
Snack: Tortilla chips and salsa – $0.75
Total: $2.33
Tomorrow I'm very excited to get a free bagel and schmear at Einstein Bros, thanks to a friend posting a coupon on Facebook! There is free food at work every so often too, and mid-afternoon I'm really excited when there are Thin Mints on the counter. OK, I was excited before the challenge, but now it is really like a treat, not just something I was gnawing on for the heck of it. Overall I'm also feeling less urge to snack for the sake of snacking. I wonder if my habits will stick after I'm done…