This post contains affiliate links. As an Amazon Associate, I earn from qualifying purchases.
Eating gluten-free isn't something I have to worry about. Thankfully, the only food sensitivity in our household is my newly developed banana allergy. That's fairly trivial compared to what some people have to deal with, and I'm always sure to take note of my luck when it comes to being able to eat foods without getting sick.
One of my plans for 2011 includes learning more about the ways other people eat. On food blogs we're often so focused on what we eat, what we are doing with food. Ironic, considering the main reason we read blogs is to see what other people are doing. Think about it though – how many of you read blogs from people outside your blog niche? I know I don't read too many who identify with the Healthy Living Bloggers group, for example. Add another bullet point to my 2011 plans.
I'm still working out the best way to explore other food cultures, but I'm jumping into the gluten-free world with The Gluten-Free 15th. Each month I'll be working with a different gluten-free blogger to provide perspective, recipes, and tips about living gluten-free.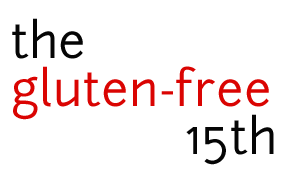 This month I met up with Sarah from Gluten Girl in Austin for brunch at La Condesa, an interior Mexican restaurant in downtown Austin. Over a mouthwatering gluten-free meal, we discussed her past with gluten, how to deal with going out to eat, and implications for the future.
Sarah dines out quite often, a fact I think is amazing considering she's gluten-free. While the trailer food scene is all but forbidden (the trailers are too small to offer separate, non-contaminated surfaces for gluten-free needs), Sarah enjoys some of the hottest spots in town. How does she know where to eat? "It comes down to trust," she says. "You have to trust the waiter, the runner, the chef."
She's not going on blind faith, though. Even when she selects an item on the menu that she's had before, such as the huevos condesa at La Condesa, she asks the waiter if it's gluten-free. You never know when something might not be listed on the menu, like a coating of flour on fish or stray croutons, Sarah says. Case in point, our teas were served with small biscotti, decidedly not gluten-free.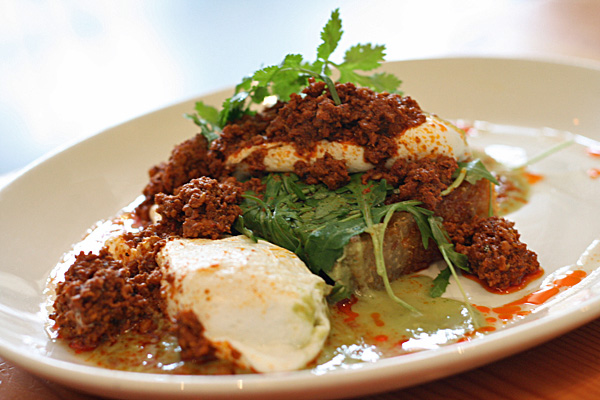 Huevos Chilangos: Wild boar chorizo, poached eggs, arugula, quinoa croquette, & avocado salsa
As it turns out, the higher caliber restaurants are safer to eat at. Perhaps it is the more keen attention to detail or the desire to uphold a reputation, but Sarah finds that upscale restaurants are better able to ensure a safe dining experience for those who have to eat gluten-free. Places that are hard to eat at include any place where English is not well spoken, and Asian restaurants because of the predominance of gluten-filled soy sauces. Interior Mexican places like La Condesa are easier, because as you get further into Mexico, the use of flour tortillas becomes less.
We also discussed how the gluten-free diet is becoming more popular among those who don't need it for immune system reasons. (Celiac is an autoimmune disease; the tiny hairs in the intestines are attacked and destroyed when gluten enters the body.) For the most part, Sarah is happy about the attention gluten-free living is getting. The problem comes in with misinformation. For example, many websites and even restaurants list spelt as a gluten-free ingredient – it's not. As more people become educated this problem should lessen, but it still makes for dangerous dining waters for those who depend on accurate information to stay healthy.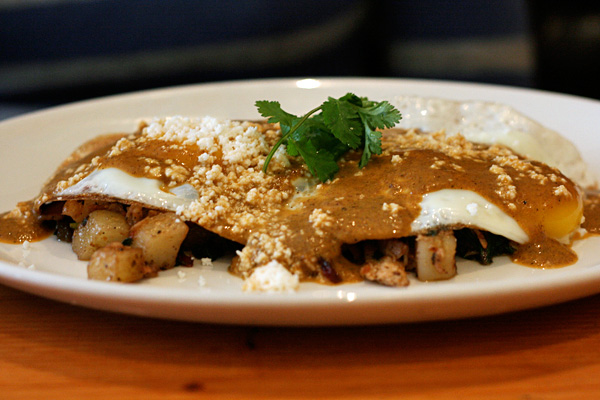 Huevos Condesa: Rotisserie chicken, fried eggs, poblanos rajas, roasted potatoes, grilled onions, & bacon
Gluten-free isn't a fad diet for most. However, people don't understand that you can't just "cheat" on a gluten-free diet, Sarah says. Grabbing a cookie because you just can't hold back anymore sets your body into attack mode. Sometimes people get so seriously "glutened" that they have to go to the hospital. This threat shouldn't prevent people from being able to enjoy an evening out. With a little more knowledge and communication on all sides, gluten-free can pass from a bother for restaurants to a niche market they should be proud to help serve.
Are you gluten-free? What problems do you have keeping with the diet?