Last month I shared a little bit about gluten-free baking with my friend Kate Payne of Hip Girls' Guide to Homemaking. I'm very excited to announce that her book of the same name is now available in stores! I was lucky enough to receive a copy of the book in advance, and I spent an hour poring over it as soon as the delivery truck drove away.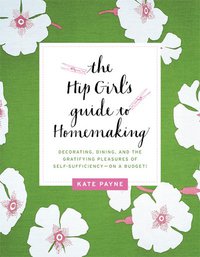 It's fitting that Kate and I became friends through last year's Can Jam, a yearlong project where we canned seasonal produce. Generally, people who put up produce are those looking to get back to their roots of a more simple and less expensive life. This theme prevails in what might now be my favorite how-to book (and I'm not just saying that 'cuz she's my friend).
The book is divided into three main sections (decorating, DIY, and food) and each section is chock full of tips for bringing out your hip home. Even though the book is geared toward the 20-something just making their first home, there is plenty of information that can be used by everyone, from creating your own drapes to container gardening to eating on the cheap. Kate not just tells you how to do something, but jumps into the why of it all. She recognizes that the DIY life is hard for some people to transition to, and makes a case for it through her research on chemicals and waste, as well as through her step-by-step guides that make the task at hand seem undaunting for even the least hip homemaker.
Kate's personality really shines through in the book. Her fun attitude, easygoing style, and little bit of cheekiness are all displayed in the book. I've said before that Kate is who I'd like to be when I grow up (though I think she is younger than me) and I'm not kidding. If you've ever checked out her blog, you'll recognize that same blend of wit and down-to-earth practicality throughout the book.
The fine folks at Harper Collins are allowing me to give away a copy of The Hip Girl's Guide to Homemaking to a lucky reader! All you have to do to win is leave a comment sharing your favorite hip home tip.
Need inspiration? Here's a tip from the book:
Tear a cotton ball in half, dot it with real vanilla extract (not the faux stuff), and suck it up like regular debris the next time you use your vacuum. You'll infuse the house with a sweet smell while you clean!
I'll draw a winner for the giveaway via Random.org on Saturday, April 23, so get your comments in before midnight Friday!
Feel free to share as many tips as you'd like, but one comment per person, please.