"Alternative" diets are getting more popular, but it's often hard to make the switch if you're used to cooking based on the standard American diet. The Natural Epicurean is here to help!
The Natural Epicurean Academy of Culinary Arts is one of the only plant-based professional chef training programs in the United States. The program focuses on such culinary styles as vegetarian, vegan, raw, and macrobiotic. One of the cool things is that even if you're not interested in enrolling in the 900-hour training program, you can try one of their public classes. There are introductory classes offered as well as 4-week sessions that meet once a week.
I attended their opening celebration in June, and I'm excited about taking some of the classes in the future. Booths were set up for us to learn about their chef training program and other classes, and we also were able to sample a few school recipes and watch a cooking demo with the incredibly entertaining Chef Marco.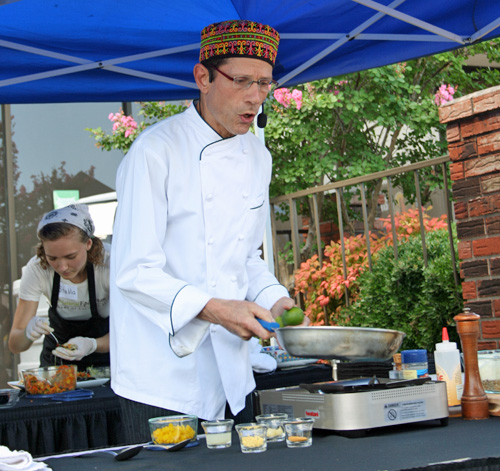 Chef Marco told us it is important to make vegan food exciting – it doesn't always have to be bland tofu and rice. He certainly had fun singing as he cooked up some curried tofu, tossing limes into the crowd. Once the tofu was seared, he added some yellow beet and a few spices, then mixed it all together with three kinds of onion. This mixture was then stuffed into half a fig and topped with onion sprouts. Despite the multiple onions, it didn't taste overly of onion, and all the flavors were well-balanced. The tofu was surprisingly meaty, and makes me want to reconsider cooking with tofu!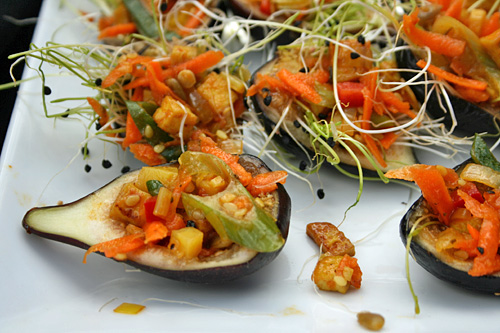 A few recipe cards were available, but only one of them was for a dish we tasted: quinoa salad with pecans and cranberries. It was really good, and as soon as I can locate some umeboshi vinegar I'll be re-creating it at home. I'm always on the lookout for yummy recipes with quinoa, and this cold salad is perfect for summer.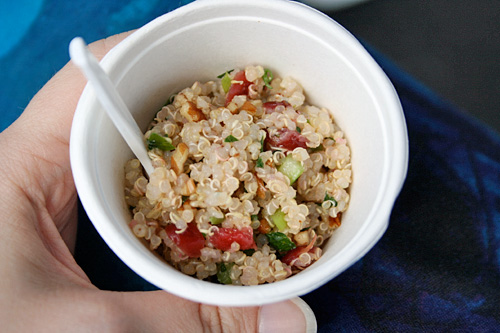 We also sampled some mango gazpacho, which was also fresh and clean. All the food reminded me of how I felt when I went on my 21-day vegan and gluten-free cleanse. Nothing was heavy, and it reminded me that I need to eat that way more often. NadaMoo was also there with their vegan ice cream, and Natural Epicurean gifted everyone with either granola cookies or a rosemary sprig for the garden. (Hopefully I won't kill this one.)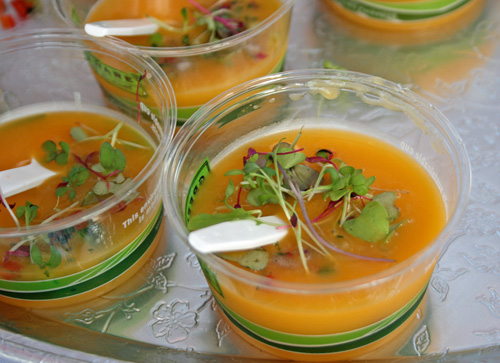 What are the public courses? Well, to start there is Conscious Cooking, Ayurvedic Cooking, Macrobiotics, Sugar FREEdom, Healthy Foods Your Kids Will Love, and the one I'm most interested in taking next year: Happy, Healthy Pregnancy. The courses range from $45-$75 for single classes, and $125-$225 for multi-class courses.
For more info check out their website, www.naturalepicurean.com
Natural Epicurean
www.naturalepicurean.com
1701 S. Lamar
512-476-2276