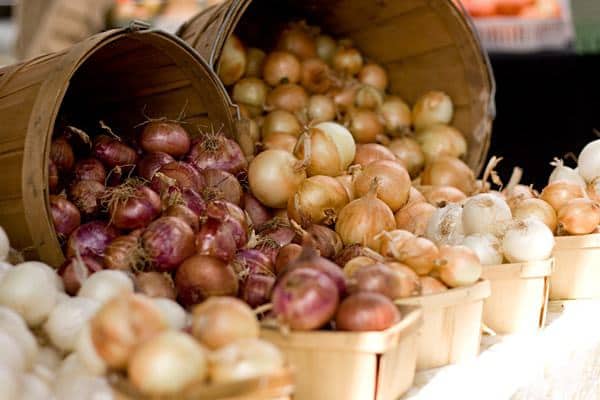 One of the things I get asked a lot is where I source my ingredients. In the grand scheme of things, we actually don't spend a lot on groceries, and due to our diet of organic meats, fresh local veggies, and yes, even local dairy, this goes counter to what many people think about food and food costs.
The first forays to the farmers' market were tentative ones. We began going in January 2008, which, while still a productive time in terms of vegetables being available, did not exactly inspire confidence in our decision to eat locally. In January, lettuces, kale, and unfamiliar root vegetables took up most of the tables, and I would sigh over turnips and hesitantly end up with a head of broccoli.
These days I navigate the markets with ease, deciding which ones to visit based on what I need (or what breakfast I want that day). I don't spend much time thinking about how or where to shop anymore – not only a result of feeling comfortable in Austin after 7 years, but also due to my growing confidence when it comes to preparing all manners of food.
So, here's our list of where our food comes from. Note that this doesn't include all our sources, but highlights my favorites. If you're in the Austin area, I hope it helps you discover some new businesses. If you're not, I hope it inspires you to go searching in your community for something new that makes your culinary heart go pitter-pat.

Vegetables
Johnson's Backyard Garden – When we first started eating locally, JBG was our choice for a Community Supported Agriculture (CSA) share. The pricing is good and due to the fact the farm is constantly growing, they have a wide variety of vegetables. We don't use them for our CSA anymore, but I still buy from them at the farmers' market and order their bulk tomatoes for canning.
Greenling – Despite loving Austin and getting out to the markets, the fact is we're homebodies at heart, and that means even getting groceries is a drag. We started getting Greenling delivery last year and love it. Usually we just stick with the Local Box, which is their version of a CSA, only sourced from multiple farms for the best variety and quality. However, they offer every other kind of grocery item we could possibly need, from meat to grains to frozen pizza – all local. And they deliver right to our house, despite us living in the suburbs. Score.
Urban Roots – If I don't get everything I need from Greenling, I love to stop by the Urban Roots booth at the farmers' market. This organization teaches skills to teenagers – not just farming but business and marketing. It's a really great cause to support, and they grow wonderful produce.
Fruits
Markley Family Farm – Want strawberries in February? Markley grows hydroponic strawberries, which means they are ready just about when you start fretting about winter. My son and I ate an entire pint in about 10 minutes last time we bought 'em.
Sweet Berry Farm – For me spring has come to mean driving out to Marble Falls and crouching in the sun to pick pound after pound of strawberries, then spending the rest of the weekend making jam. They also do U-pick for blackberries, and just started growing peaches, if that's more your thing.
Lightsey Farm – Their stand at the various Austin-area markets is consistently filled with fruit for every season. We buy their peaches, persimmons, pears, cantaloupes, and figs regularly. (Especially the figs. Oh, baby.)
Bat Creek Farms – My northern heart was pretty excited to find out there are a few apple orchards nearby. Bat Creek brings their apples to the downtown market in early autumn, and our family goes a little crazy over them.
Meats
Richardson Farms – Their pork sausage is what helped our family transition to buying local food. They also have Thanksgiving turkeys.
Salt and Time – Amazing cured meats. I give Ben a hard time because his favorite team is the Bears, but the man knows how to make a delicious bratwurst.
Smith & Smith Farms – Chickens and quality pastured eggs, plus lamb
Windy Hill Farm – Did you know goat is the most popular meat in the world? Strangely, it's kind of hard to find in parts of the US, but Windy Hill has almost every cut available. They also have lamb.
Dairy
Pure Luck Farm & Dairy – My favorite goat cheese is made by Pure Luck. You might see me snatching at packages of the seasonal June's Joy as soon as it starts appearing.

Mill-King Market & Creamery – Raw (only available direct at the farm) and low-temperature pasteurized milk, as well as cheese products including cheese curds!
This is just a sampling of all the places to get local food. If I wanted to, I could completely avoid the grocery store, like my friend Carla. Her blog, Austin Urban Gardens, is a wonderful resource on all things eating local. I do also shop at my neighborhood HEB for necessities (my store has a great selection of King Arthur Flour products), and at Whole Foods. Both stores are working hard to get more local products on the shelves.
What's your favorite place to get local food?