Where to Eat in Austin During BlogHer Food
This post contains affiliate links. As an Amazon Associate, I earn from qualifying purchases.
BlogHer Food will be in Austin next week, and I hope that attendees coming from out of town will take some time to explore the food we have here. Don't compare us to Portland or Brooklyn though – Austin is all it's own, and we take pride in being a little different.
Here's a few recommendations for where to get your grub on while in town. The conference hotel is downtown, so many of my recommendations are within walking distance, but grab a cab or a local and be sure to explore some of the other corners of town. Also, yes! It will be hot. Don't worry though – sweaty is the status quo around here.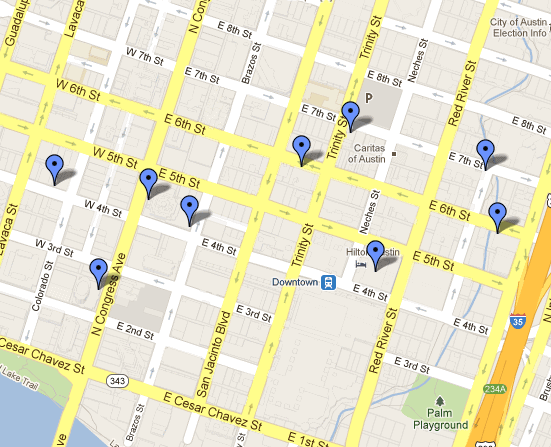 I've made a Google map of these locations to help you out – grab it here.
Coffee
Please, please, please step away from the hotel coffee shop. There are much better options only a few blocks away.
Breakfast
We're all about breakfast tacos here, although sometimes they can be hard to explain to people who've never experienced one. Taco Shack isn't the best in town, but there is one a few blocks from the Hilton. Otherwise, head to Easy Tiger for perfectly crispy and tender pain au chocolate, Frank for a breakfast corndog, or drive to 24 Diner for chicken and waffles.
Barbecue
Texas Monthly just released its newest list of the 50 best 'cue places in the state, and Austin's Franklin Barbecue tops it. Of course, if you don't have 3-4 hours to wait in line (starting at 9 a.m.; they often sell out by 1 p.m.) there are other options. Drive over to Stiles Switch (my favorite) or Freedmen's.
Food Trucks
We have more than a thousand food trucks in town, and you should try at least one. These are a few stand-outs:
East Side King at Liberty Bar or The Grackle – Top Chef winner Paul Qui's new restaurant isn't open yet, so head to one of his trailers for pork belly buns or beet fries. (According to the conference program, lunch on Saturday will be ESK – lucky you!)
Llama's Peruvian Creole – Peruvian!
G'raj Mahal – I'm not sure if this one qualifies as a trailer any more since they have table service, but this spot in the hopping Rainey Street area churns out fantastic Indian food.
Places You'll Need Reservations (and maybe a car)
Uchi/Uchiko – Some of the best food in town. I like Uchiko better, but that might be because I live closer to it. If you can make it during Social Hour you'll save money and can fill up on some of the restaurant favorites, including the fried brussels sprouts.
La Condesa/Sway – One is Mexican, one is Thai, both are amazing. Definitely get the elote at La Condesa, and try at least one of Laura Sawicki's amazing desserts. (La Condesa is open for Sunday brunch, too.)
Lenoir – This cozy restaurant is prix fixe only. Grab a few friends so you can try the entire menu.
Midnight Cowboy – Strong, classic cocktails served in a reservations-only former "massage" parlor.
Other Favorites
Contigo – You'll need to drive, but it's worth it for the small bites and cocktails alone. The menu changes a little with the season, but you can always get the Pigs in a Blanket and White Bean Dip, our go-to whenever we visit. (Open for Sunday brunch!)
Koriente – A top spot for visiting downtown vegetarians, I'm always stuffed when I leave here. Unlimited miso soup doesn't hurt.
Peché – Known mostly for their cocktails, the food is excellent as well. Sit at the bar if you want to get personalized drink recommendations.
Amy's or Lick – It's going to be hot, and you're going to want ice cream. Amy's is a tradition in Austin, with multiple locations around town (including the airport). Lick hasn't been open long, but their creative flavors (beet, goat cheese, chocolate orange) have made them extremely popular.
Whole Foods Market – Skip the prepared foods bar and head to the back of the store for either the BBQ counter or the seafood counter. The seafood counter is actually one of my favorite places to eat. It might seem weird to eat in the middle of a grocery store while people shop around you, but that just makes for great people watching.
SFC Farmers Market at Republic Square Park – Pop over here Saturday morning for a taste of what Austinites eat. Stop by Dai Due for an excellent breakfast and get in some people watching.
Are you coming to town? Where do you plan on eating?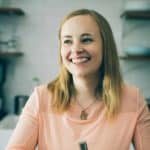 About Megan
I focus on fresh ingredients and easy methods, with spins that keep meals interesting. Dinnertime shouldn't be stressful or complicated, and I'm here to help you enjoy the time spent in the kitchen. Read more…