BlogHer Food will be in Austin next week, and I hope that attendees coming from out of town will take some time to explore the food we have here. Don't compare us to Portland or Brooklyn though – Austin is all it's own, and we take pride in being a little different.
Here's a few recommendations for where to get your grub on while in town. The conference hotel is downtown, so many of my recommendations are within walking distance, but grab a cab or a local and be sure to explore some of the other corners of town. Also, yes! It will be hot. Don't worry though – sweaty is the status quo around here.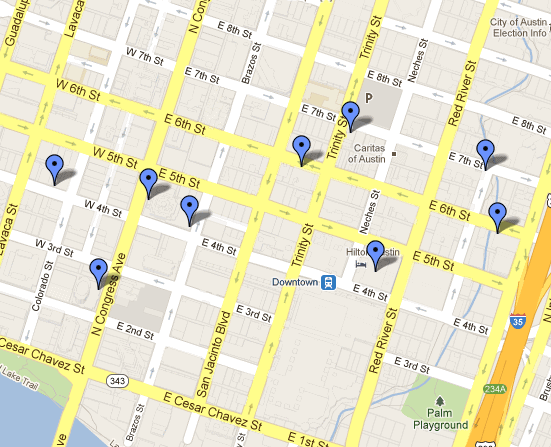 I've made a Google map of these locations to help you out – grab it here.
Coffee
Please, please, please step away from the hotel coffee shop. There are much better options only a few blocks away.
Breakfast
We're all about breakfast tacos here, although sometimes they can be hard to explain to people who've never experienced one. Taco Shack isn't the best in town, but there is one a few blocks from the Hilton. Otherwise, head to Easy Tiger for perfectly crispy and tender pain au chocolate, Frank for a breakfast corndog, or drive to 24 Diner for chicken and waffles.
Barbecue
Texas Monthly just released its newest list of the 50 best 'cue places in the state, and Austin's Franklin Barbecue tops it. Of course, if you don't have 3-4 hours to wait in line (starting at 9 a.m.; they often sell out by 1 p.m.) there are other options. Drive over to Stiles Switch (my favorite) or Freedmen's.
Food Trucks
We have more than a thousand food trucks in town, and you should try at least one. These are a few stand-outs:
Places You'll Need Reservations (and maybe a car)
Other Favorites
Are you coming to town? Where do you plan on eating?
[highlight]P.S. If you're a food blogger who will be in town June 6, please join us for Bites and Bloggers! Featuring Austin's top female chefs, this party on the Whole Foods rooftop will be a great way to kick off the weekend! (note: this is not a BlogHer party – just one happening beforehand!)[/highlight]