This post contains affiliate links. As an Amazon Associate, I earn from qualifying purchases.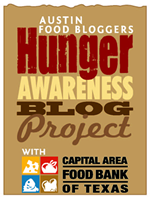 Thursday was my final day of the Hunger Awareness Project. While I had planned the other meals we had, by Thursday I was just kind of tired of it all and threw together a basic stir-fry. Because I was keeping such a tight rein on my supplemental spending, keeping to the set list of food was making me depressed. Cooking is an outlet for me in which I melt away my stress and tap into my creativity to concoct something tasty (and hopefully pretty) for my family to eat. During this challenge I had trouble doing that. I wanted to, but it's hard to be inspired by a jar of spaghetti sauce. Food became simply fuel, not really the event I like it to be. Sure, my family all sat down together to eat, but the meal just seemed lacking, and not only in fresh vegetables.
At lunch on Thursday I splurged on a $1.50 side salad from Target and a bag of popcorn. My final "supplemental" costs for this project was around $9. On Saturday I spent $55 at the farmers' market, fully aware of my ability to do so without having to worry about paying my power bill. The food divide in this country is one of our greatest problems. How can we as a country consume so much without having the ability to put food in everyone's mouth?
I almost didn't take a photo of my last meal, because looking at it makes me incredibly sad. The peas, wonderfully fresh green, are from my garden. The green beans are from a can. I wish they were as bright and lovely as the peas. I wish the photo didn't make me sad. I wish I didn't feel guilty for poo-pooing canned vegetables when so many people have to eat them – especially when I grew up eating them.
Have you donated to your local food bank yet? Do you have a reason not to? Even $5 can provide $25 worth of food for Central Texans. Skip your latte and throw in some cash. Donate here.