This post contains affiliate links. As an Amazon Associate, I earn from qualifying purchases.
Extend the flavor of fresh chives by learning how to dry chives at home. It's an easy and economical way to have chives on hand no matter the season.
One of my favorite things to grow is chives, because they are so easy to take care of!
Chives grow quickly and come back year after year. The only downside is that living in the Midwest, they die back in the winter.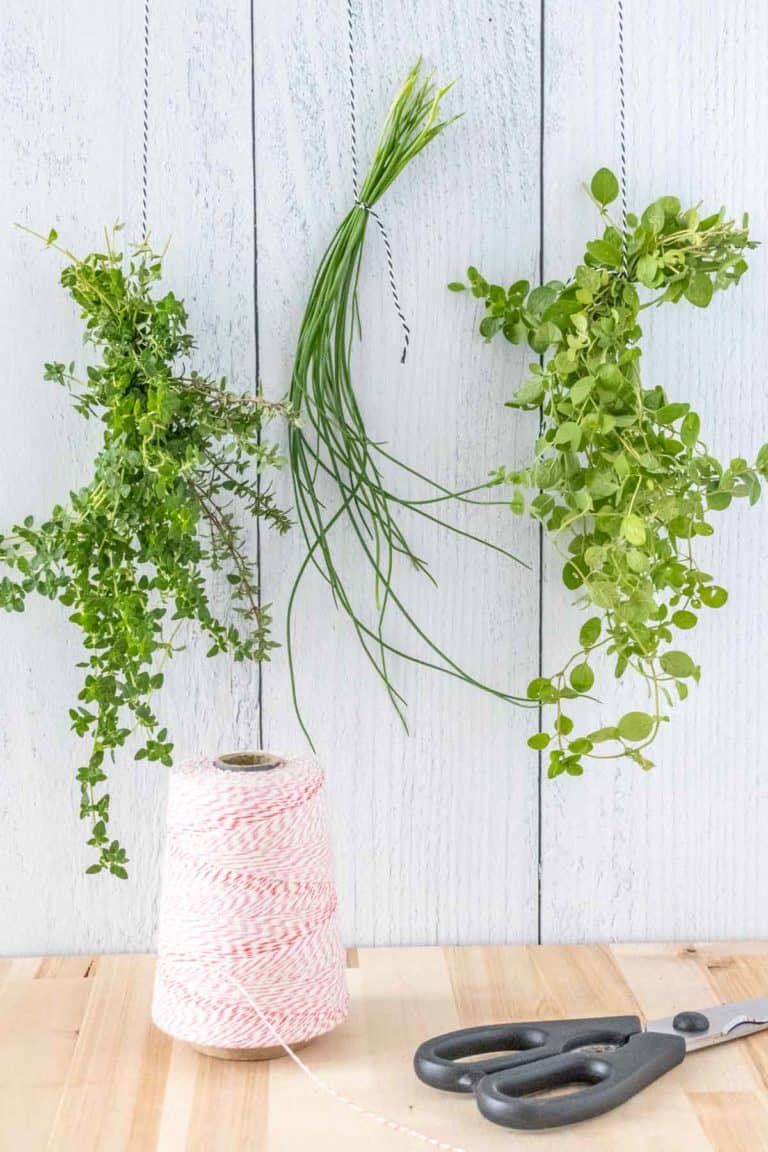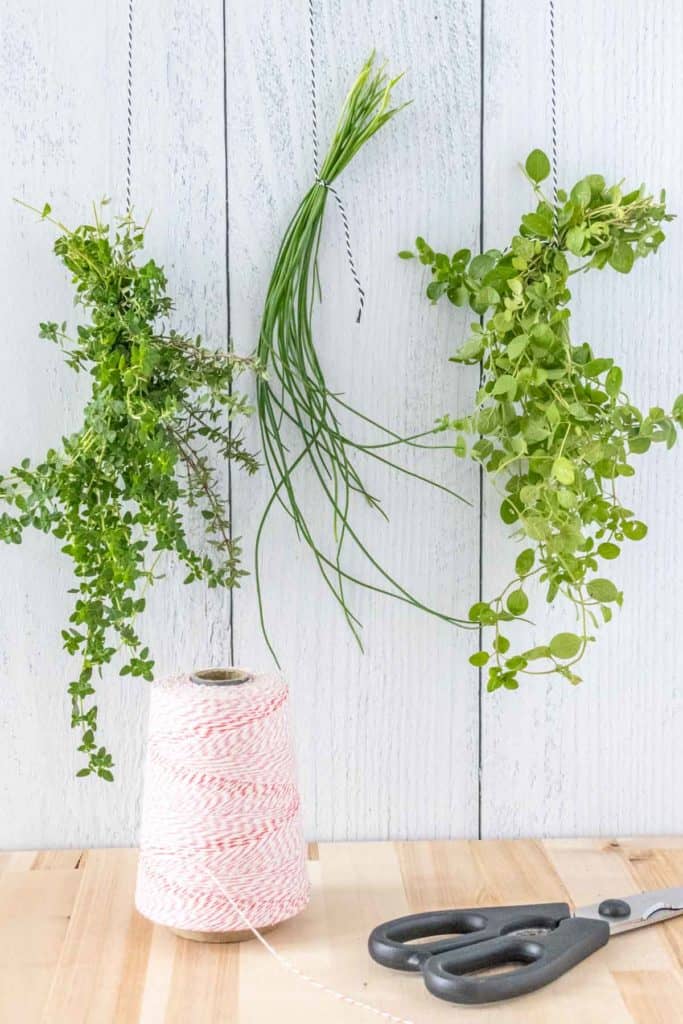 However, by drying chives you can use their flavor even through those cold months!
Drying herbs like chives is an easy and economical way to boost flavor in your recipes.
Plus, you don't need any special equipment to get started.
How to harvest chives
Chives can be harvested multiple times throughout the growing season.
Cut them back to no less than 2 inches above the ground so they can grow back.
Ideally, you'll want to cut at least 5 inches of length to have enough chives for using or drying.
Remove any dead or yellowing leaves.
If your chives have blossoms, you can turn the blossoms into chive blossom vinegar by steeping them in white wine vinegar, or use the blossoms as a salad garnish.
Gently rinse and pat the chives dry to remove excess moisture.
How to dry chives
You can air dry chives by hanging them, or oven drying them.
To hang dry, tie chives into a bundle, leaving some string to tie into a loop or tie directly to a hook.
Hang the chives in a cool, dry location, preferably a place air can flow around all sides.
A pot rack or a hook from the ceiling both work well for drying herbs.
Chives will wilt as they dry, and then become brittle. They are ready to store when they easily break between your fingers.
Air drying herbs can take anywhere from 2 days to 2 weeks.
Oven drying chives
Line a baking sheet with parchment paper (for easy gathering of the pieces) and heat oven to its lowest temperature, between 170°F and 180°F.
Arrange chives in a single layer on the parchment paper.
You can also dice the chives before drying if you prefer. Scatter the pieces onto the parchment.
Place in the oven and leave the door slightly ajar.
Dry the chives for about 1 hour. Check every 20 minutes and test for dryness; the chives are ready when they crumble in your fingers.
Break chives into small pieces and store for use.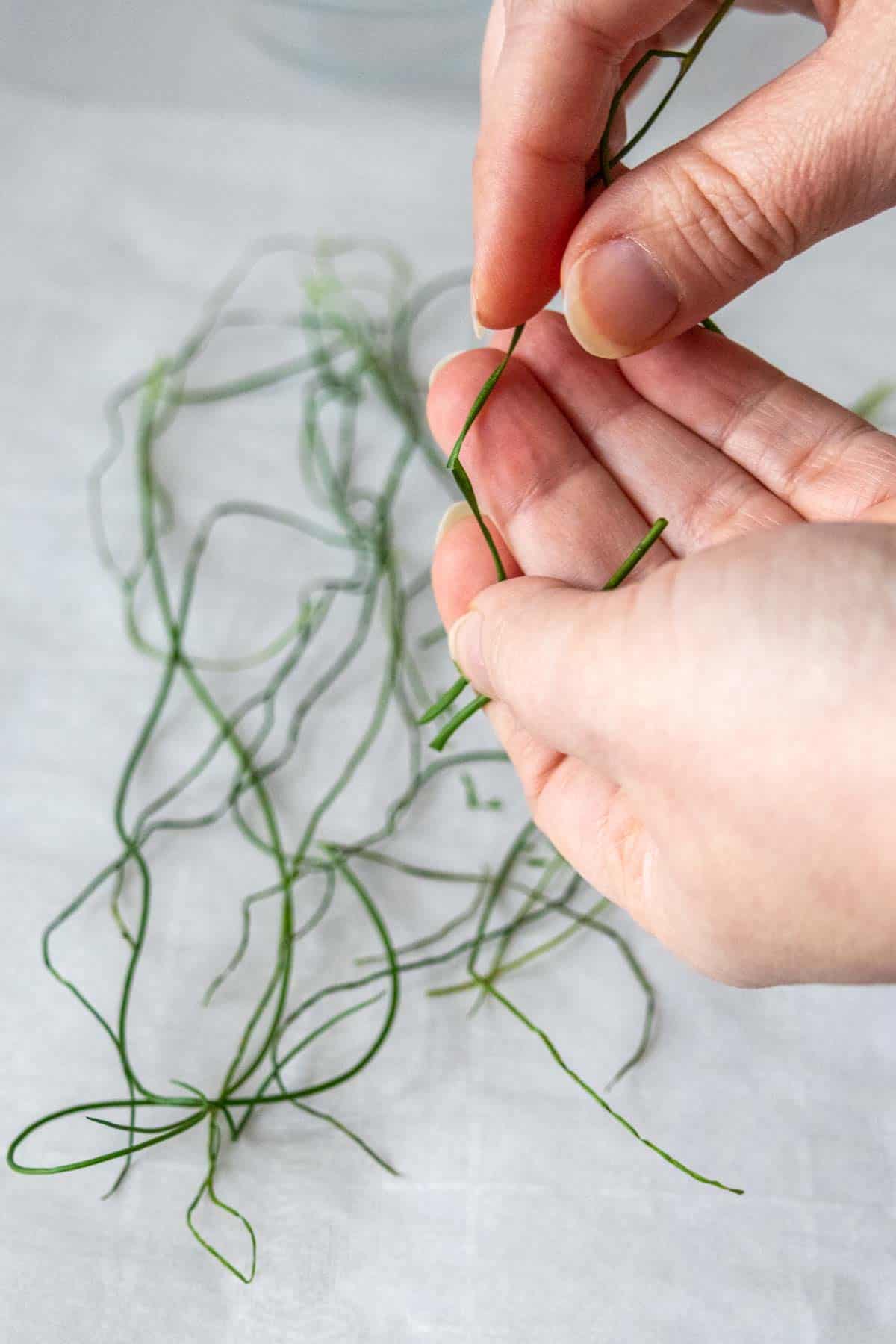 Storage tips
I recommend storing dried herbs in glass spice jars or small mason jars.
Keep them in a dry place like your spice cabinet.
Moisture will make the chives lose their potency, so be sure to scoop out of the jar; do not shake out over a hot steaming pan.
Dried herbs can keep for 1 year. Replace yours once they no longer have a strong aroma.
Using dried chives
I like to use dried chives in any place that needs a light burst of allium flavor.
It's a must in homemade dips and mixes like homemade ranch seasoning.
Sprinkle dried chives onto scrambled eggs or mix into cheese quiche.
Fold into a biscuit dough or your favorite bread.
Swap dried herbs with fresh by reducing the amount by 1/3.
For any recipe asking for 1 tablespoon fresh chopped chives, swap in 1 teaspoon dried chives.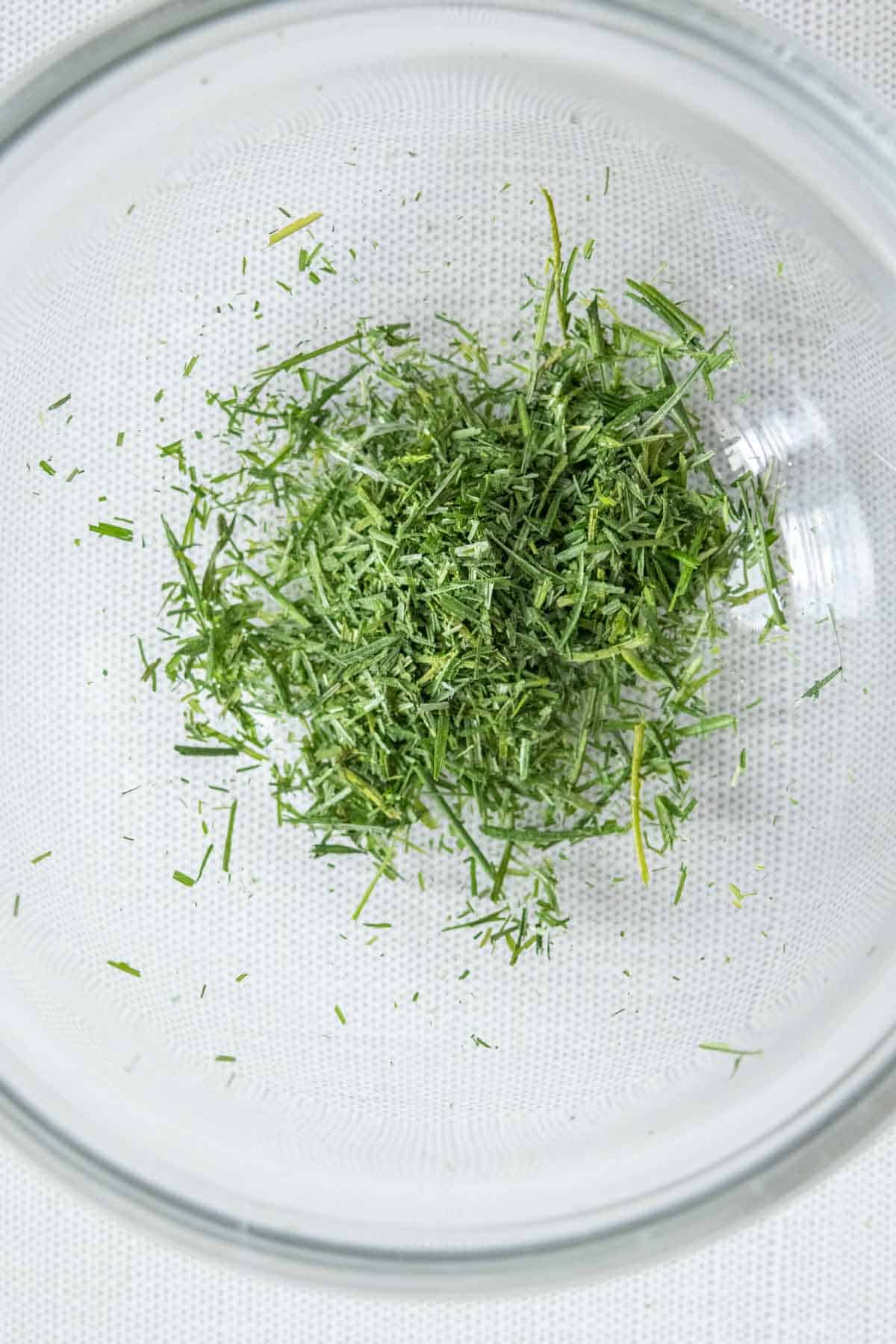 Dry chives at home and save money this year!
Love this recipe? Please leave a 5-star review below! It means so much when you enjoy my recipes, so let me know how it goes and leave a comment if you have any questions.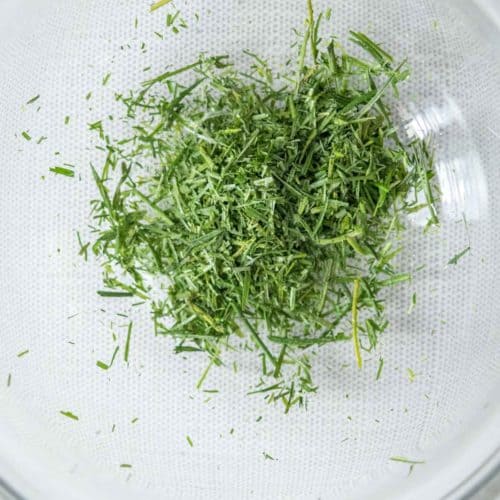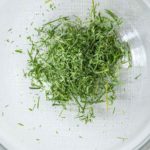 How to Dry Chives
Extend the flavor of fresh chives by learning how to dry chives at home.
Print
Pin
Save
Saved!
Instructions
Rinse chives gently, removing any yellow leaves. Pat dry with a towel.
To hang dry
Gather the chives together into a bundle. Cut a length of kitchen twine and tie a knot around one end of the chives. Tie a loop around the other end and hang in a cool, dry place.

It will take between 2 days and 2 weeks for the chives to fully dry.
To oven dry
Turn your oven as low as it can go. (For my oven this is 170°F.)

Spread the chives in a single layer on a parchment-lined baking sheet. Place in the oven and leave the door ajar.

Check the chives every 15-20 minutes for dryness, pinching a leaf or two between your fingers to see if it crumbles. The chives should be fully dry within 1 hour.
Once dry
When chives are dry, crumble the leaves into small pieces and place in a glass jar. Label and store in a cool, dry place for up to 1 year. Once the chives lose their aroma, it's time for a new batch.
Nutrition
Calories:
0.1
kcal
Carbohydrates:
0.02
g
Protein:
0.01
g
Fat:
0.003
g
Saturated Fat:
0.001
g
Sodium:
0.01
mg
Potassium:
1
mg
Fiber:
0.01
g
Sugar:
0.01
g
Iron:
0.01
mg
Nutrition information is provided as a courtesy and is an estimate based on online calculators. Any nutritional information found on Stetted should be used as a general guideline only.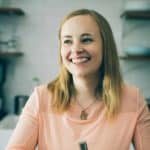 About Megan
I focus on fresh ingredients and easy methods, with spins that keep meals interesting. Dinnertime shouldn't be stressful or complicated, and I'm here to help you enjoy the time spent in the kitchen. Read more…