Spicy glazed brussels sprouts are a quick and easy side dish. It gets its flavor from the fiery Korean condiment, gochujang.
I know it's a little too early to share sprouts recipes. But I've been working on eating more veggies on a daily basis, and considering I've made these three times over the past two weeks, I figure I've got to share them.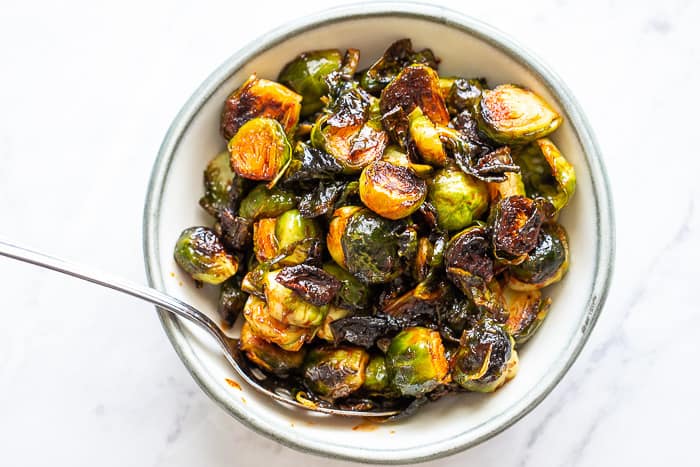 When was the first time you tried Brussels sprouts? I definitely did not eat them as a child. In fact, I was 29 before I ever had them.  I was introduced to them in the most foodie of ways: at the Outstanding in the Field dinner at the first Foodbuzz Festival.
I was wary, but I am sure glad I tried them. Since then I have ordered Brussels sprouts at nearly every restaurant I visit. My favorite, like nearly everyone else in Austin, come from Uchiko, but there are a lot of close seconds.
Once I learned how to cook Brussels sprouts myself, they become a regular food around here. Brussels sprouts with walnuts and cranberries are just perfect for autumn, but if you like to have heat in your meals, these spicy glazed Brussels sprouts are where it's at.
…