Cucumber tomato salad with pesto brings everything that is great about summer together in one dish. This no-cook dish is ideal for cookouts and potlucks.
Every year, I plant a garden full of optimism. Each year, it is slightly different. At our old house we did square foot gardening for a year or two. At the new place, we installed smaller, yet taller garden beds, with a trellis attached to one.
Gardening feels peaceful and productive, and yet I tend to need to set a phone reminder to get out and weed (and sometimes water — oops). I don't think I'm alone in that; considering the invention of timed watering for homes. Even when I know I'm not taking care of the garden, I think it's going to magically turn out perfectly, with a bounty to take care of.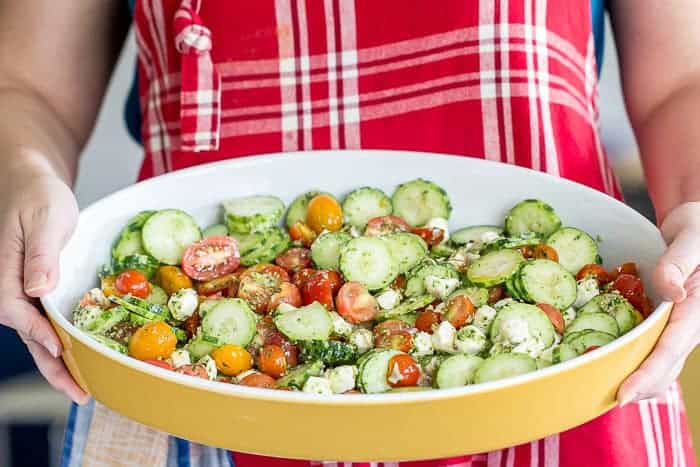 This year it has come true, at least a tiny bit. We planted nothing in our middle garden bed, and thanks to fruit that dropped last summer, volunteer cherry tomato plants quickly sprouted up. Each day I have to pick at least twenty cherry tomatoes to stay ahead.
The other surprise? My first-ever cucumber plant.
…