This post contains affiliate links. As an Amazon Associate, I earn from qualifying purchases.
Have excess tomatoes you just can't deal with right now? Learn how to freeze them for quick and easy use later on!
In my opinion, one of the best things about summer is those piles and piles of juicy red tomatoes coming in from the garden or the farmers market.
I truly cannot resist getting more tomatoes and often plant way more than we'll ever eat, only to head to the market and come back with another hefty bag of 'maters.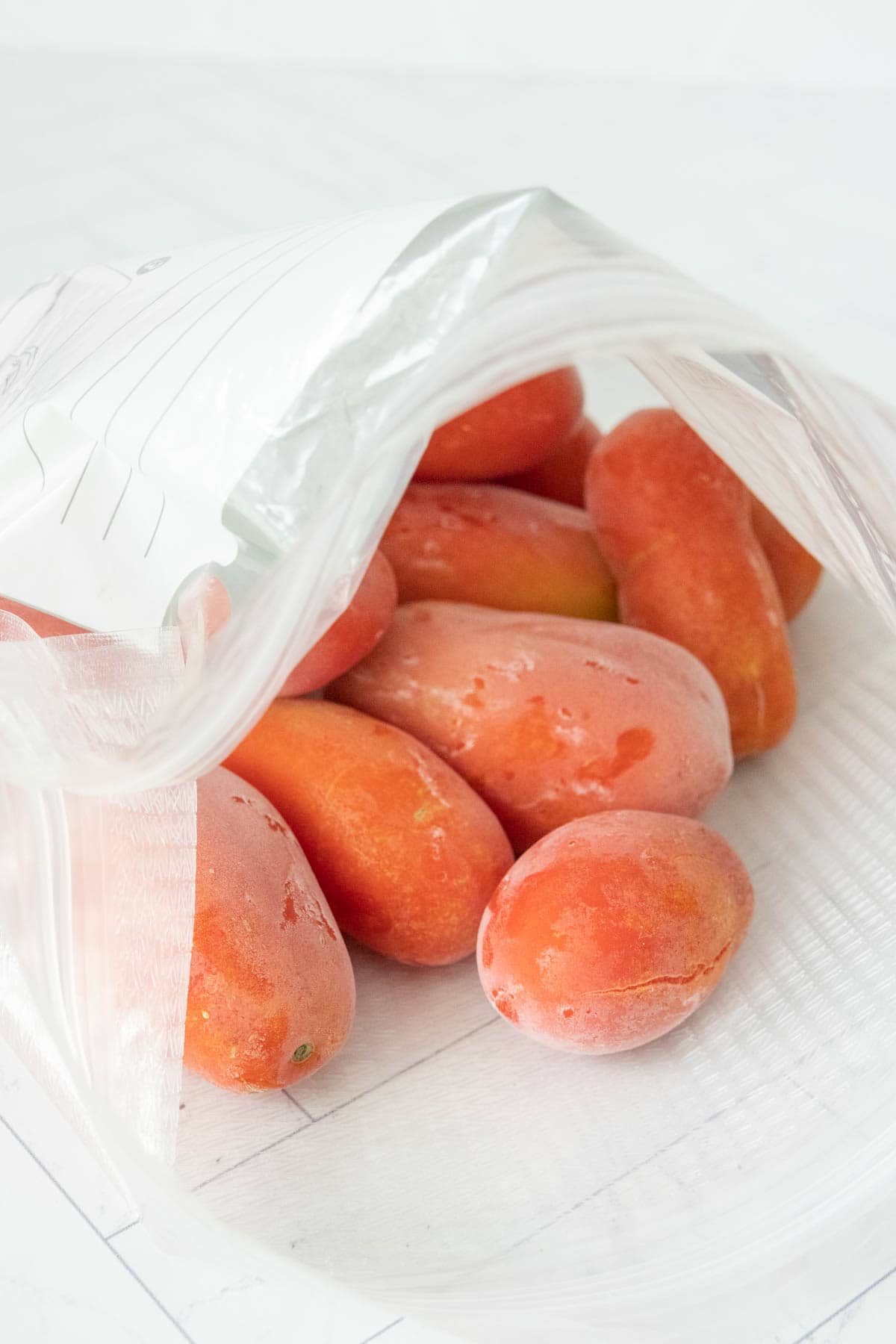 It's partially because tomatoes are how I got deep into canning, spending quite a few hot summer days in Texas hovering over the stove while I stocked my pantry.
My heart is always more ambitious than my brain and body though, so freezing tomatoes has become one of the most important steps in summer canning.
If you can't get enough of fresh tomatoes as well, you definitely need to freeze them!
Why freeze tomatoes?
I have to admit that when I first heard about freezing whole tomatoes, I was confused.
However, after I did it the first time, I was hooked!
Here's a few of my favorite reasons to freeze those tomatoes:
It locks in the fresh summer flavor. Everyone knows that there's no comparing the taste of a summer tomato to a barely red winter tomato.
It puts off the work for another day. I sometimes buy tomatoes in bulk from a local farm, and I grow them at home. That means I can have a lot of tomatoes on hand!
While I have big plans for my tomatoes, I don't always have time to process them before the start to go bad.
Freezing the tomatoes means I can put off canning or making spaghetti sauce until I'm ready.
It makes them easy to peel. I've tried lots of different methods for peeling tomatoes, and I have to admit that freezing tomatoes has got to be the easiest!
When the tomatoes are thawed, the skins just slip right off.
You'll always have tomatoes on hand. We use tomatoes a lot in cooking, especially in soups and stews or chili, and I don't always remember to keep canned tomatoes at the ready.
Freezing ensures you've got an extra stash for when you need.
If you've got room in the freezer for tomatoes, I highly recommend freezing them!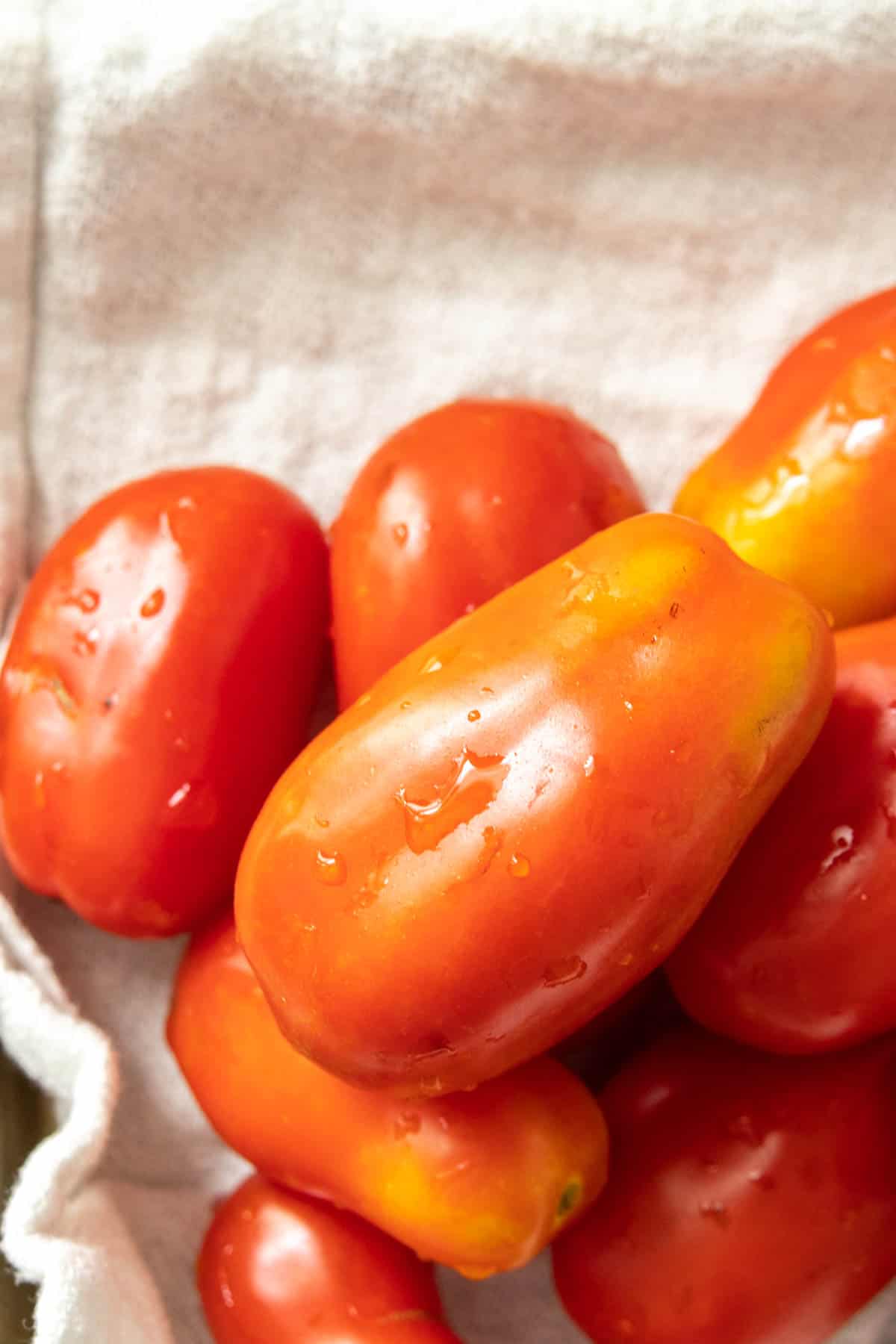 How to freeze tomatoes
Remove stems from the tomatoes.
Wash off any dirt or dust and dry with a kitchen towel. You don't want the tomatoes to be wet on the outside when you freeze them, as it can cause freezer burn.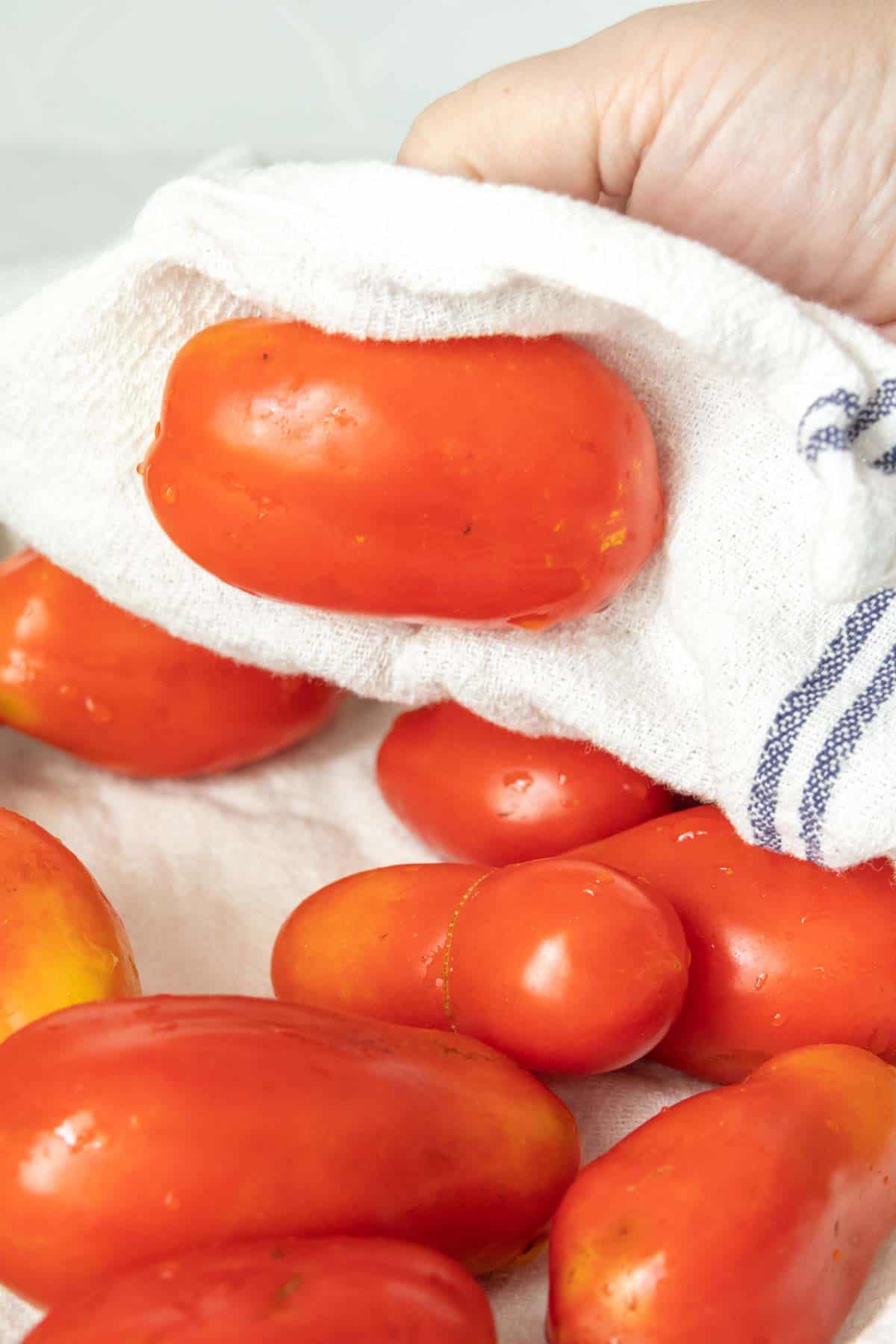 Tomatoes that have cracks that have dried or scars are OK to freeze. I try not to freeze any tomatoes that have new cracks or are leaking juices.
You can core the tomatoes before freezing, but I actually don't bother with this step unless the tomatoes have a very thick core.
Place the tomatoes on a rimmed baking sheet. I line the baking sheet with parchment paper as insurance to prevent the tomatoes from sticking as they freeze.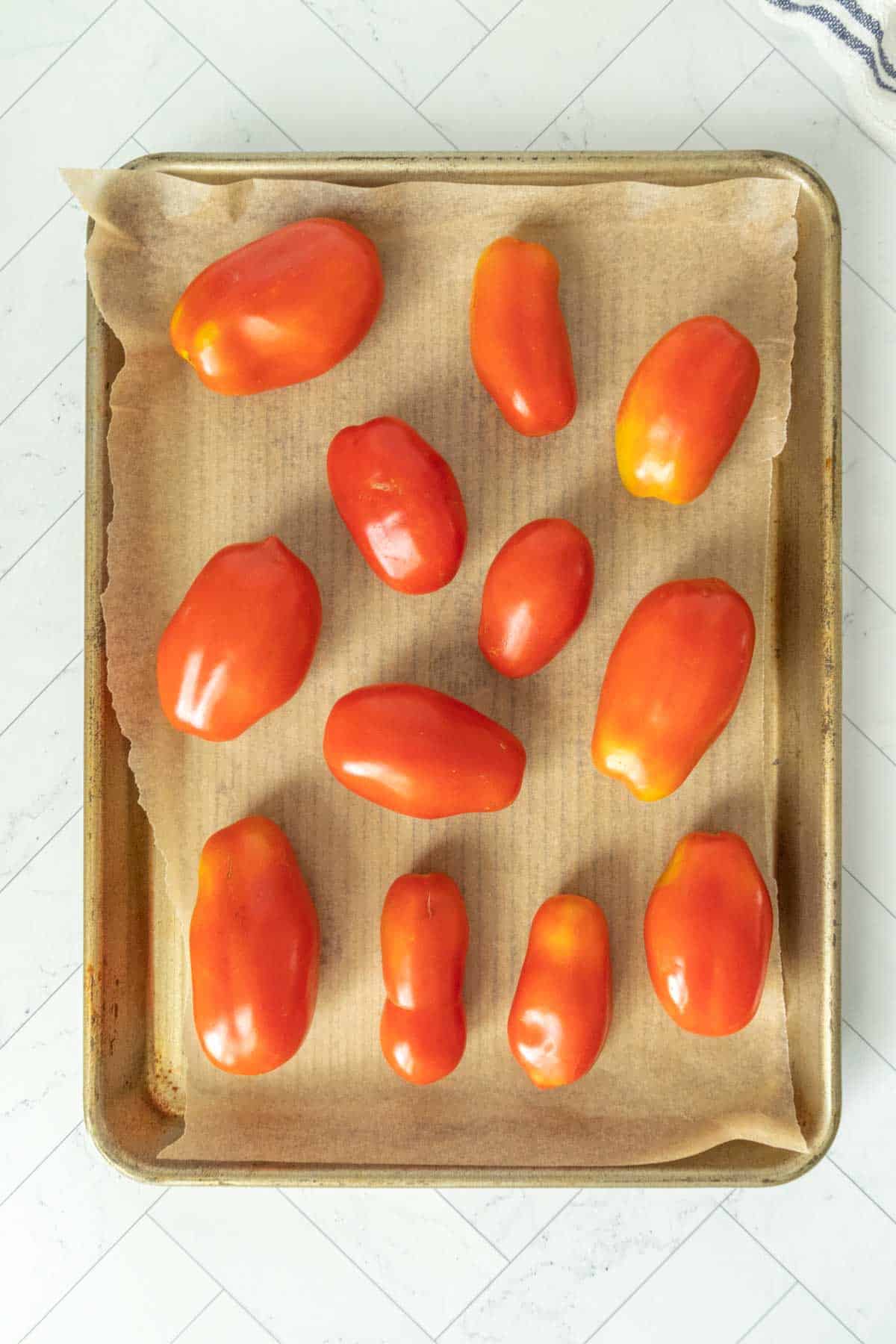 Put the baking sheet in your freezer, making sure it is resting flat.
Freeze the tomatoes for at least hours, until completely frozen.
This might take longer if you are freezing a lot of tomatoes at once, or they are especially large. To be honest I often forget about them until the next day!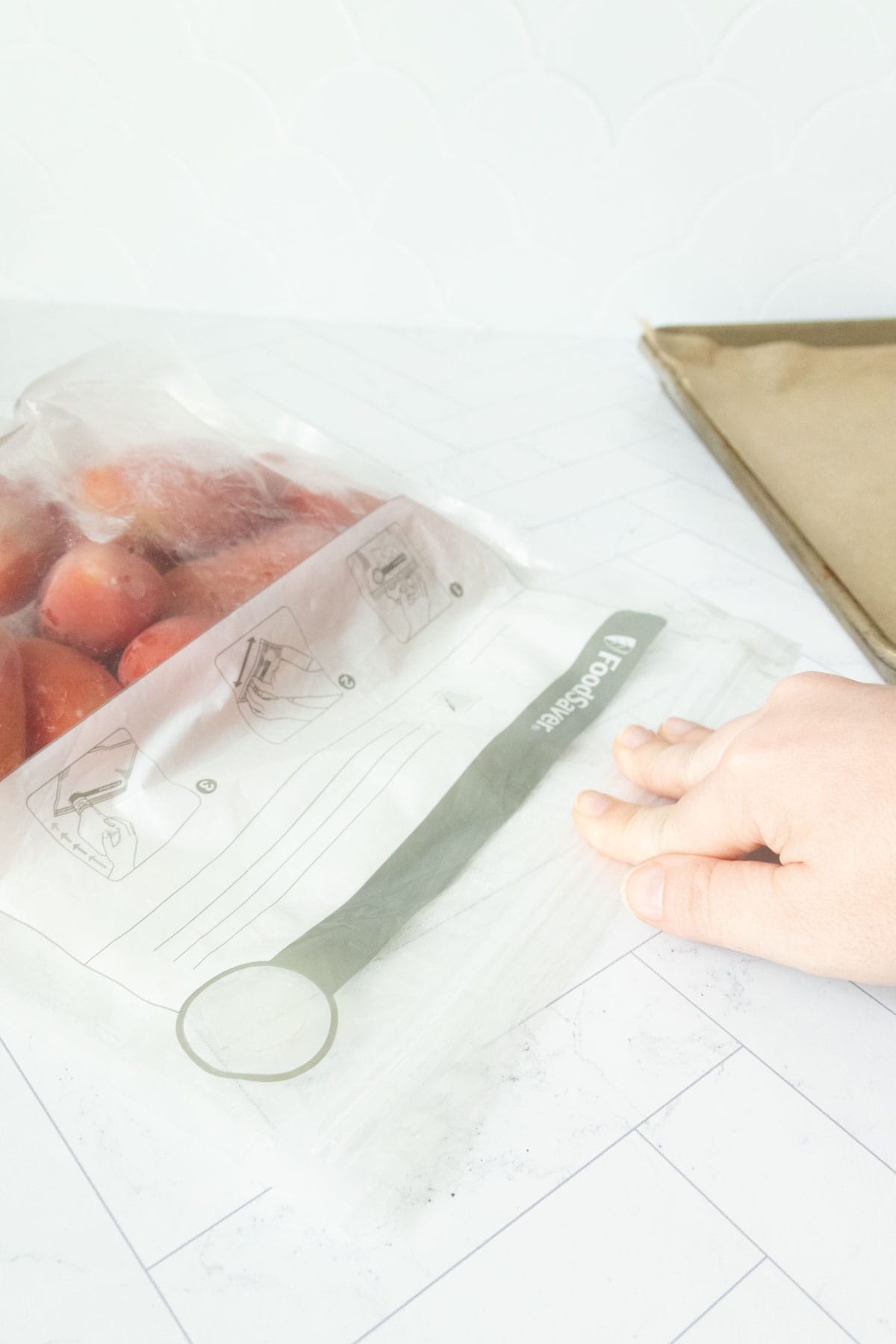 Once frozen, transfer the tomatoes to a freezer bag. Remove excess air and seal. If you have a vacuum sealer, this is a great use for it.
tip
Weigh the tomatoes ahead of time and label the bag with the weight. This will make it easier to accurately measure for recipes, especially canning.
When you're ready to use the tomatoes, simply remove what you need from the freezer and let thaw.
The tomatoes will soften when thawed and the skins will slip off.
How to thaw frozen tomatoes
The hardest part of having frozen tomatoes is remembering to thaw them! Fortunately, you can use a few different methods.
Place in the refrigerator overnight.
Set out at room temperature for an hour or so.
Run the tomatoes under cool (not warm!) water until thawed.
What kinds of tomatoes can be frozen?
Honestly, you can freeze any kind of tomato! The variety of tomato you freeze will generally depend on how you plan to use it later.
For instance, cherry tomatoes might not be the most beneficial to freeze, unless you have a bumper crop you need to use.
I like to freeze paste tomatoes like San Marzano and Roma, because those are what I prefer for making tomato sauces.
Larger tomatoes like beefsteak can also be frozen, though keep in mind they will be better put to use in a cooked recipe than enjoying on a BLT, for instance.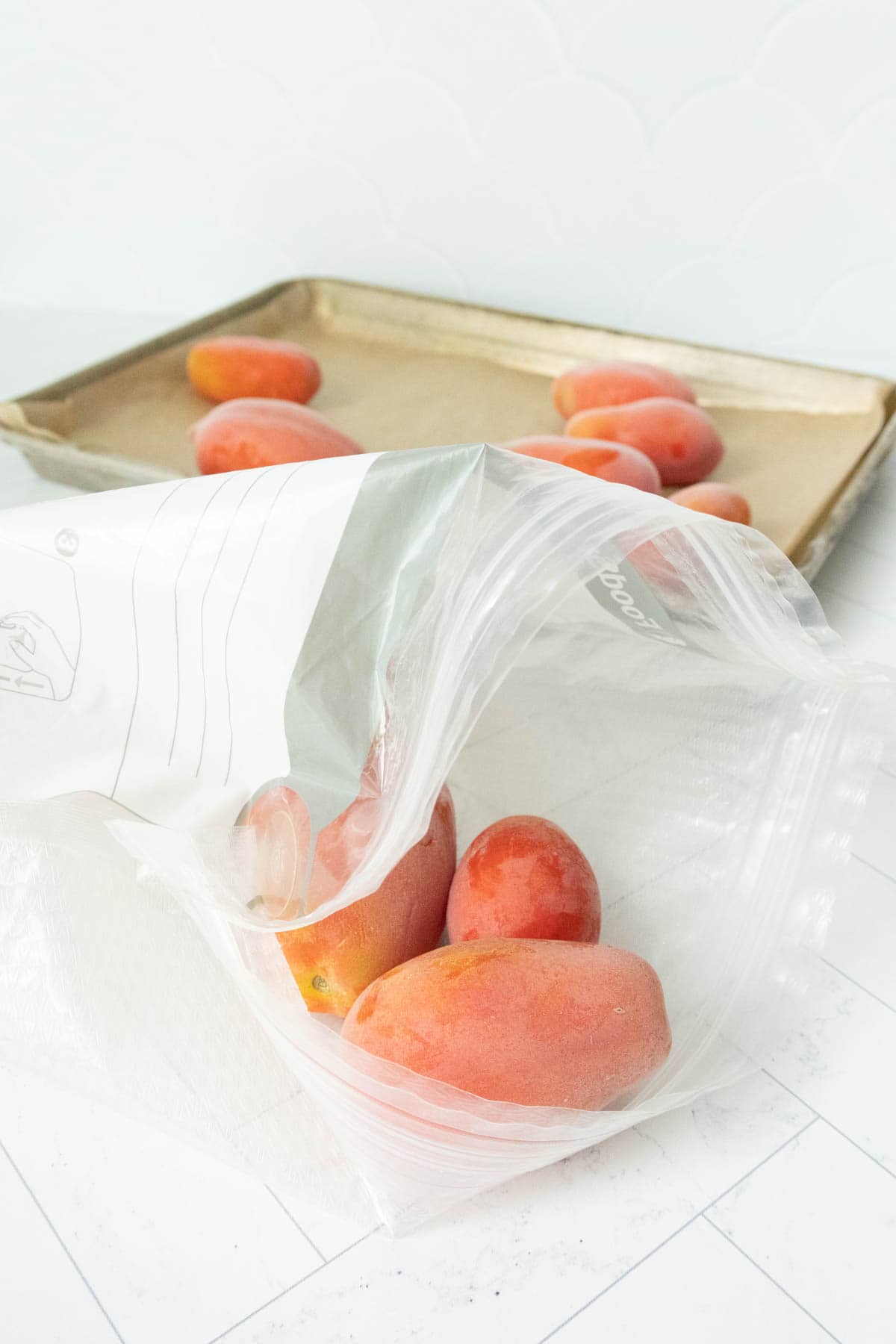 How long do frozen tomatoes last?
Stored in an airtight container such as a freezer bag, glass jar, or deli container, frozen tomatoes will keep for at least 6 months.
Tomatoes that have been sealed in a vacuum bag will last longer.
However, I do recommend using your frozen tomatoes within a year for the best flavor.
How to use frozen tomatoes
Previously frozen tomatoes are usually a little softer than their fresh counterparts, so they work best in saucier applications.
Think marinara sauce, pizza sauce, or salsa.
They're also great to use in place of crushed tomatoes in American goulash or your favorite chili recipe.
Use in white bean sausage soup in place of diced tomatoes.
Try using them in my spiced tomato cake!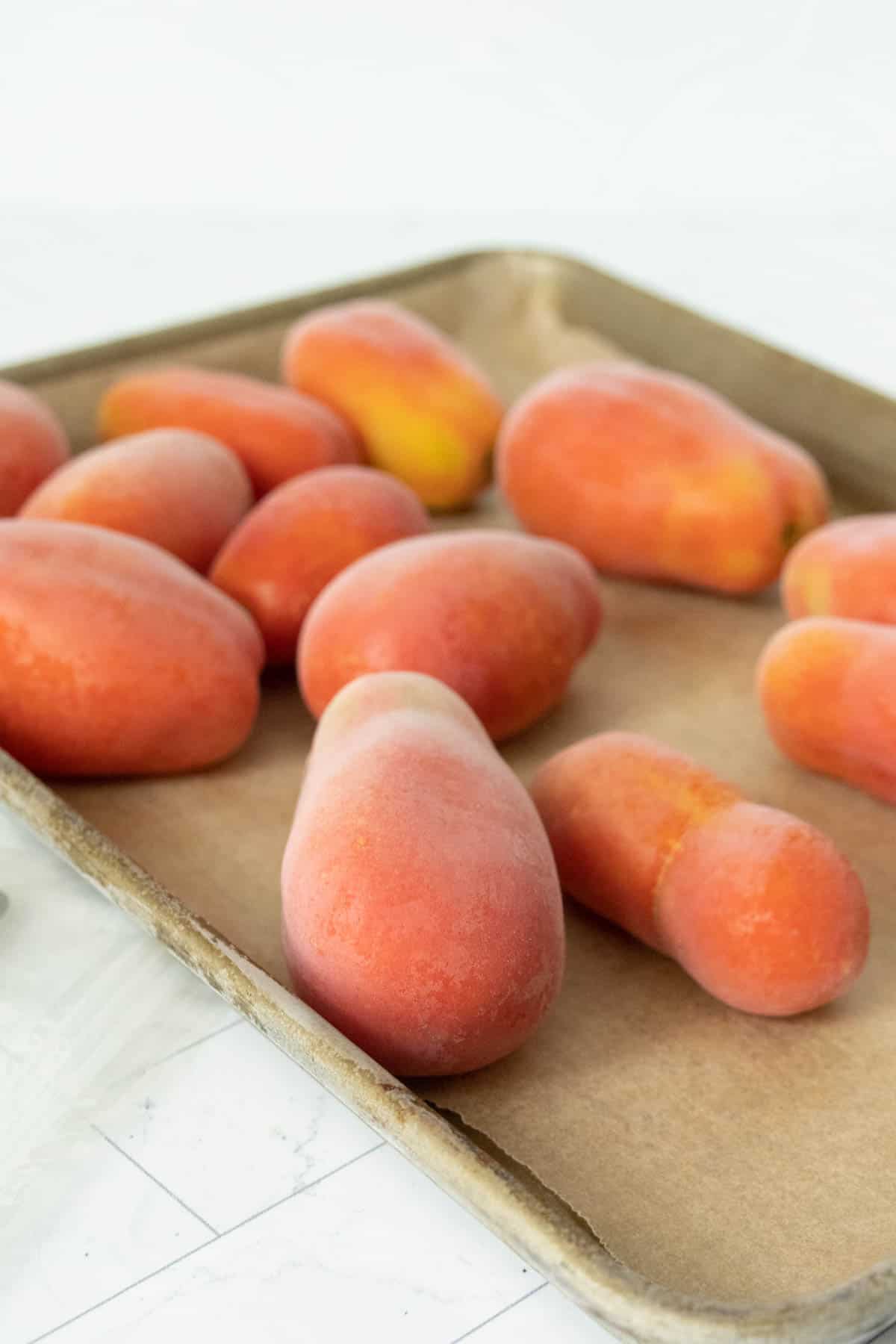 Make the most of the rest of tomato season and get freezing!
Love this recipe? Please leave a 5-star review below! It means so much when you enjoy my recipes, so let me know how it goes and leave a comment if you have any questions.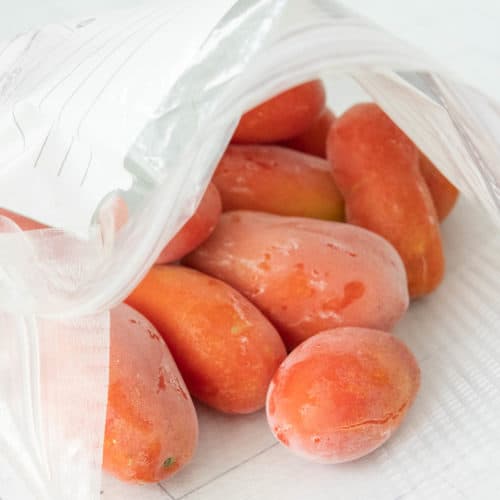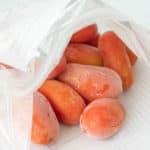 How to Freeze Tomatoes
Freeze excess tomatoes to keep the fresh flavor locked in for months to come!
Print
Pin
Save
Saved!
Instructions
Wash tomatoes and dry with a clean kitchen towel.

Line a rimmed baking sheet with parchment paper. Arrange tomatoes in a single layer on the baking sheet.

Place baking sheet in the freezer and chill until frozen, at least 2 hours.

Once frozen, transfer to freezer bags or other airtight container.

Thaw frozen tomatoes in the refrigerator, at room temperature, or under cool running water.

Frozen tomatoes will keep 6 months to 1 year.
Nutrition
Calories:
41
kcal
Carbohydrates:
9
g
Protein:
2
g
Fat:
0.5
g
Saturated Fat:
0.1
g
Sodium:
11
mg
Potassium:
538
mg
Fiber:
3
g
Sugar:
6
g
Iron:
1
mg
Nutrition information is provided as a courtesy and is an estimate based on online calculators. Any nutritional information found on Stetted should be used as a general guideline only.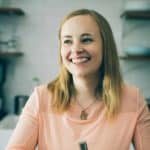 About Megan
I focus on fresh ingredients and easy methods, with spins that keep meals interesting. Dinnertime shouldn't be stressful or complicated, and I'm here to help you enjoy the time spent in the kitchen. Read more…