This post contains affiliate links. As an Amazon Associate, I earn from qualifying purchases.
It's tomato season! Learn how to peel tomatoes to make the most of them. They're great for using in all sorts of canning and cooking projects.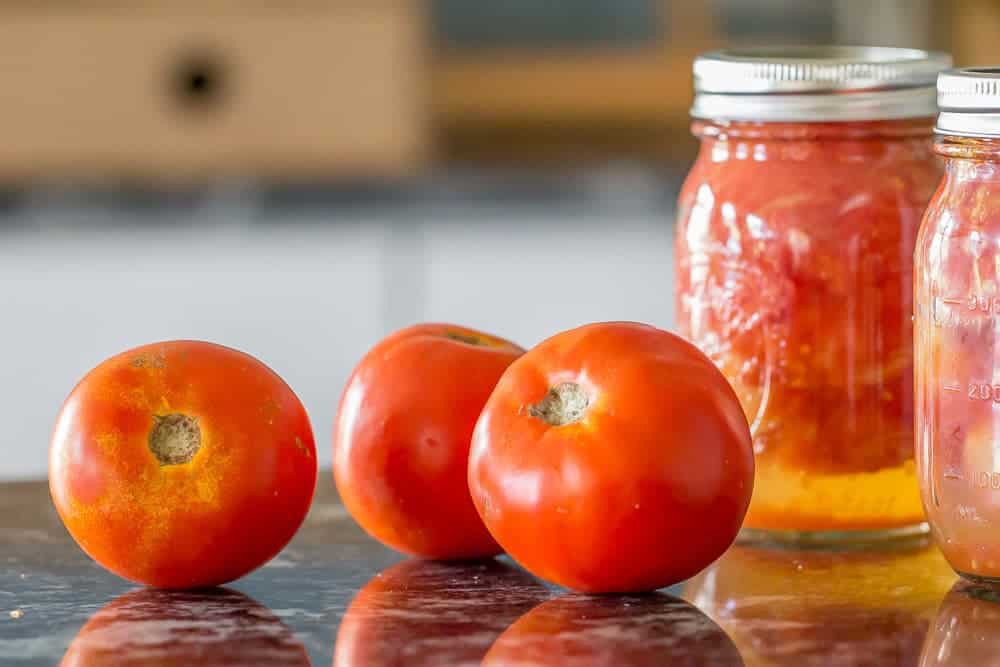 Ever since I got the canning bug a few years ago, I try to put up a large amount of tomatoes to last us through the winter. The quantities and recipes change as we continue to figure out what we like best (and what we'll use most), but the satisfaction remains the same.
If you are a canner you know what I mean. There's nothing like hearing the ping of the jar sealing, seeing your tidy rows in the pantry, or cracking open a sweet summer preserve in the dead of winter.
I shared some of my tips in my post about bulk tomatoes and canning, but I realized I've never done a post about one of the most important steps in tomato canning: how to peel tomatoes!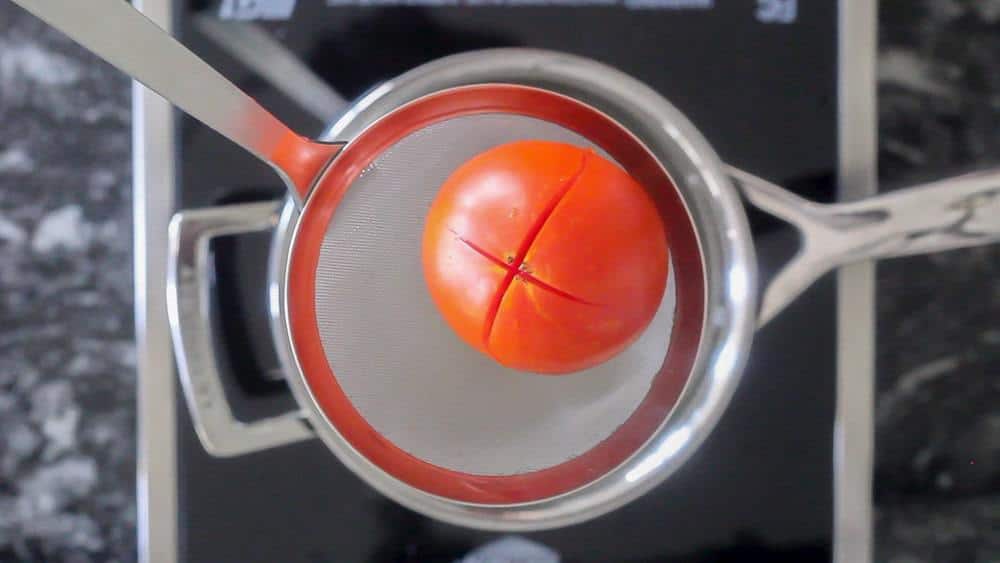 While peeling the tomatoes might seem like a lot of work when you're staring down 20 pounds or more, it's an essential step in many canning recipes. Once you learn how to peel tomatoes, you'll be surprised how easy it actually is!
There are a few different methods you can use for peeling tomatoes: blanching, freezing, and using the oven.
It really only takes a few minutes of work. Once you have a system down for organizing your counter space you can peel pounds and pounds of tomatoes very quickly.
peeling tomatoes on the stove
I like to set up my counter so I can move the tomatoes from station to station easily.
For me that means a cutting board, a large bowl for cut tomatoes, a large bowl of ice water, and the pot on the stove.
If I'm lucky I have a kitchen helper (i.e. my husband) to make the work go faster, but I have a good rhythm for how to peel tomatoes myself.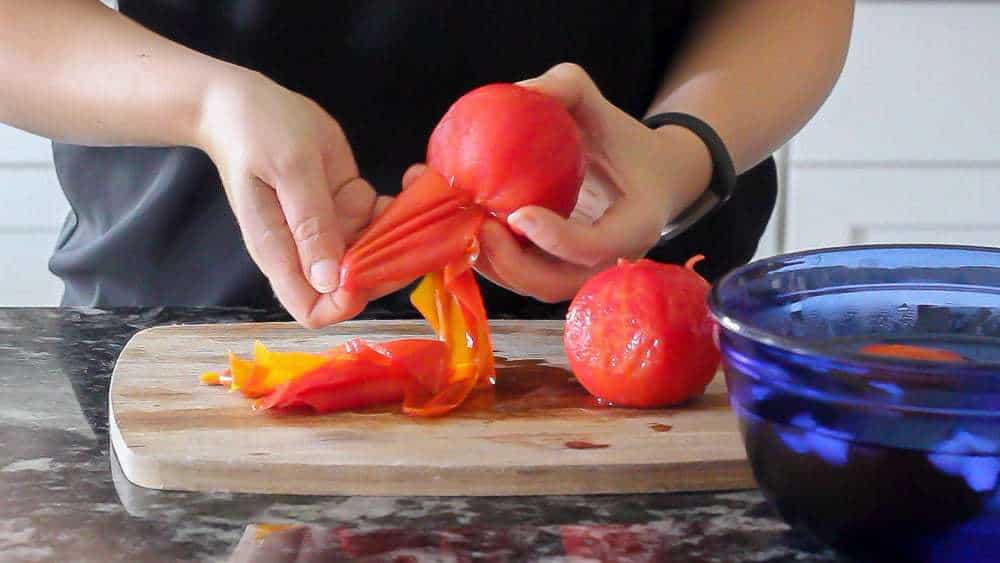 Here are the steps:
Cut a shallow X into the bottom of each tomato with a paring knife.
Lower the tomatoes into a pot of boiling water. Let them boil for 30-45 seconds, until the skins start to crack up the cut a little. Do this in batches to not crowd the pot.
Remove the tomatoes and place into a bowl filled with ice and water.
Once the tomatoes are cool enough to handle, peel off the skins.
Heating and then shocking the tomatoes in this way makes the skins peel right off! But be careful to not boil too long, otherwise the tomatoes will start to cook and get too soft to handle easily.
peeling tomatoes in the oven
If you are using your tomatoes for sauce, the oven is a great option for peeling.
Preheat the oven to 450°F and line a rimmed baking sheet with foil or lightly coat with nonstick spray. Parchment paper works too!
Place your whole, uncut tomatoes on the baking sheet in a single layer.
Roast for 20-30 minutes until skins look shriveled. The total amount of time will depend on the size of your tomato and how crowded the pan is.
Let the tomatoes cool until easily handled, then slip the skins right off.
peeling tomatoes using the freezer
Perhaps the easiest way to peel tomatoes is using the freezer! Freezing tomatoes is so easy and saves tomatoes for months to come.
This is a great option if you have a lot of tomatoes on hand but no time to use them up.
Place your whole, uncut tomatoes on a baking sheet. Place the baking sheet in the freezer and chill until frozen, about 2 hours.
Transfer the tomatoes to a freezer-safe container, label, and store for up to 6 months.
You can also put the unfrozen tomatoes right into a freezer bag, but the baking sheet method prevents them from sticking to each other in the freezer, making it easier to grab what you need.
When ready to use, remove the tomatoes from the freezer and let come to room temperature for 10 minutes.
Use a paring knife to cut the stem end, then peel the tomatoes. The skins will slip right off!
do I need to core tomatoes before peeling?
It's up to you whether you want to core the tomatoes before or after peeling. For me, it depends on the tomato.
If I am canning paste tomatoes like San Marzano or Roma, then I core when I am cutting the X. Their cores are generally easy to remove with a simple circular cut with a paring knife.
For larger standard tomatoes I core after peeling. I feel like it's easier to core after I've halved the tomatoes. But again, it's up to you!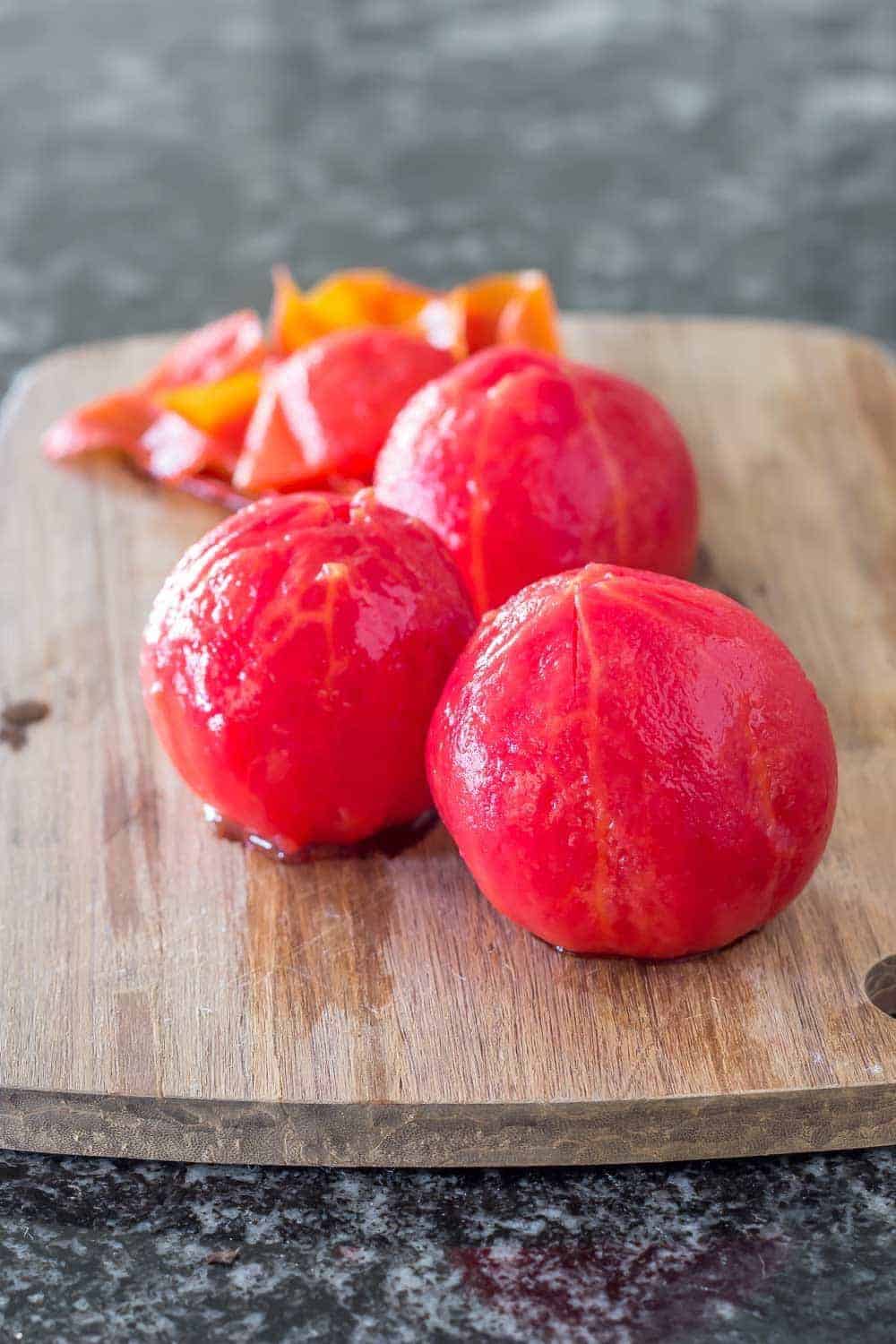 Why learn how to peel tomatoes, anyway? Well, because peeled tomatoes make for the smoothest pasta sauce, ketchup, and barbecue sauce, and because plain canned tomatoes require peeling before processing.
Don't want the peels to go to waste? Dry them in the oven and then pulverize them for a tasty tomato sprinkle you can add to your favorite recipes.
Try this method with peaches, too!
Love this recipe? Please leave a 5-star review below! It means so much when you enjoy my recipes, so let me know how it goes and leave a comment if you have any questions.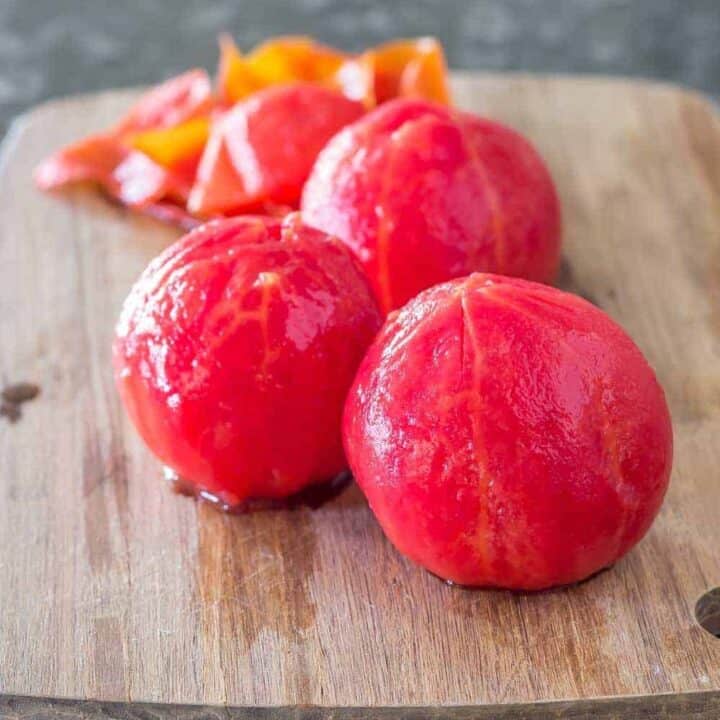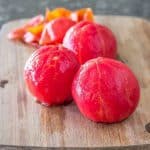 Ingredients
1

pound

tomatoes

Ice water
Instructions
Set a large pot of water on the stove to boil while you prepare the tomatoes.

Turn tomatoes over to the bottom and, using a paring knife, cut a shallow X in the bottom. Core tomatoes, if you like.

Carefully lower tomatoes into the boiling water, in batches. Remove after about 30 seconds, once skins start to crack.

Immediately put tomatoes into the bowl of ice water.

Once tomatoes are cool enough to handle, peel skins from tomatoes and use in your favorite recipe.
Nutrition
Calories:
20
kcal
Carbohydrates:
4
g
Protein:
1
g
Fat:
1
g
Saturated Fat:
1
g
Sodium:
6
mg
Potassium:
269
mg
Fiber:
1
g
Sugar:
3
g
Iron:
1
mg
Nutrition information is provided as a courtesy and is an estimate based on online calculators. Any nutritional information found on Stetted should be used as a general guideline only.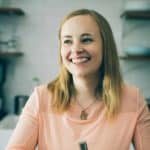 About Megan
I focus on fresh ingredients and easy methods, with spins that keep meals interesting. Dinnertime shouldn't be stressful or complicated, and I'm here to help you enjoy the time spent in the kitchen. Read more…