He fell asleep in the rocking chair, covered in a pile of stuffed animals he had deemed were appropriate to share with his little brother. Only moments before, he had wrapped the crescent-shaped pillow around himself and asked for a bottle so he could practice feeding a toy tiger.
The next night he burst into tears at bedtime, proclaiming that he would no longer be cute or loved once his brother arrives. Tears immediately sprang into my eyes as I attempted to smooth over his fears, ones that I had been anticipating ever since the positive test.
These are both memories I need to hold within me: a 5-year-old trapped between being so loving toward what he does not yet know and being afraid of that very thing and what it means to his future.
Ultimately, everyone wants to know that they are loved and always will be. We humans do a terrible job of it most days, sniping and snarking on each other's choices all day long, because of course we know best. It's a struggle to find the balance, because after all, we're people, and not dogs.  Frankly, if we all loved like dogs do, we'd never get anything done for the sheer inability to function when we're apart from one another.
When the baby is born I know I'm going to need to work extra hard to remind my firstborn heart-of-hearts of my love. Lunch dates, special shopping trips, and projects in the kitchen are high on the list. It isn't that we don't do those things already; it's that I need to make sure I'm fully focused on him instead of my mind racing to the next task. Today? Today we're just going to start with cups of homemade chocolate frozen yogurt, slurped up before the moment melts away.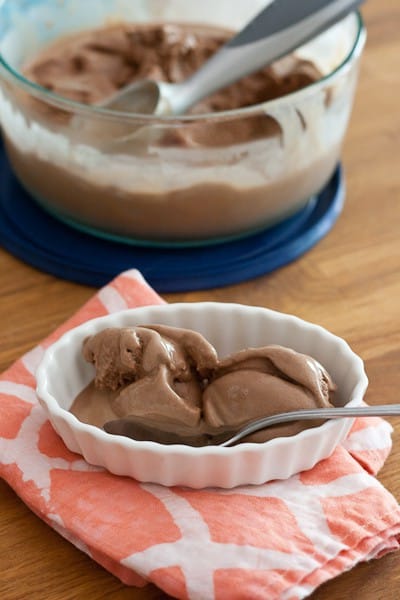 I don't know how "authentic" this frozen yogurt is, since I still use milk and cream in the recipe. All I know is that it's smooth, creamy, and now a favorite way to end the day.
Chocolate Frozen Yogurt
Prep Time: 2 hours
Cook Time: 10 minutes
Total Time: 2 hours 10 minutes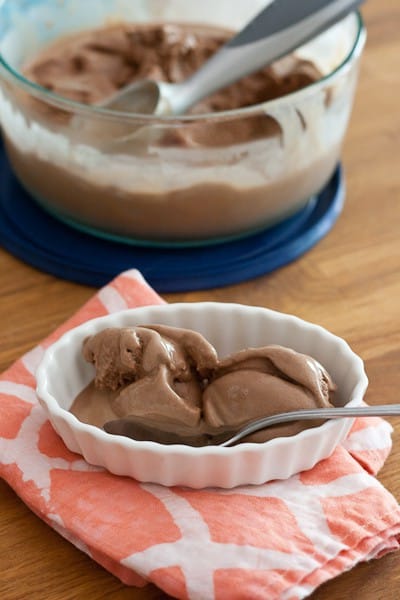 Ingredients
2 ounces semisweet chocolate
1/2 cup heavy cream
1/2 cup granulated sugar
3 tablespoons cocoa powder
1/2 teaspoon pure vanilla extract
10 ounces 2% Greek yogurt
1 cup milk
Chopped fruit , such as cherries or strawberries, optional
Instructions
In a saucepan over medium heat, stir together chocolate, cream, sugar, cocoa powder, and vanilla until chocolate is completely melted and mixture is smooth.

Remove from heat and whisk in yogurt and milk. Chill in the refrigerator at least 2 hours, but preferably overnight.

Freeze according to your ice cream maker's instructions. If using fruit, stir it in once the ice cream is done mixing. Pour into a chilled container and let set an hour or two before eating.
More frozen dessert recipes you might like:
Blueberry Cheesecake Ice Cream – Blahnik Baker
DIY Freezer Pops – Foodie with Family
Homemade Drumsticks – Crazy for Crust
Peach Cobbler Ice Cream – Stetted
Vegan Banana Split Popsicles – Stetted
For more chilly inspiration, check out my Frozen Treats board on Pinterest!
Follow Megan Myers | Stetted's board Frozen Treats on Pinterest.