Eggplant Parmesan with Zucchini
This post contains affiliate links. As an Amazon Associate, I earn from qualifying purchases.
The first time I ever had eggplant parmesan was early on in my relationship with my husband. His friends had invited us over for dinner, and only when I arrived did I find out that the wife was vegetarian. Of course that's not really cause for concern, but we were going to be having eggplant parmesan, something that I viewed with trepidation.
It might be telling that I haven't had eggplant parmesan since, even though I have come to like eggplant and attempt to grow it in my garden every summer. The dish had always seemed too fussy to make in my busy household. Who wants to bother with all those steps after a long day?
But it's become evident summer is still going to stick around for a while, and along with it our summer produce. When two beautiful eggplant arrived in our Local Box, I decided to nip my reservations in the bud and use them in a simplified version of eggplant parmesan.
This version doesn't have multiple layers, making it slightly less like a casserole. I also decided to forgo spinach in favor of shredded zucchini. Eggplant parmesan is often a heavy dish, but this was a light and easy preparation.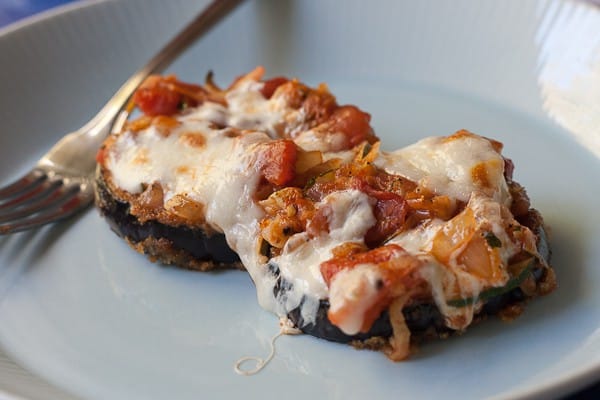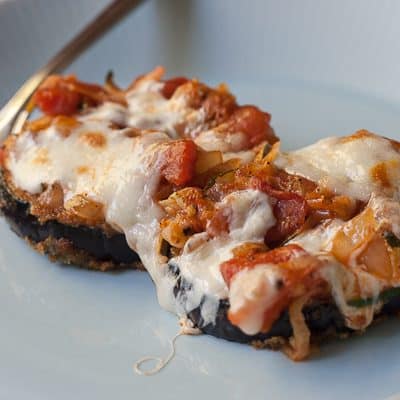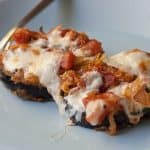 Ingredients
1

egg

1/2

cup

milk

1

cup

breadcrumbs

2

eggplant

,

cut into 1/2-inch thick rounds (about 10 slices total)

Olive oil

1

small onion

,

diced

2

large tomatoes

,

diced

2

cups

shredded zucchini

Salt and pepper

8

ounces

fresh mozzarella
Instructions
Set up two shallow bowls. In one bowl, beat together egg and milk. Pour breadcrumbs in the other bowl, and set both near stove.

Heat olive oil in a large skillet over medium-high. Dip eggplant slices in egg, then dredge in breadcrumbs, and place in skillet. Cook until golden on both sides, then remove to a 9×13 baking dish, arranging in a single layer. (Squish them in if you need to.)

Reduce skillet to medium, and add onions. Cook until translucent, then add tomatoes and zucchini. Cook until tomatoes have broken down a bit, about 5 minutes. Season with salt and pepper.

Preheat broiler.

Pour tomato mixture over the eggplant. Tear mozzarella into pieces and scatter over the top. Cook under the broiler until cheese is melted and bubbly.
Nutrition
Calories:
446
kcal
Carbohydrates:
55
g
Protein:
21
g
Fat:
18
g
Saturated Fat:
8
g
Cholesterol:
85
mg
Sodium:
605
mg
Fiber:
11
g
Sugar:
16
g