Save time and money by making these copycat Starbucks Bacon Breakfast Sandwiches at home.
The alarm clocks go off, and we drag ourselves out of bed, groping our way in the dim light through the house to the baby's room, stepping on errant cereal bits or cat food along the way. Hopefully nothing worse.
Once in a while I get to stay in bed as the others get ready for school and work, drifting in and out of sleep that is punctuated by a whine here or there, or tears I inevitably have to soothe. Hugs and kisses happen, and eventually it's just me and the baby.
Somehow, no matter when I get up, breakfast is a struggle. When the baby was younger, it was a matter of just getting something in my mouth before I had to feed or change or rock him to sleep again. Now that he eats his own food, I have a pair of eyes watching me like a  hawk, hoping for a share no matter what I'm eating.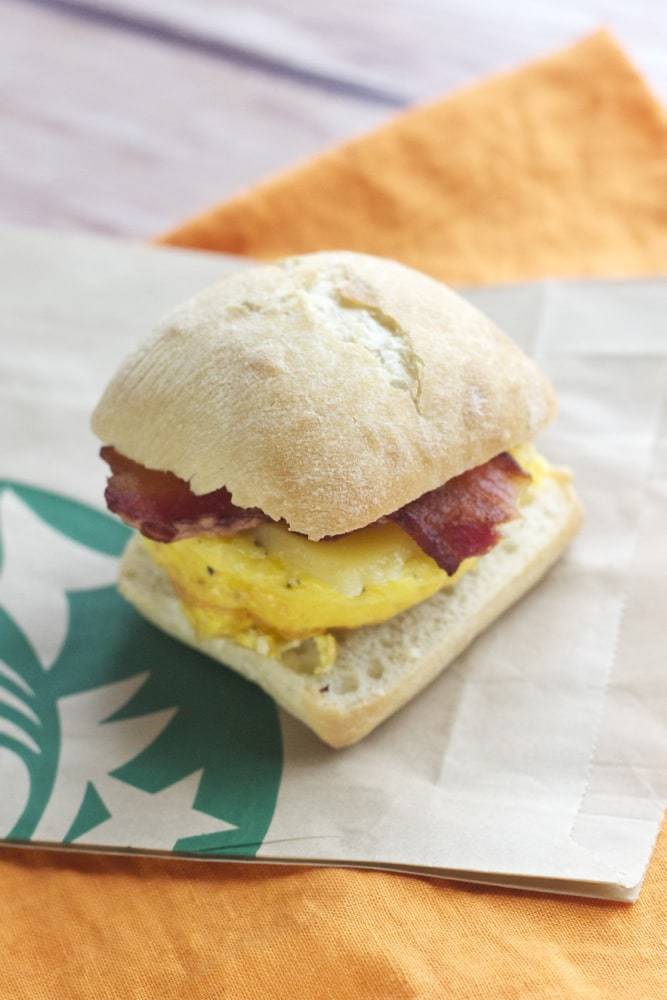 Having breakfasts in my back pocket for a quick gobble is important when kids are part of the picture. The other day I was writing at Starbucks and I noticed people kept ordering the breakfast sandwiches. While the combo of bacon, egg, and cheese sounded satisfying that day, I couldn't bring myself to spend the money on a single sandwich, when I knew it would simple to make at home.
And really, these Copycat Starbucks Breakfast Sandwiches could hardly be easier. Plus, after you have them made and assembled, they can be wrapped up and stored in the freezer for a future meal, which is really the best part. Breakfast without having to think about it? When you have a hectic schedule and two kids, there's not much out there that's better.
More quick breakfast recipes you might like:
Apple Date Breakfast Cookies – Heather's Dish
Chocolate Cinnamon Muffins – Healthy Delicious
Cranberry Apple Yogurt Parfait – Nutmeg Nanny
Maple Bacon Pancake Poppers – Stetted
Snickerdoodle Muffins – Stetted
For more morning inspiration, check out my Breakfast board on Pinterest!
Follow Megan Myers | Stetted's board Breakfast on Pinterest.