Maple walnut muffins have sweet maple flavor and crunchy walnuts. They're just like your favorite Starbucks maple walnut muffin recipe — skip the trip to the coffeehouse and make them at home!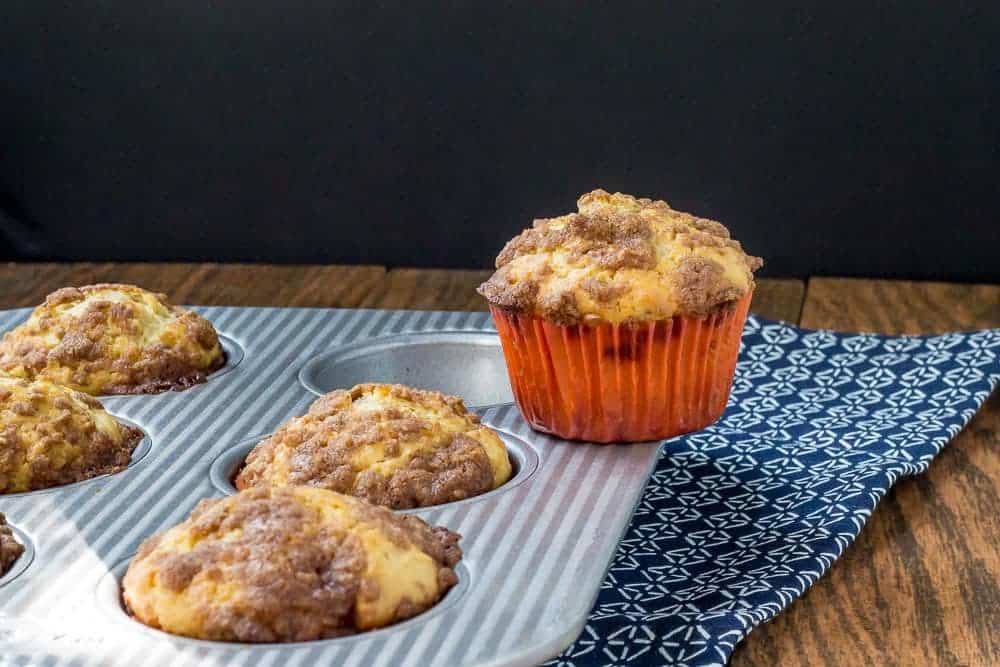 Those of us who grew up in states with maple trees know the joy of licking fresh maple syrup off a spoon, savoring the sweet flavor on its own or with a dish of vanilla ice cream.
While syrup season is in the spring, I always associate the flavor with autumn. Maybe it's because we tend to pair maple with other fall flavors, like crisp apples and warming cinnamon. (I love the combo in these maple apple bites.)
Do we really need a reason, though? I didn't think so.
A few months ago I saw that Starbucks started carrying maple walnut muffins, and though their muffins are ginormous, I had to have one immediately. And I loved it so much, I knew I had to make them at home.
Not only to scale them down to normal-person size, but also to stop spending so much money on such a simple breakfast.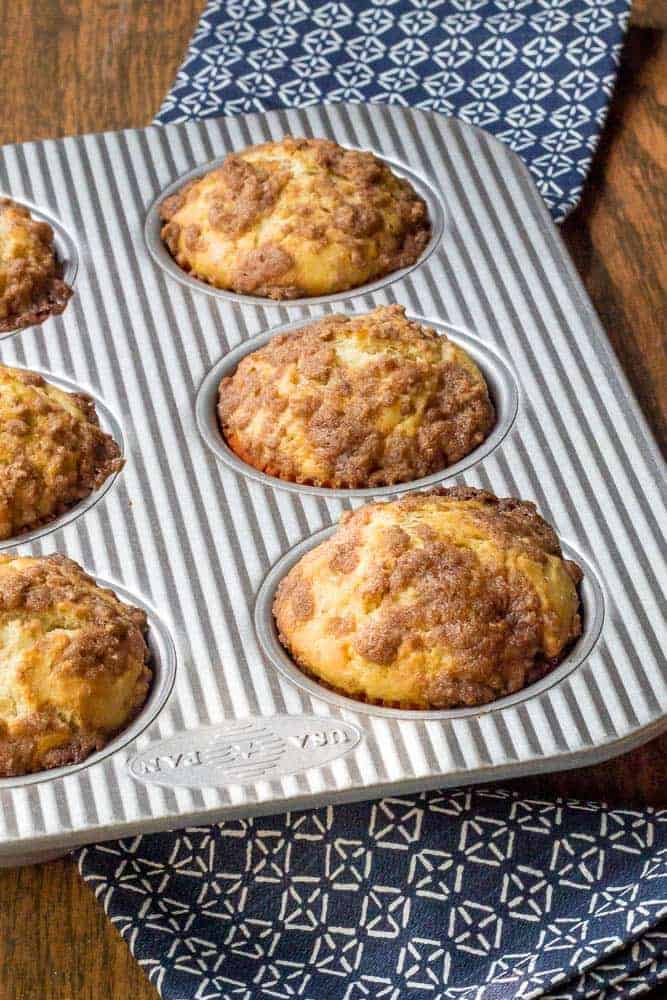 starbucks maple walnut muffin recipe
Y'all know I like to make my own version of Starbucks breakfasts. I started with copycat Starbucks breakfast sandwiches and then tried my hand at the short-lived red berry cheese Danish.
These maple walnut muffins were just the next logical step.
I can't promise that you'll be able to recreate your favorite latte or macchiato, but I can promise that your at-home coffeehouse baked good game will be on point.
To make these, you definitely need to be using pure maple syrup. Not that fake stuff. I did add a bit of maple extract to boost the flavor without adding more sugar, but you really do need some pure maple syrup to get the party started.
Also, I've used all-purpose flour here, but these are just as good with whole wheat flour, which adds toasty flavor.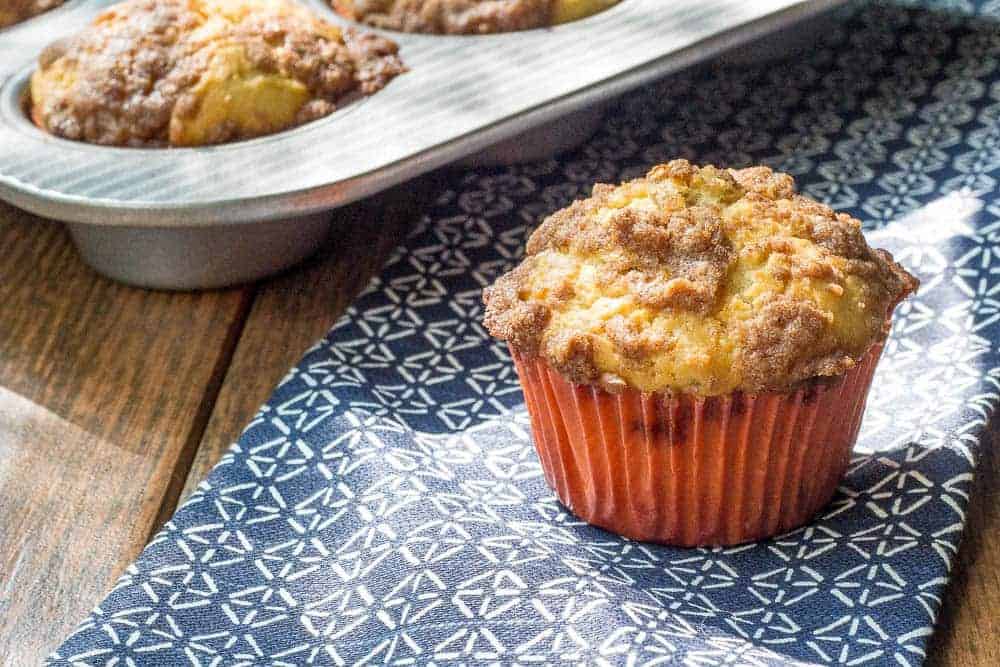 how to make streusel topping
Maple Walnut Muffins are topped with a simple cinnamon streusel.
Can we just go ahead and acknowledge that streusel topping is one of the greatest things ever?
It doesn't really matter if you're making Peach Coffee Cake or Blueberry Streusel Muffins or this very recipe – streusel topping is one of the best things about breakfast sweets.
Streusel topping is really easy to make, too. All you have to do is cut cold butter into flour, sugar and — in this case — cinnamon until the mixture forms crumbs.
I like to use a pastry cutter to cut the butter into the dry ingredients, but if you don't have one you can use two knives to do this instead.
As your Maple Walnut Muffins bake, the butter in the streusel will melt and turn those crumbs into absolute buttery perfection.
You can skip the streusel topping if you like, but be sure to add a little bit of cinnamon to your muffin batter if you do. But then again… who would really want to skip the streusel topping?
Serve these Maple Walnut Muffins warm from the oven, or store them for breakfast tomorrow. But they won't last long!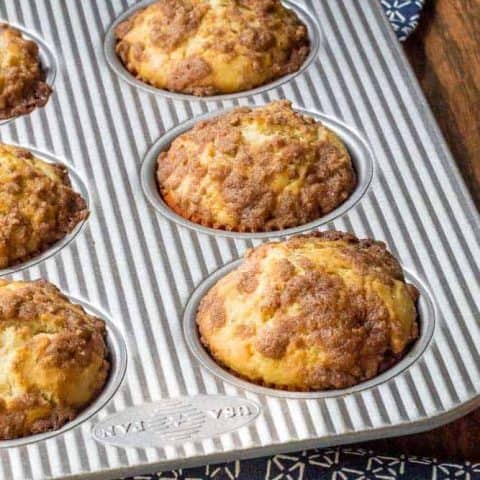 Maple Walnut Muffins
Yield: 12
Prep Time: 10 minutes
Cook Time: 18 minutes
Total Time: 28 minutes
Maple walnut muffins have sweet maple flavor and crunchy walnuts. They're just like your favorite Starbucks maple walnut muffin recipe — skip the trip to the coffeehouse and make them at home!
Ingredients
2 cups all-purpose flour
2 teaspoons baking powder
1/4 teaspoon salt
4 tablespoons butter, softened
1/2 cup brown sugar, packed
1 large egg
1 cup buttermilk
1 tablespoon pure maple syrup
1 teaspoon maple extract
1 cup chopped walnuts
For the Topping
2 tablespoons butter, cold
1/4 cup brown sugar
2 tablespoons all-purpose flour
1 teaspoon ground cinnamon
Instructions
Preheat oven to 400°F and lightly coat a muffin tin with baking spray, or line with paper liners.
In a large bowl, mix together flour, baking powder, and salt. Set aside.
In another bowl, cream together butter and brown sugar. Beat in egg, buttermilk, maple syrup, and maple extract.
Pour the wet ingredients into the flour mixture and stir until mixed, but do not overmix. It should be slightly lumpy and somewhat thick. Fold in walnuts.
To make the topping, cut together butter, brown sugar, flour, and cinnamon using a pastry blender or two knives, until the mixture forms crumbs.
Divide the batter among the muffin cups and sprinkle on topping.
Bake for 18 minutes, until a toothpick inserted in the center is clean and muffins are golden brown. Let cool slightly and serve.
Recommended Products
As an Amazon Associate and member of other affiliate programs, I earn from qualifying purchases.
Nutrition Information:
Yield: 12
Serving Size: 1
Amount Per Serving:
Calories: 260
Total Fat: 13g
Saturated Fat: 5g
Trans Fat: 0g
Unsaturated Fat: 8g
Cholesterol: 32mg
Sodium: 220mg
Carbohydrates: 32g
Fiber: 1g
Sugar: 13g
Protein: 5g