Although the temperatures keep creeping up into the 80s, I'm finding it's the perfect time to be getting back into the swing of baking bread. For whatever reason, one bread I always have success with is cinnamon swirl. Thanks to the apples we've been getting in our produce delivery (and the huge bounty I got from a friend – more on that later), I was inspired to add some fruit to this classic breakfast bread.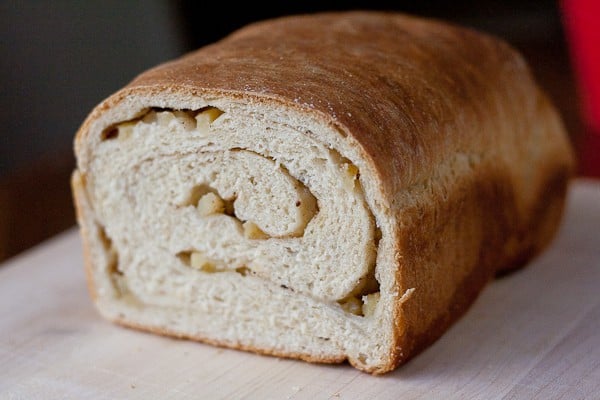 For some reason swirl breads come together easier for me than some other breads. I'm not sure what it is about them; maybe the extra hands-on time? I have a tendency to under-knead my breads, but with the rolling method here the dough gets worked well enough for a great crumb that isn't soggy or dry.
While bread does take some time, most of it is hands-off. When I worked outside the home full time, I found it worked perfectly to mix up the dough when I got home and let it rise while dinner cooked. After we ate it was time to punch down and shape the dough, and after the dishes and cleanup it was time to bake, ensuring a fresh loaf for breakfast and sandwiches the next day. And trust me, the little bit of trouble is worth it!
If you still have apples left over after making this bread, you could try making my apple pie bars. Be sure to use the scraps from your apples to make your own pectin or apple cinnamon syrup for pancakes!
Apple Cinnamon Swirl Bread
Prep Time: 3 hours 30 minutes
Cook Time: 45 minutes
Total Time: 4 hours 15 minutes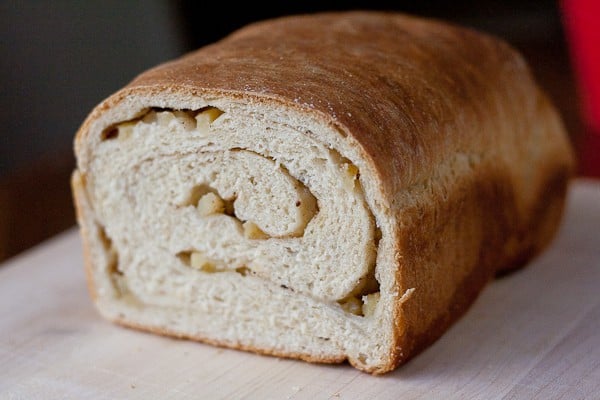 Ingredients
2 cups all-purpose flour
1 1/2 cups whole wheat flour
1 teaspoon salt
1 1/2 teaspoons yeast
1 tablespoon honey
2 tablespoons grapeseed oil
1 1/3 cup whole milk
2 tablespoons butter , softened slightly
3/4 cup chopped apple , equals about 1 medium apple
1/3 cup sugar
1 1/2 teaspoons cinnamon
Instructions
Mix together flours, yeast, and salt in a large bowl, stand mixer, or food processor. Stir in the honey, oil, and milk, mixing until the dough comes together and forms a ball. If the dough is too sticky add a small amount of all-purpose flour; if too dry, add a small amount of milk.

Turn dough out onto a floured surface and knead for a couple of minutes, until the dough is smooth. Let rise in a covered bowl until doubled in bulk, about two hours.

Punch down dough and put onto floured surface. Roll out into a rectangle with its short side approximately 9 inches (to fit a loaf pan). If the dough resists rolling out, let it rest 10 minutes and continue.

Spread butter on dough. Scatter apple pieces across, similar to topping a pizza. Mix together sugar and cinnamon and sprinkle over the entire surface.

Roll up dough and pinch ends closed. Place in a greased loaf pan, and press down dough to fit into the pan, making sure to reach the corners. This will help ensure an even second rise and properly shaped loaf. Let rise approximately 1 hour.

Bake at 350 degrees for 45 minutes. Let cool completely before slicing. After the first day, store in the fridge.

For more tasty inspiration, check out my Breads board on Pinterest!
Follow Megan Myers | Stetted's board Breads on Pinterest.