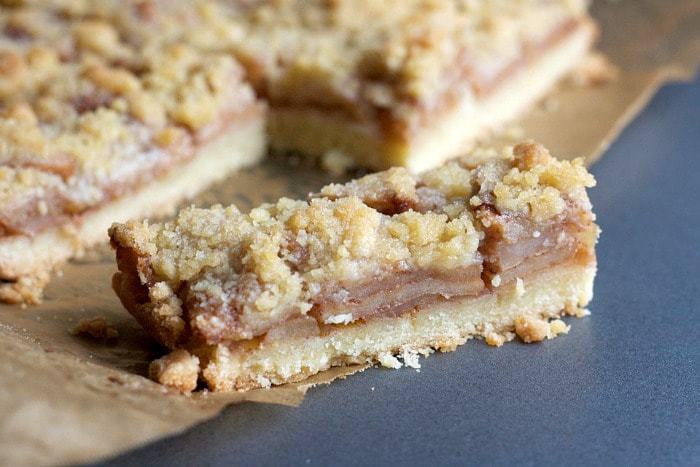 He ran down the rows, alone and crying. For whatever reason, being out in the sunshine and light wind, among the apple trees, was too much for him. My thoughts of a starting an annual apple picking tradition evaporated as I scooped up my son and snuggled him while we dragged what we had picked to the checkout barn.
Later, we munched on Cameo apples together, keeping a napkin at hand for the sticky juice. The crying had been forgotten, at least by him, and I had hope that we could return, to try again for those picture-perfect memories.
It's been years since that day, and we haven't returned to the apple orchard. The apple season in Texas is too fleeting, too forgotten in the languid days of summer and then the rush to get back in the classroom. I'll admit to watching the feeds of my Northern friends, with the parades of plaid, apple-toting, autumnal cheer, with a level of jealousy. But thankfully, this hasn't kept me from the apples.
Apples are the constant on our grocery list, despite any protests about seasonal eating. At least they want fruit, I said to myself as I plucked out Galas or Pink Ladies and added them to the cart. We almost always have some on hand, plus applesauce. Apples, in fact, were the first solid food my toddler decided to eat, gnawing away happily on the core.
Once the apples start to get forgotten in favor of grapes or whatever the fruit of the week is, I grab them for baking. Pie is obvious, and one of my favorites is this Cheddar Crumble Apple Pie, but a whole pie screams dessert while Apple Pie Bars? Those whisper softly to you, saying, "I'm a snack! I'm portable! You know you can't resist!"
Apples know us so well.
Apple Pie Bars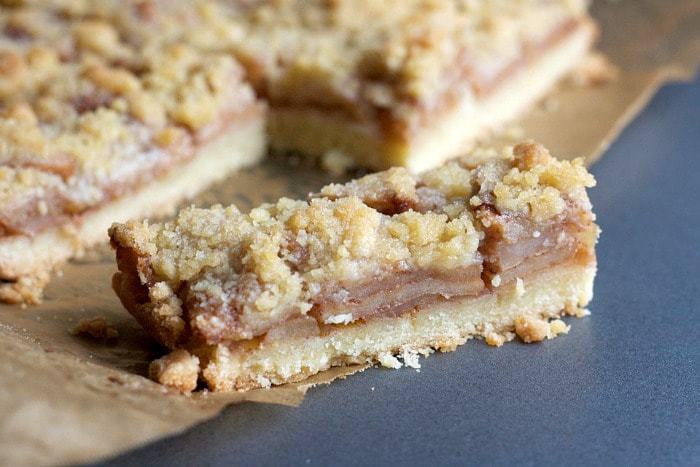 Ingredients
1 1/2 cup plus 1/3 cup all-purpose flour , divided
1/2 cup powdered sugar
1/4 tsp. salt
12 tablespoons cold unsalted butter , cut into small chunks, divided
1 egg
2 large tart apples , such as Pink Lady (approximately 1 1/4 pounds), peeled, cored, and sliced thinly
4 tablespoons granulated sugar , divided
1 teaspoon cinnamon
1 teaspoon pure vanilla extract
2 tablespoons brown sugar
Instructions
Line a 9x9 square baking pan with parchment paper and set aside.

In a food processor, pulse together 1 1/2 cups flour, powdered sugar, and salt. Add 8 tablespoons butter and pulse until it resembles cornmeal.

Pulse in egg until a soft, crumbly dough forms. Pour dough into prepared pan and press evenly to cover bottom. Prick all over with a fork, chill in the freezer for 30 minutes, then bake at 375°F for 25 minutes. Let cool.

Meanwhile, in a large sauté pan, melt 2 tablespoons butter over medium-low heat. Add apples, 2 tablespoons granulated sugar, cinnamon, and vanilla and stir to coat. Cook until apples are softened, approximately 15 minutes.

Spoon apples evenly into baked crust, scraping the pan to collect caramelized juices.

In a food processor, pulse together 1/3 cup flour, 2 tablespoons granulated sugar, brown sugar, and 2 tablespoons butter until coarse crumbs are formed. Scatter crumb over the top of the apples.

Bake at 375°F for 40 minutes, until golden brown. Let cool completely before cutting.
More apple recipes you might like:
Apple Pie Muffins – My Baking Addiction
Apple Turnovers – Dessert for Two
Bourbon Cajeta Goat Cheese Cheesecake – Stetted
Caramel Apple Pie – Bluebonnet Baker
Cranberry Apple Crumble – Stetted
For more sweet inspiration, check out my Recipes from Stetted board on Pinterest!
Follow Megan Myers | Stetted's board Recipes from Stetted on Pinterest.