This post contains affiliate links. As an Amazon Associate, I earn from qualifying purchases.
Homemade apple pie filling is easy to make, and ensures you can make a delicious apple pie at a moment's notice! Process in a canner for long-term storage.
I love everything about apple season, but I might love the apple pie of it all the most.
Between apple pie bars and caramel apple slab pie, I am constantly finding excuses to make more apple pie.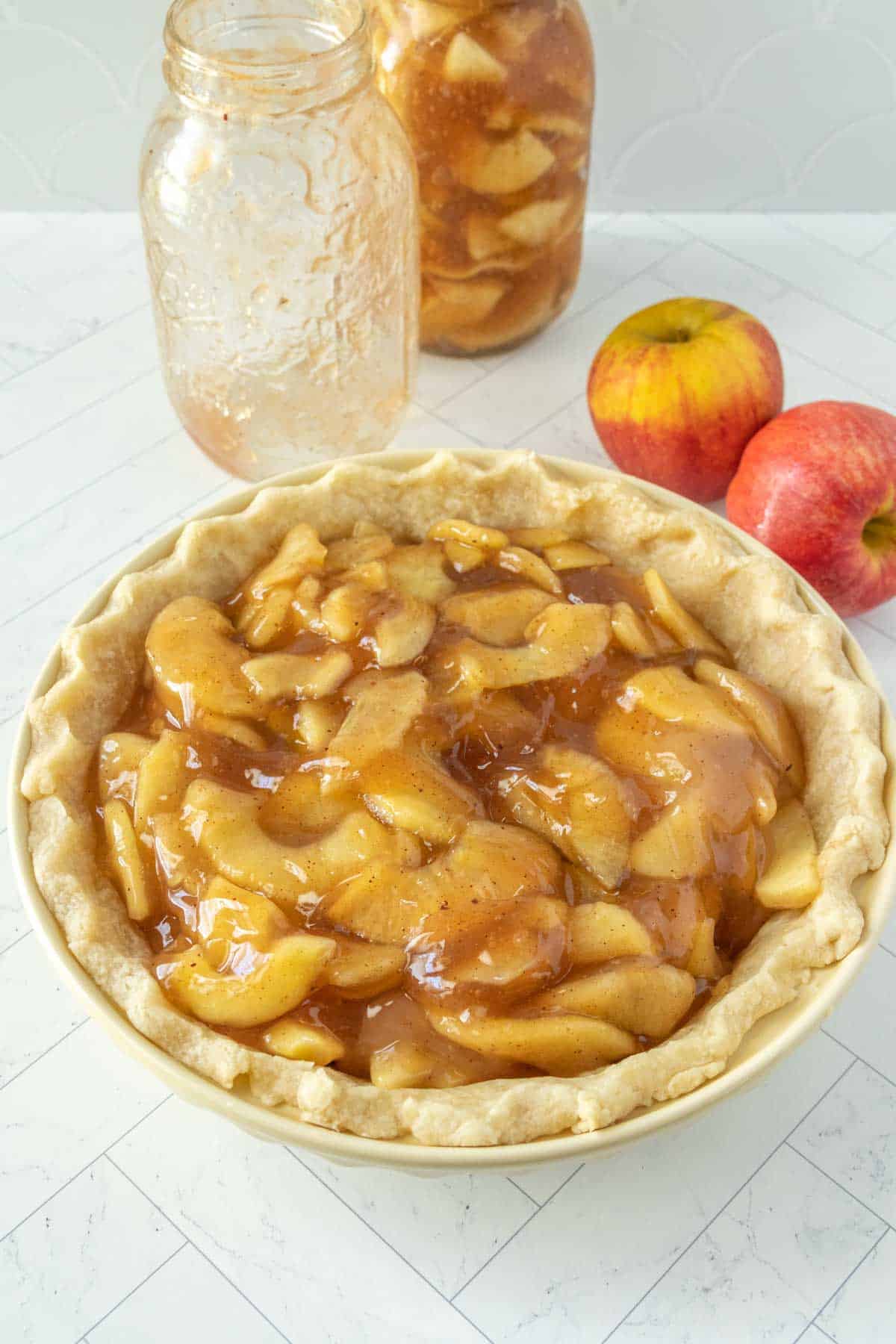 Happily, apple pie filling is easy to make at home, and canning it means I can just grab a jar from the pantry and get baking.
If you've never made pie filling from scratch, it's quite easy!
This recipe differs from my blueberry pie filling in that it uses Clear Jel, a thickener that ensures a high-quality filling even after processing in a canner.
If you love apple pie, give this recipe a try!
Ingredients for apple pie filling
You'll need: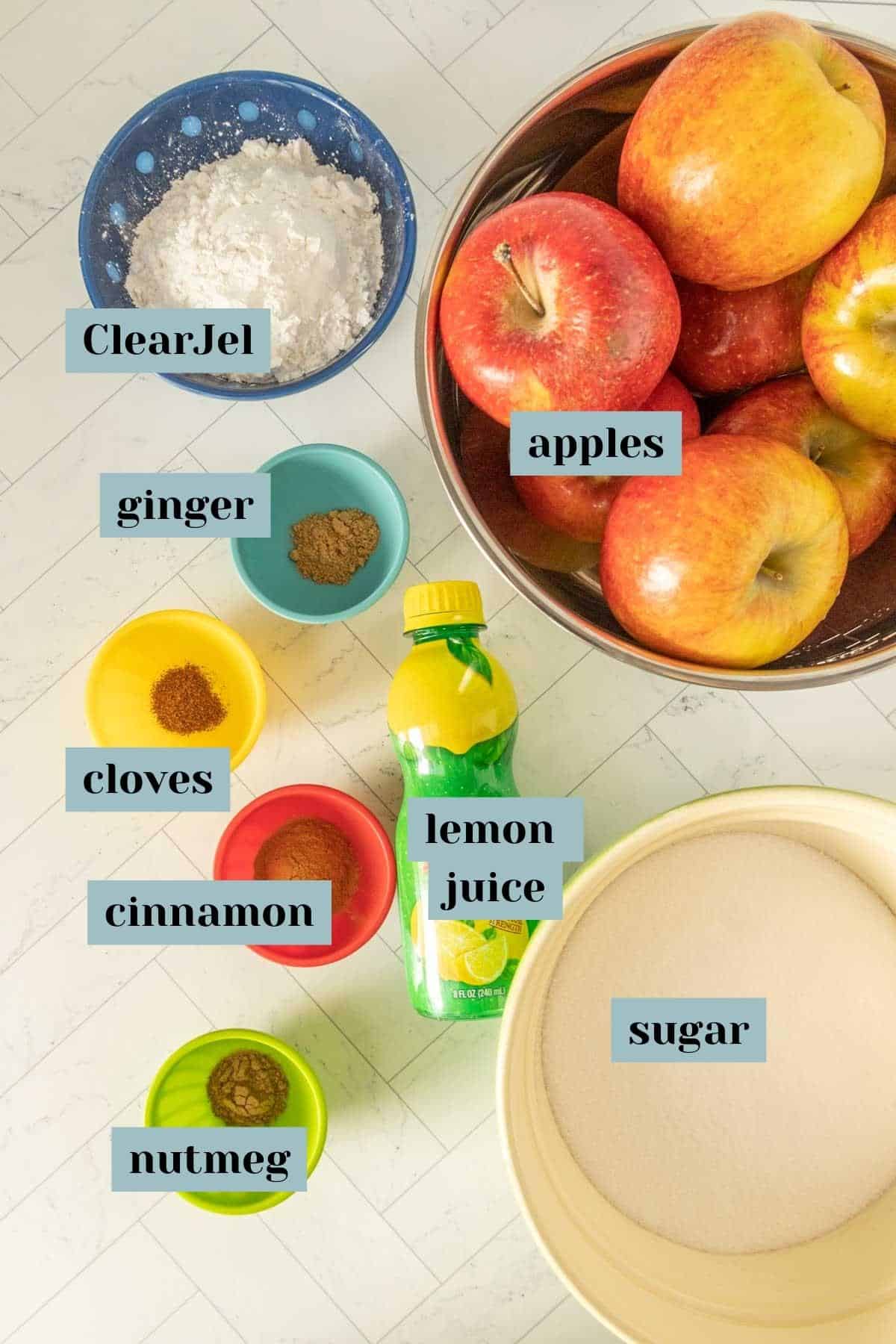 Apples – This recipe calls for 12 cups of sliced apples. This is approximately 4 pounds of apple; I always recommend getting extra just in case you need to discard any apple as you're preparing it.
Sugar – Granulated sugar balances the tart flavor of the apples.
Water – Some pie filling recipes call for apple juice, but I use water to reduce the amount of sugar in the recipe.
Clear Jel – This thickener is recommended over using cornstarch or flour, especially when canning. It is not usually available in stores, but can be found online.
Spices – Apple pie is flavored with cinnamon, nutmeg, ginger, and cloves. If you like, you can swap in your favorite apple pie spice blend.
Lemon juice – Lemon juice adds acid to the filling and tempers the sweetness somewhat.
You can also use lemon juice with water to keep the apples from browning while prepping.
seasonal spotlight: apples
Apples are in season in August, September, and October. I recommend finding a local apple orchard for the freshest apples to use in this filling. If buying apples at the grocery store, look for varieties grown in the United States, which will be fresh in the fall months. Later in the year these apples are considered "storage apples."
What kind of apple should I use for pie filling?
Pie filling is usually made with a firm, semi-tart apple that holds it shape during baking.
For this particular batch I used Envy apples, but other popular options include Granny Smith, Honeycrisp, Braeburn, Jonagold, or Pink Lady.
If you like, mix and match the apple varieties for a custom flavor mix!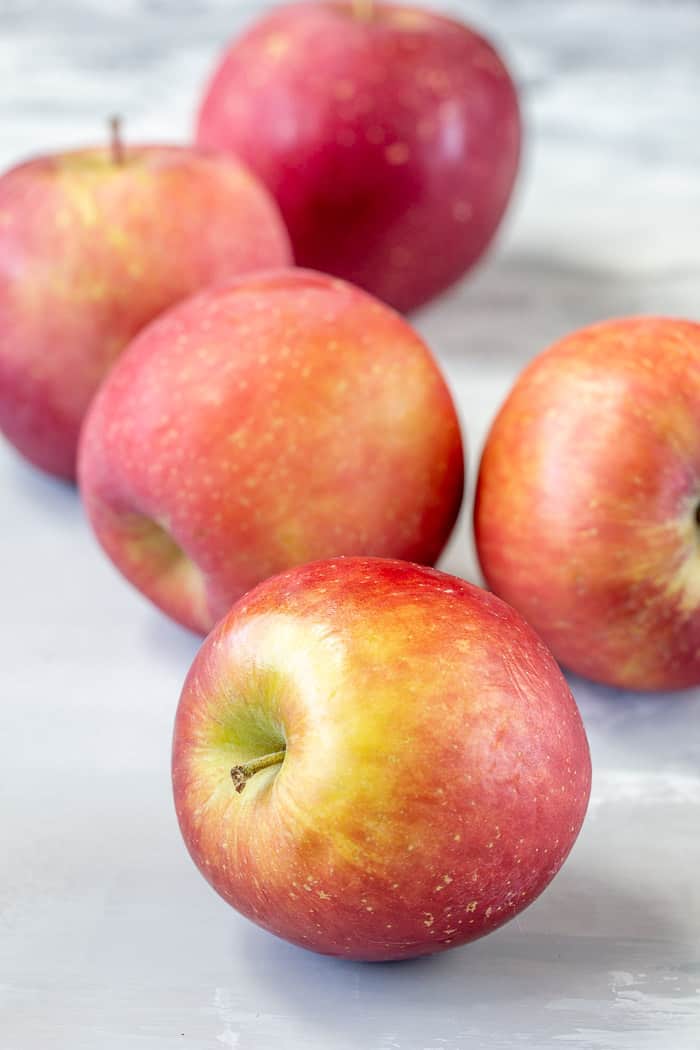 What is Clear Jel?
Clear Jel is a modified cornstarch that thickens pies and other recipes like gravy. It is good for high heat so it's perfect for canning.
There are two types of Clear Jel: Cook Type and Instant. For canning recipes, you want Cook Type.
Clear Jel is available at online retailers like Amazon, or sometimes at country markets.
I recommend Clear Jel over cornstarch for a thicker, clearer pie filling. Cornstarch or flour often result in a cloudy filling with unmixed lumps.
How to make this recipe
If canning, set aside 3 quart jars, lids, and rings. Fill a water bath canner with water and set to boiling.
The large pot can take a while to reach a boil, so I always get it heating first.
Peel, core, and slice your apples. If you have an all-in-one apple peeler, this will go quickly.
Measure the apples as you prep by packing the slices into a large measuring cup. Save any extra for another recipe, or have a snack!
tip
To keep the apples from browning while slicing the batch, combine 4 cups water and ¼ cup lemon juice in a bowl, and add the apple slices as you go.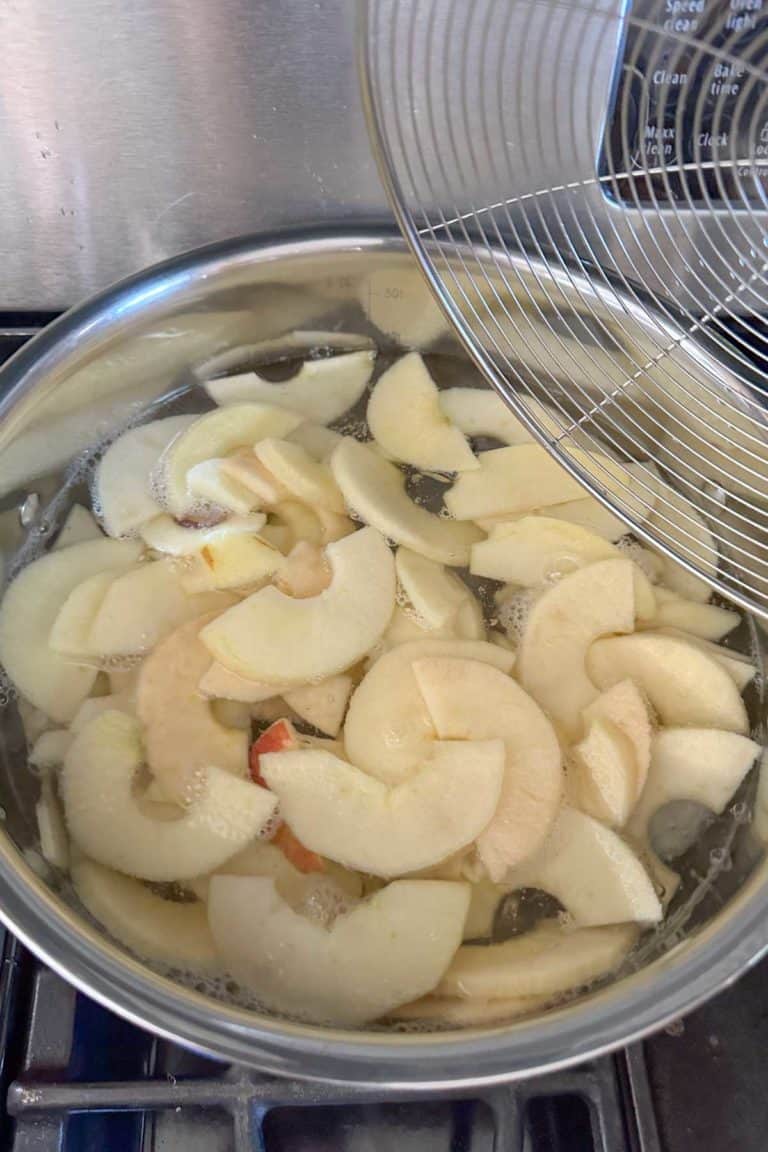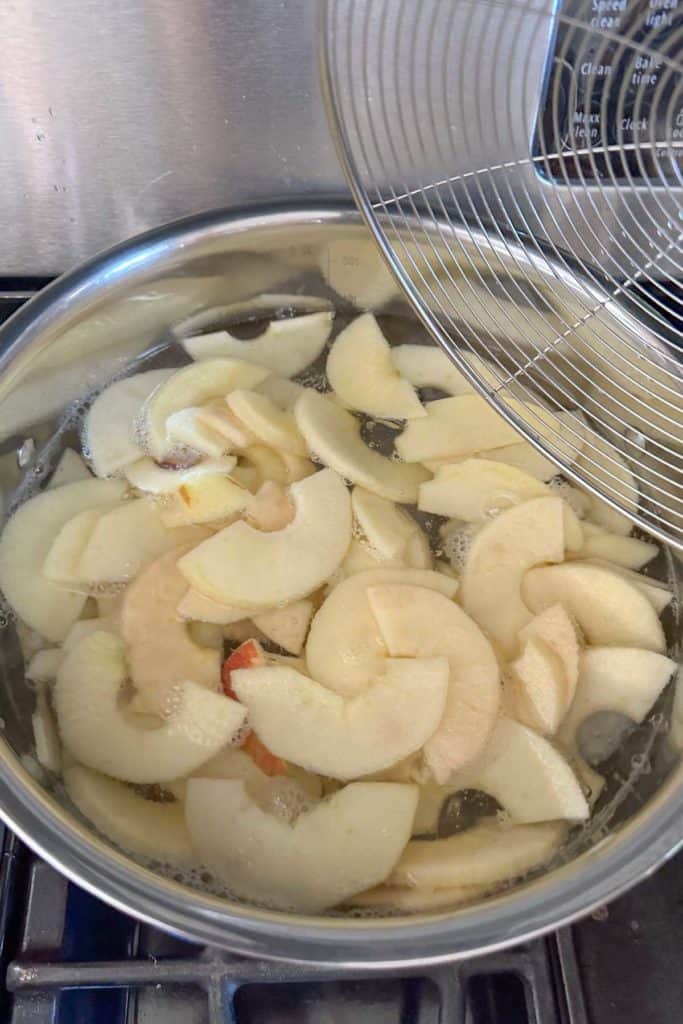 Fill a pot with 3 quarts of water and bring to a boil. Once boiling, blanch the apples in batches for 1 minute. Remove to a bowl and keep warm.
Empty the water from the pot you just used and add 3 3/4 cups cold water, sugar, ClearJel, and spices.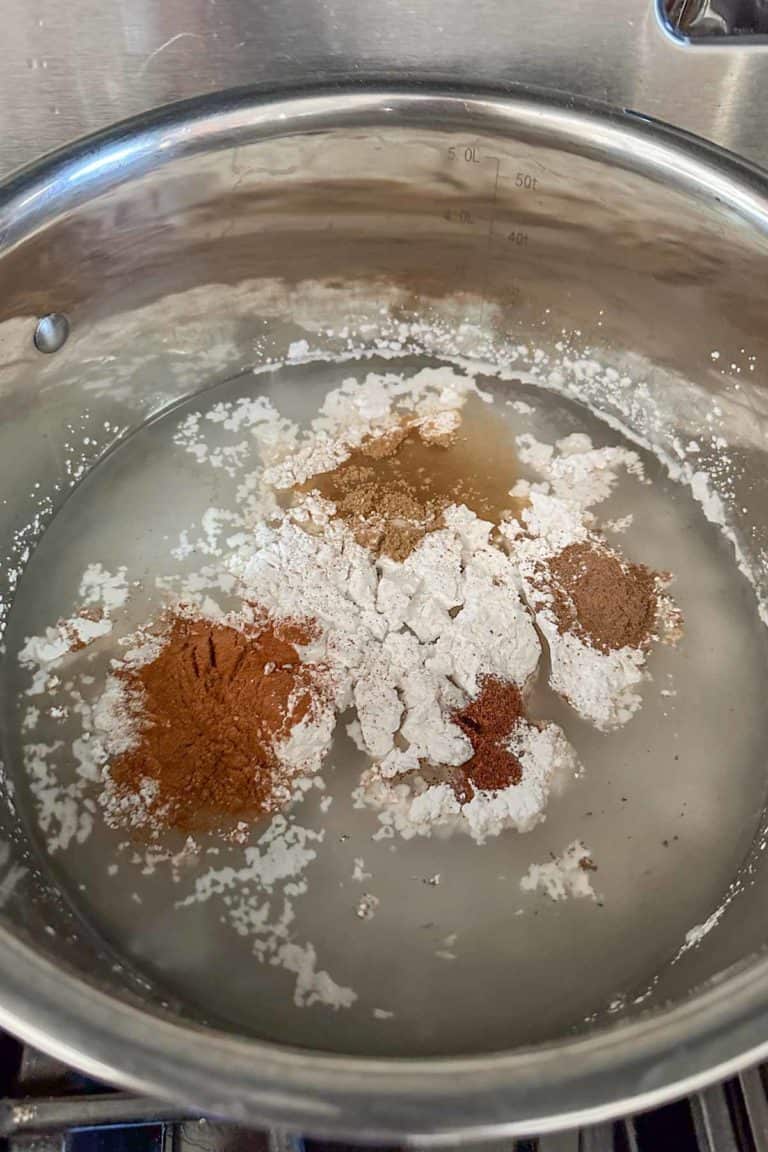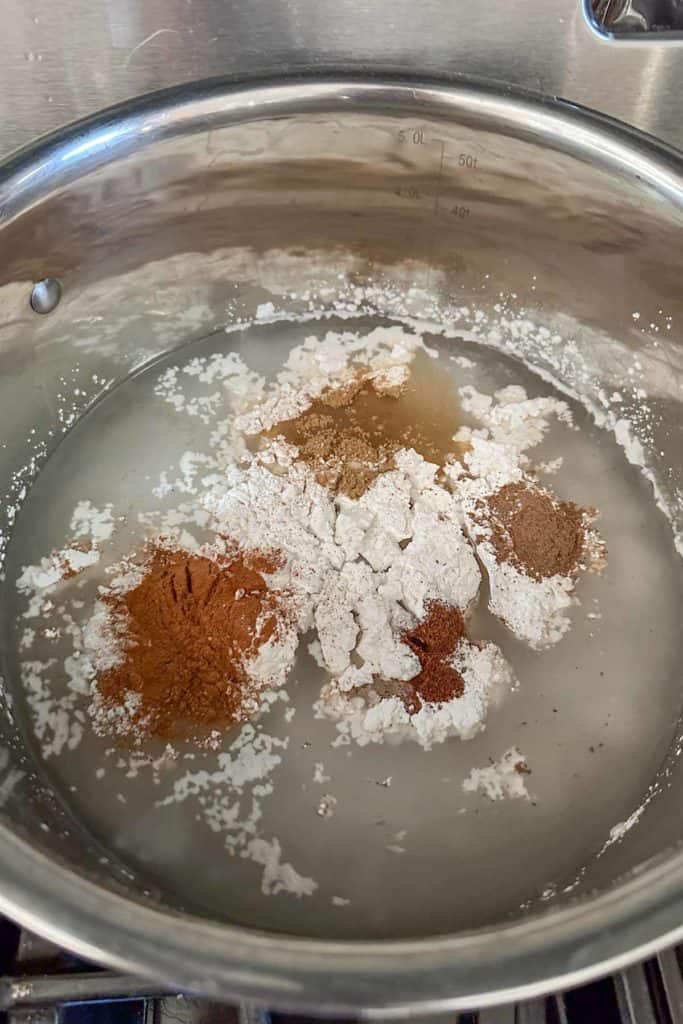 Whisk constantly as you heat the mixture over medium high. Cook until bubbles begin to form, breaking up any lumps with the whisk.
Once boiling, add the lemon juice and boil for 1 minute. The mixture should be thick at this point.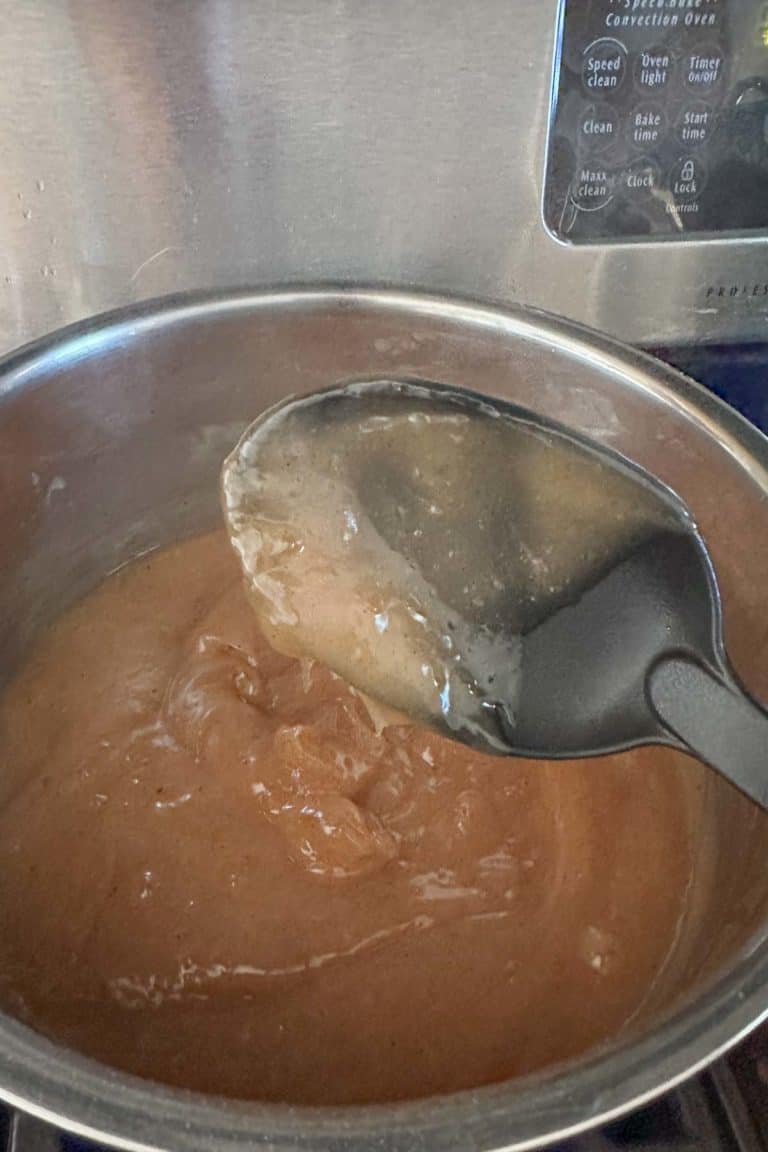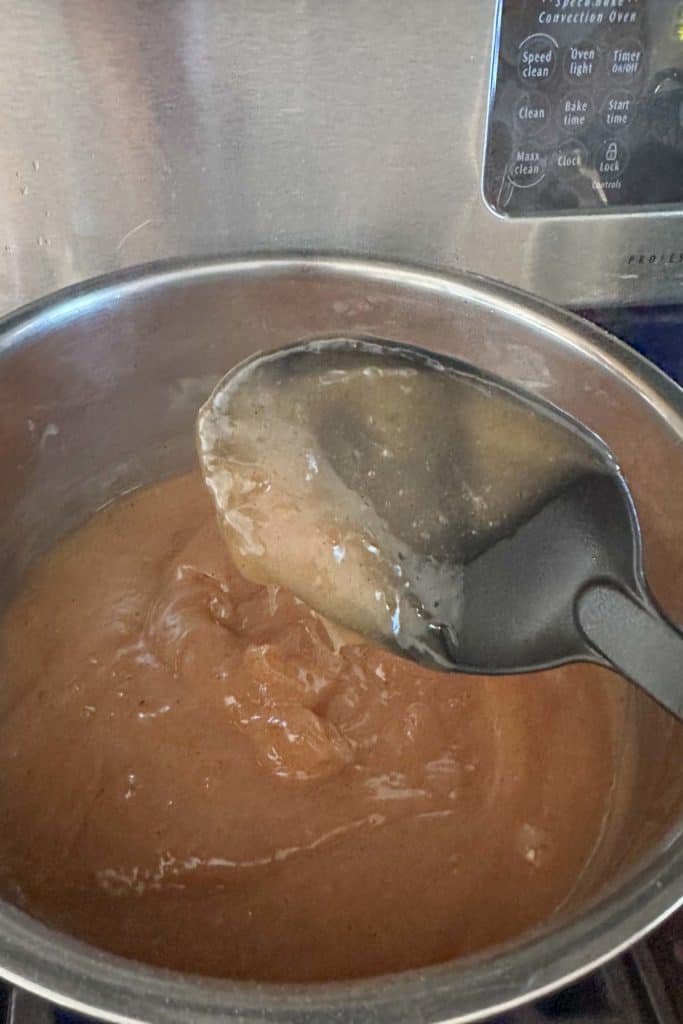 Remove from heat and fold in the apple slices, coating completely.
Using tongs, dunk the jars into the boiling water bath canner, then empty, just to heat before filling.
Place a funnel in the jars and ladle apple pie filling in, leaving 1 inch of space at the top.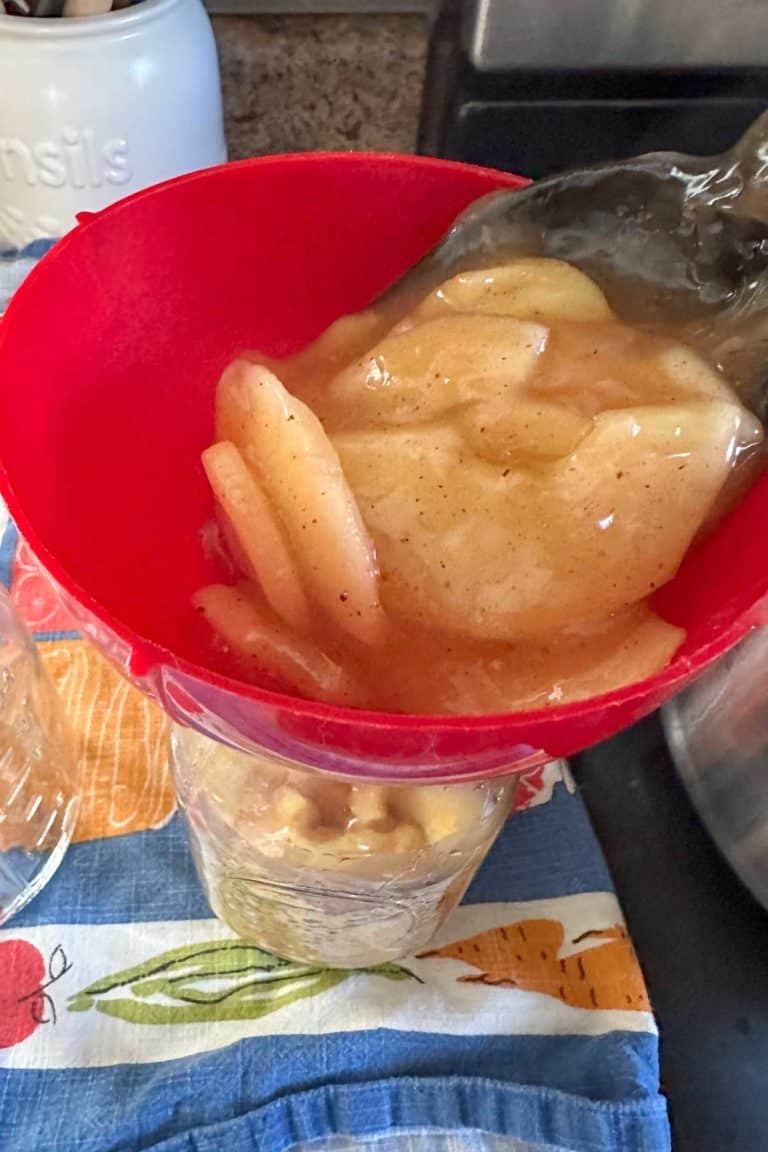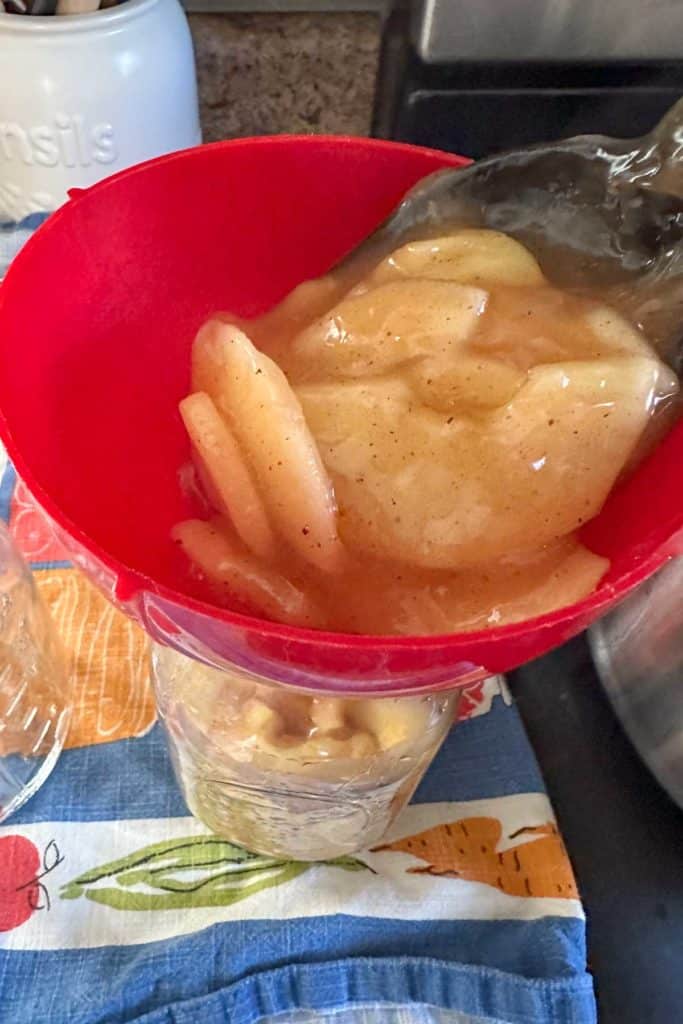 Insert a chopstick or kitchen dowel into the jars and press against the filling to remove any air bubbles. You want to remove as much air as possible to ensure a good seal on the jar.
Wipe any spilled filling off the outside and tops of the jars. Place on lids and screw on rings.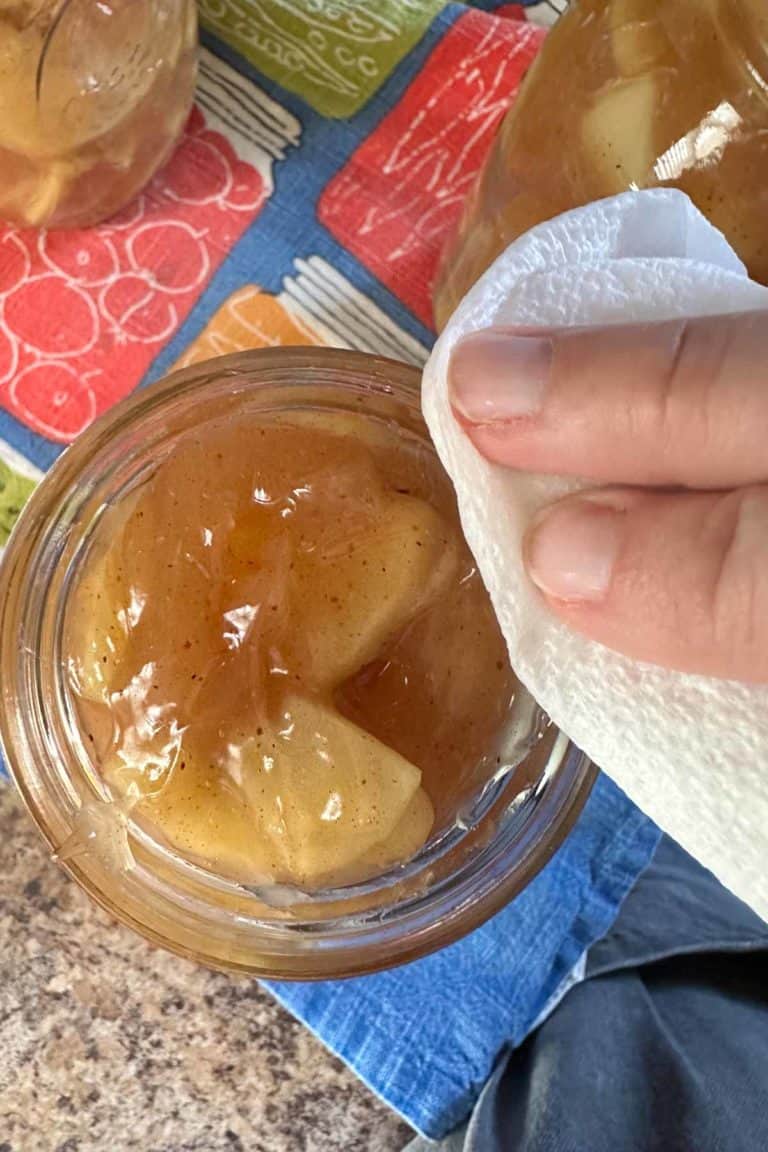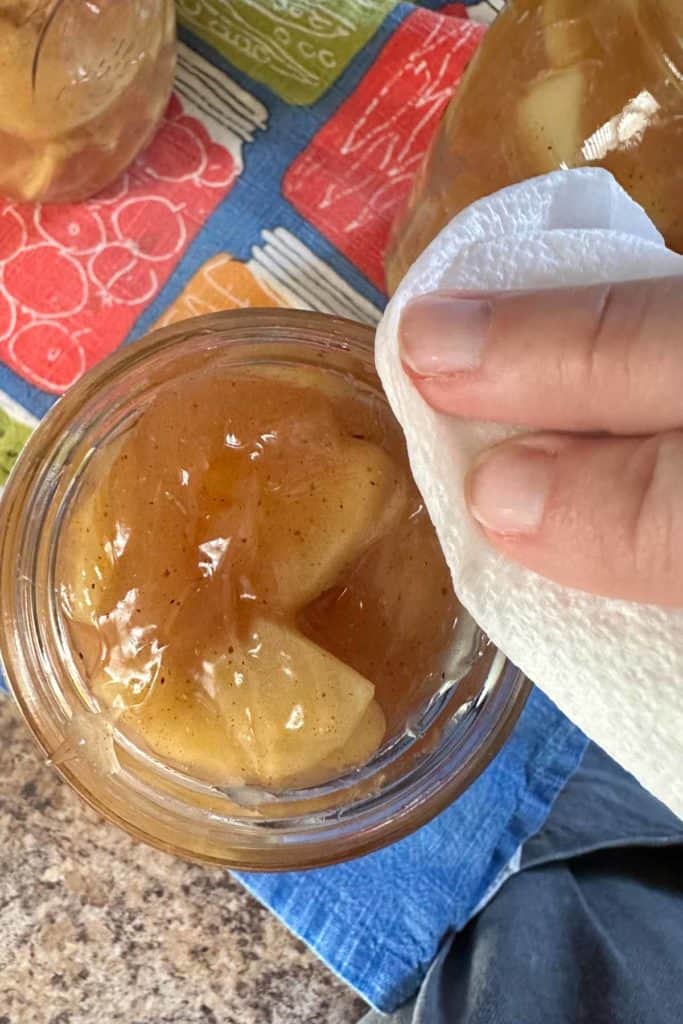 Using a jar lifter, carefully place the jars in the canner. Cover and return to a boil. Process for 25 minutes.
Turn off heat and let jars rest for 5 to 10 minutes. Remove from the canner and placing on a towel-lined surface to cool.
If any jars leak filling, they are not sealed, and should be stored in the refrigerator.
Store any properly sealed jars in the pantry for up to 18 months.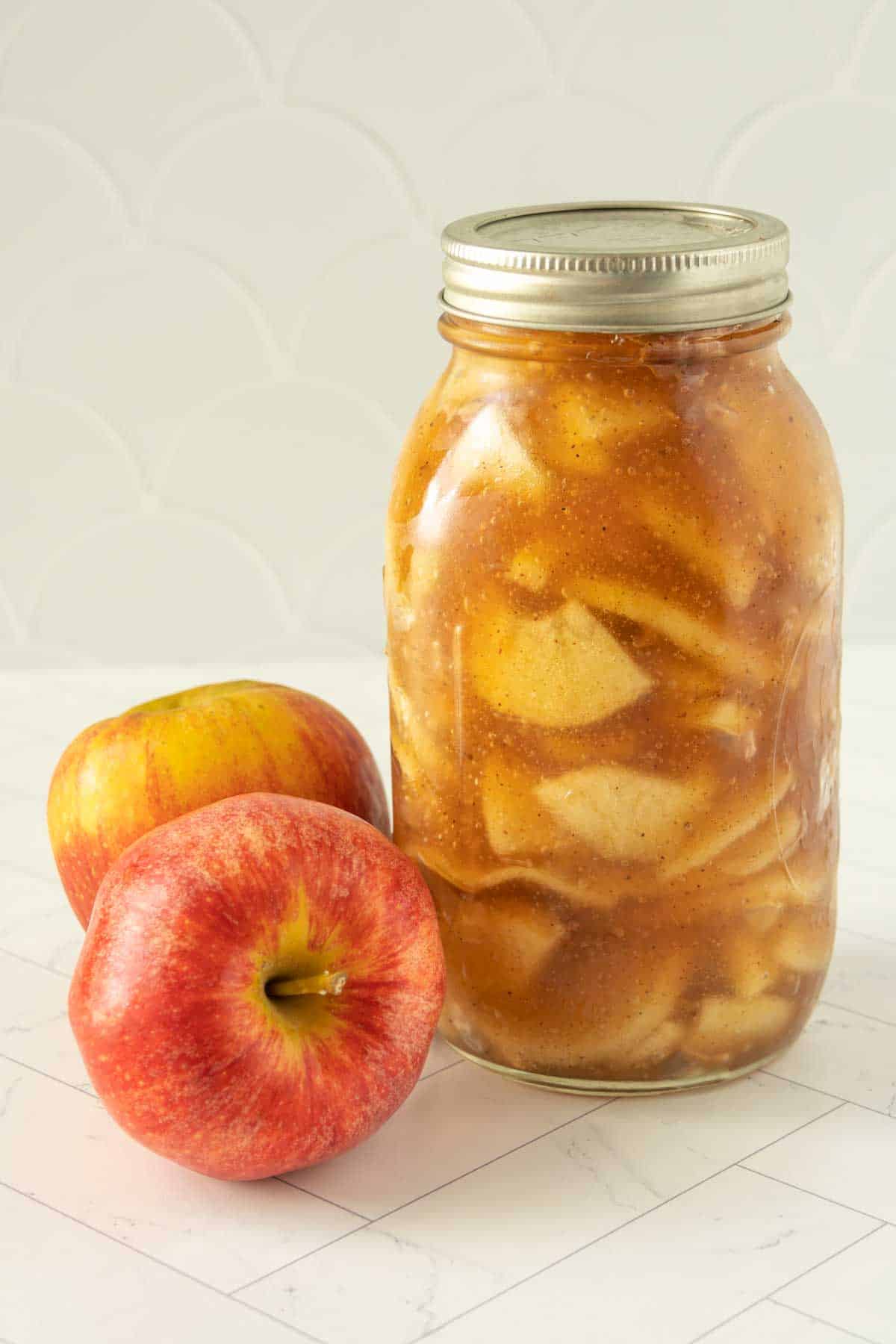 FAQ
How can I make this recipe for just one pie?
If you are making just one pie, simply divide this recipe by 3, then follow the same cooking instructions.
If you're making the pie immediately, I recommend increasing the spices slightly, as the filling won't have the benefit of the resting time.
You can pour the pie filling directly into your prepared pie crust and bake or freeze as desired.
Help, my pie filling oozed out of the jar!
To prevent your pie filling from oozing, follow these steps before processing:
Blanch the apple slices.
Make sure to remove air bubbles after filling the jars by pressing a chopstick or dowel around the sides of the jar.
Leave 1 inch of space at the top to allow for expansion, as the mixture thickens further in the canner.
If your jars do leak, wipe off any leaks with a wet paper towel. These jars are not sealed and must be stored in the refrigerator.
Can I freeze apple pie filling?
If you don't want to process your pie filling in a canner, you can freeze it.
Ladle into jars or freezer containers. Make sure to leave plenty of room to allow for expansion in the freezer and prevent containers from cracking.
You can also use vacuum-sealed freezer bags.
Thaw overnight in the refrigerator.
How long does canned pie filling last?
Sealed canned jars of apple pie filling will keep in the pantry for about 18 months.
Unsealed jars must be stored in the refrigerator and will keep for up to 2 weeks.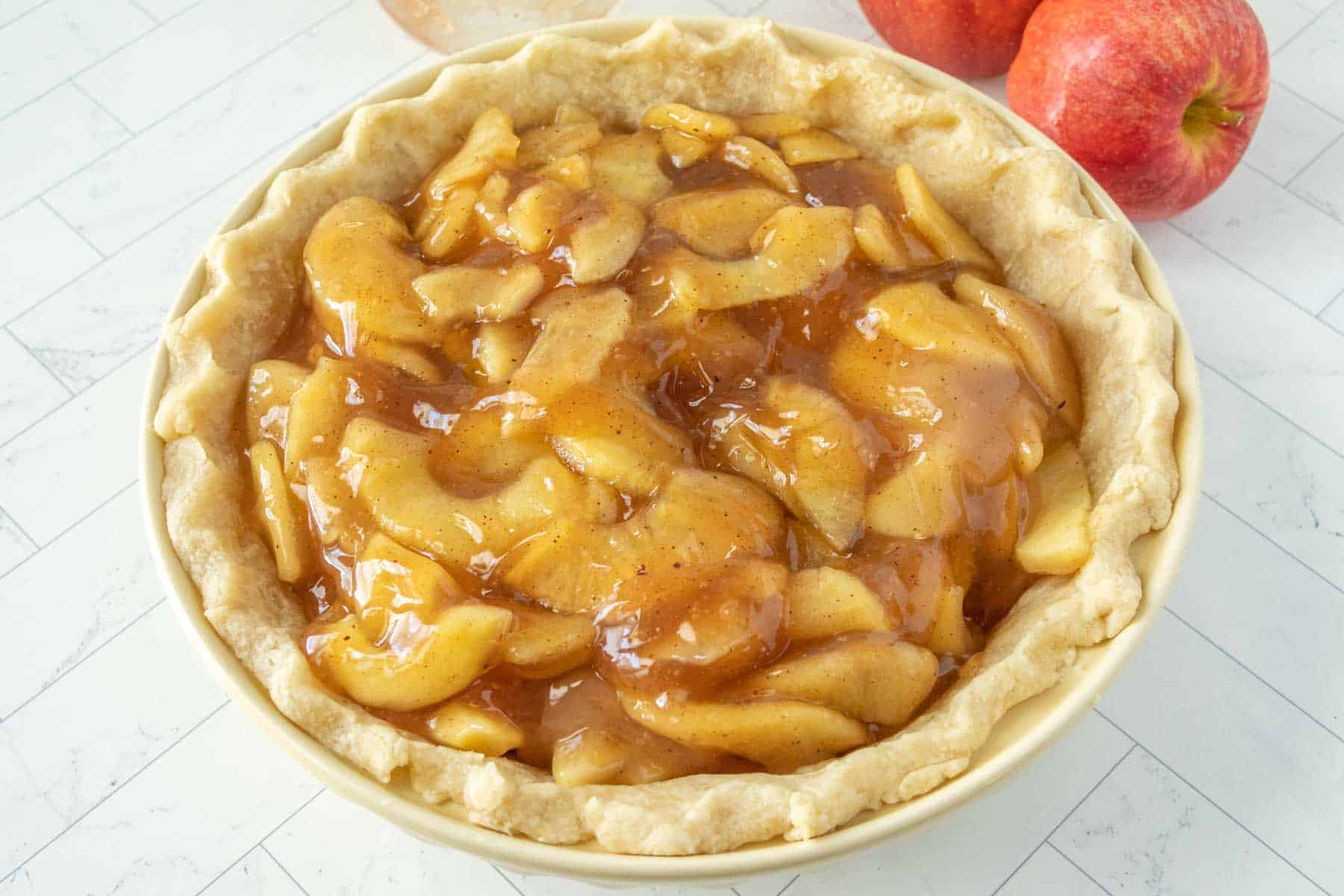 Ways to use apple pie filling
You can use this pie filling to make apple pie with cheese, or your own favorite apple pie. The filling does not need to be cooked again before using.
Don't want to make pie? Try apple coffee cake, apple cinnamon french toast, or an apple danish.
Love this recipe? Please leave a 5-star review below! It means so much when you enjoy my recipes, so let me know how it goes and leave a comment if you have any questions.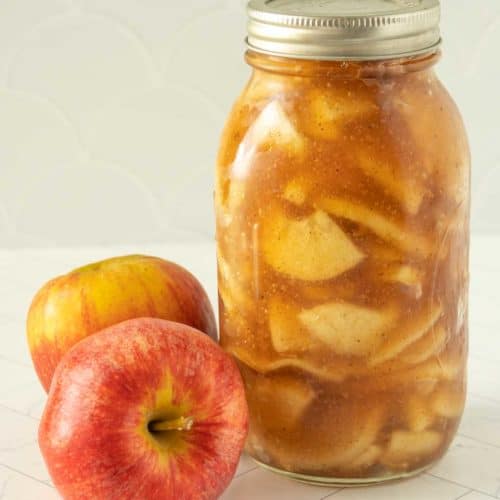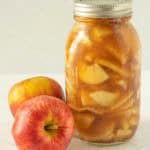 Apple Pie Filling for Canning
Have apple pie any time you want with this easy apple pie filling! To make just one pie's worth, divide the recipe by 3.
Print
Pin
Save
Saved!
Ingredients
12

cups

peeled, cored, and sliced apples

,

about 4 pounds

3 3/4

cups

cold water

2 3/4

cups

granulated sugar

3/4

cup

Clear Jel

1 1/2

teaspoon

cinnamon

1/2

teaspoon

nutmeg

1/2

teaspoon

ground ginger

1/4

teaspoon

ground cloves

1/2

cup

lemon juice
Instructions
Fill a canning pot with water and heat to boiling. Set aside 3 quart jars or 6 pint jars, lids, and rings.

Fill a large pot with water and heat to boiling. Blanch apple slices in 2 batches, cooking for 1 minute per batch. Remove to a bowl and cover to keep warm.

Pour out water from the pot you just used and refill with cold water, sugar, Clear Jel, and spices. Whisking constantly, heat over medium-high and cook until bubbles begin to form. Break up any clumps using the back of a wooden spoon. Add lemon juice and boil for 1 minute.

Remove from heat and stir in apple slices.

Ladle into hot jars, leaving a 1-inch headspace. Remove air bubbles with a wooden or plastic stick (do NOT use a metal utensil). Wipe off any spilled filling, giving special attention to the jar rims. Place lids, screw on bands, and process in a water-bath canner for 25 minutes.
Notes
Place sliced raw apples in a mixture of 4 cups water and ¼ cup lemon juice to prevent browning while preparing recipe.
Makes 3 quarts. Use 1 quart per 9-inch pie.
Nutrition
Calories:
129
kcal
Carbohydrates:
34
g
Protein:
0.2
g
Fat:
0.2
g
Saturated Fat:
0.04
g
Sodium:
1
mg
Potassium:
88
mg
Fiber:
2
g
Sugar:
31
g
Iron:
0.1
mg
Nutrition information is provided as a courtesy and is an estimate based on online calculators. Any nutritional information found on Stetted should be used as a general guideline only.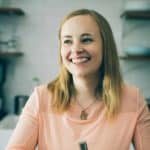 About Megan
I focus on fresh ingredients and easy methods, with spins that keep meals interesting. Dinnertime shouldn't be stressful or complicated, and I'm here to help you enjoy the time spent in the kitchen. Read more…